Plantar Fasciitis is a painful condition that causes pain in the heels.
Skechers have some superb shoe models that provide effective support and cushioning technologies to help prevent Plantar Fasciitis and to relieve the pain and symptoms associated with this condition.

---
What is Plantar Fasciitis and What are its Main Causes
Plantar Fasciitis refers to inflammation in the Plantar Fascia ligament, where there may be micro-tears in the ligament, usually as a cause of strain injuries.
The main symptoms that you will notice if you do have Plantar Fasciitis are; heel pain, foot pain, stiffness, and tenderness in the heels and feet.
Plantar Fasciitis is treated by preventing the strain injuries from reoccurring and using orthotics and anti-inflammatories to reduce the pain associated with this condition.
There are however a few causes and risk factors related to Plantar Fascitis;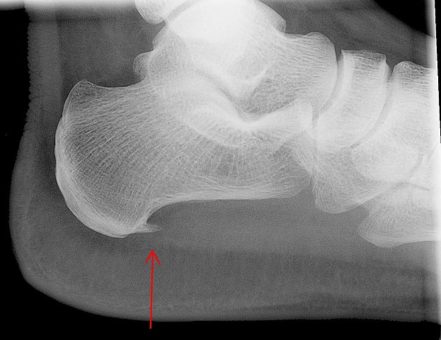 The most common cause is repetitive strain injuries to the ligaments of the sole of the feet, usually from excessive running or walking.
Plantar Fasciitis can also be caused by conditions such as reactive arthritis and ankylosing spondylitis.
Obesity and excessive weight gain may place extra weight on your Plantar fascia, which in turn can lead to Plantar Fasciitis.
Many occupations and activities that keep you on your feet on hard surfaces cause a risk of Plantar Fasciitis.
Individuals who have a low or flat arch and who tend to Overpronate are also very likely to get plantar Fasciitis.
Age likewise plays a role, and individuals between 40-60 years of age may be more susceptible to this condition and are advised to get the best shoes for heel pain.
---
Choosing the Right Shoes for Plantar Fasciitis
One of the most effective and best choices for treating and preventing Plantar Fasciitis is proper footwear. Footwear can surprisingly be directly related to foot pain and Plantar Fasciitis. So this means that the right footwear may be the answer that you were looking for Your Plantar Fasciitis or Heel pain.
But let us first take a look at some of the key features to look for in a right shoe for Plantar fasciitis;
Arch Support – Good arch support for your specific arch type is very important a this helps to relieve pain by supporting the arch, reducing overpronation, and thus reducing tension on the Plantar Fascia.
Flexibility – Your shoes need to be able to bend gradually and not too much, still offering some resistance to enable them to protect your feet.
Deep Heel Cup – A deep heel Cup with adjustable cushioning will help to protect your heels against injuries and impact, as well as preventing and controlling supination and overpronation.
Cushioning – Last, but not least, cushioning helps to protect your heels and feet from shock during impact, thus preventing pain and discomfort.
---
Features of Skechers® for Plantar Fasciitis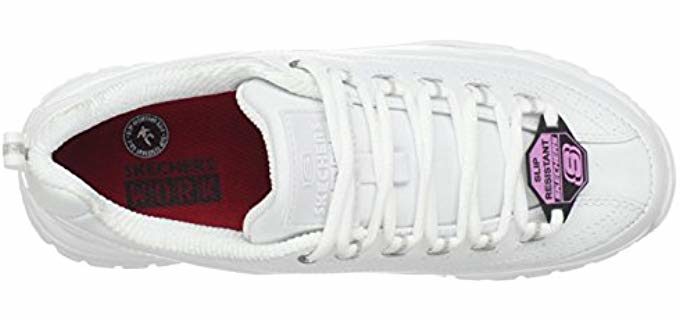 Relaxed fit or flexible and breathable uppers.
Shock absorbing midsole.
Goga Mat energy return and responsive cushioning.
Air Cooled Memory foam Footbed.
5Gen Responsive Cushioning.
Stability features.
Durable rubber outsole.
---
Reviews: The Best Skechers Shoes for Plantar Fasciitis
Below are some of the best Skechers Shoe Models that Offer Releif and comfort for the Symptoms of Plantar Fasciitis
---
1
---
2
---
3
---
4
---
5
---
6
---
7
---
8
---
9
---
10
---
11
---
12
---
13
---
14
---
Index Table: Top Rated Skechers Shoe Models for Plantar Fasciitis
---
---