One of the most common foot problems today is heel pain.
The sufferer will feel pain either under the heel which is the which refers to plantar fasciitis or just behind the heel which is known as Achilles Tendinitis, basically where the Achilles' tendon connects the bone.
Heel pain can be quite severe and disabling but it is very rarely a health threat and usually disappears on its own, although there have been cases of chronic heel pain.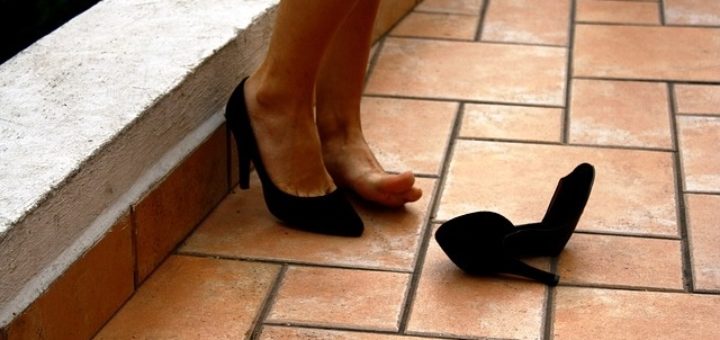 ---
The Main Causes of Heel Pain
Common causes of heel pain include:
Plantar Fasciitis occurs when the Plantar Fascia which is a ligament that runs from the heel to the tip of the foot becomes stretched too far and gets inflamed causing pain under the foot and in the heel area.
Heel Bursitis occurs when there is inflammation at the back of the heel called the Bursa, which is a sac full of fluid that causes pain deep inside the heel or at the back of the heel. Heel Bursitis can because by pressure from footwear or landing hard or awkwardly on your heels.
Heel Bumps are more common in teenagers where the heel bone that is not yet fully developed rubs excessively causing an excess bone to be formed. This is usually caused by younger females starting to wear high heels and is also a symptom of flat feet.
Tarsal Tunnel Syndrome occurs when a large nerve in the back of the foot becomes usually pinched a symptom of a condition called Neuropathy that can arise in the ankle or foot.
Chronic Inflammation of the heel pad from heavy footsteps can also cause heel pain.
Stress fractures caused by repetitive stress on the heel from strenuous exercises or sports as well as resulting from osteoporosis can cause chronic heel pain.
Certain more severe diseases and medical conditions can also lead to heel pain amongst other symptoms.
---
Treatment and Prevention of Heel Pain
With less severe case there are a few tips you can follow to alleviate heel pain;
Resting after walking or standing for long periods of time.
Avoiding activities that place stress on the heels.
Avoid walking on hard surfaces.
Make sure that your footwear fits properly and provides adequate support and cushioning
---
Features of a Good Shoe for Heel Pain
The type of footwear that you choose to alleviate heel pain will also depend on your arch type. Here are a few tips for selecting footwear for heel pain;
Good arch support for your specific arch type.
Heel support or a deep heel cup.
A low heel, avoid narrow high heels and flat shoes.
A cushioned insole or footbed.
A durable outsole that provides good grip and prevents slipping.
---
Reviews: The Top Shoes for Heel Pain
Here are a few top choices in different styles of shoes that will help to prevent and alleviate heel pain;
---
1
Eighteen years of innovation and technology has gone into the Asics Gel Nimbus 18 to create a shoe that provides the best support and performance.
The improved guidance line technology aids in embracing the motion of the gait cycle.

FluidRide technology for an advanced bounce back and cushioning.

The and forefoot gel cushioning attenuates shock and allows for movement on multiple planes throughout the gait cycle.

The Asics FluidFit upper technology with multi-directional stretch mesh and stretch reinforcements that adapt to your foot for a customized fit.

The heel clutching system and exoskeletal heel counter give improved support and a better heel fitting environment.

A seamless construction that is non-abrasive and not irritating to the feet.

A durable rubber outsole for excellent grip and traction on multiple surfaces.

Available in a range of colorful designs.

---
2
The SoftWalk Rocklin is a Chelsea boot that aids in relieving the symptoms of Plantar Fasciitis and heel pain. A stunning boot that can be worn casually, to work, or as a dress shoe.
A side zip bootie for easy on and off.

Durable and comfortable leather uppers for all-day wear.

A unique shock absorbing footbed that minimizes foot pain and foot fatigue by returning energy to the feet and reducing strain on the feet.

Appropriate for extended hours of walking or standing.

A fantastic combination of style and comfort.

Available in different colors for every preference.

---
3
A bedazzling pair of flare toe thongs that have the desired comfort features to minimize and prevent heel pain. The FitFlop Flare thong sandals are both stylish and comfortable.
A triple density midsole fusing three diagonal sections of multi-density EVA into a seamless underfoot platform that absorbs shock diffuses underfoot pressure and keep your feet comfortable.

Softly padded microfiber lined suede uppers smothered with glittering Diamante decorations for a fashionable look and comfortable wear.

Dress up or dress down in these versatile and gorgeous sandals.

A durable outsole that will keep you firmly on the ground.

Available in a variety of trendy colors and designs.

---
4
The New Balance W1540V2 is one of the best available walking and running shoes for heel pain and Plantar Fasciitis. The rollbar technology and rearfoot stability support will keep you on your feet and pain-free even with those long walks.
Synthetic and mesh uppers for improved breathability.

A dual-density foam collar for a comfortable fit.

The Rollbar and lateral and medial rearfoot stability technology will keep you well supported and prevent injuries.

A no-sew material application for an irritation free, comfortable fit.

The heel to toe drop improves natural movement.

Available in a variety of colors.

---
5
Many years ago an orthopedic surgeon in Beverly Hills saw the need for stylish dress shoes that would neither injure or hurt your feet. Taryn Rose envisioned this comfortable and supportive dress shoe and today the Taryn Rose Tamara Silky Suede Pump is one of those designs.
The uppers are manufactured from soft stretch material and patent leather for a flexible and accommodative fit.

A breathable leather lining keeps your feet dry and fresh.

A split leather and rubber durable and flexible outsole.

The memory foam midsole provides comfort and absorbs shock.

The enhanced arch support that will reduce heel pain and the symptoms of Plantar fasciitis.

Available in black, leopard print brown and ruby colors.

---
6
A lightweight and breathable Mary Jane style shoe that will relieve and prevent heel pain as well as provide superb comfort.
Fabric uppers with a lightweight and breathable design, as well as a secure fit closure.

The removable foot bed ensure excellent cushioned comfort.

The thick rubber outsole is shock absorbing and flexible.

---
7
A sleek and lightweight, bio–mechanically designed active sneaker with all the features you need for heel pain relief.
for all day comfort.

The rubber outsole offers excellent shock absorbency and slip resistance.

A removable textile covered EVA foot bed for cushioned dry comfort.

Textile uppers that are lightweight and breathable.

---
8
A stunning ankle length Chelsea boot, perfect for all occasions, with the addition of some supper features to combat heel pain in its tracks.
Genuine leather uppers with a for breathability and protection.

The pig skin lining in the interior is soft and gentle against the skin.

A PU sock liner and foot bed offers cushioned support.

The thick rubber oust ole ensures good slip resistance, and they slight heel prevents heel pain.

A few color options are available in this boot.

---
9
A comfortable and lightweight walking shoe that offers excellent support to reduce heel pain, as well as an easy to clean design.
A comfortable and cushioned removable foot bed.

The thick rubber outsole is highly slip resistant.

Genuine leather uppers that are comfortable and breathable.

A unique easily washable design.

Many color options available.

---
10
An APMA accepted and rated podiatric designed sandal that is perfect to prevent and heal heel pain fast and effectively.
A podiatrist designed foot bed that promotes stability and cushioned comfort and support.

The platform style heel has supportive and shock absorbing rubber and cork.

Faux leather uppers and a n EVA foot bed.

Available in a few color options to choose from.

---
Index Table: Best Shoes for Heel Pain
---
Heel pain no matter what the cause should be a worry of the past with our selection of supportive and comfortable shoes for every occasion and function.
With the right support and cushioning you should no longer feel any pain associated with your heels.
There is a variety of shoes available from casual to dress that will help to alleviate heel and Plantar Fasciitis symptoms. The right arch support will also make a difference in the health and well-being of your heels and feet.
---
---