Bursitis is a painful and debilitating condition that can affect your feet, especially in the heel area.
Wearing the Best Available Shoes for Bursitis will provide you with proper support and cushioning to reduce the symptoms and aid with the healing process.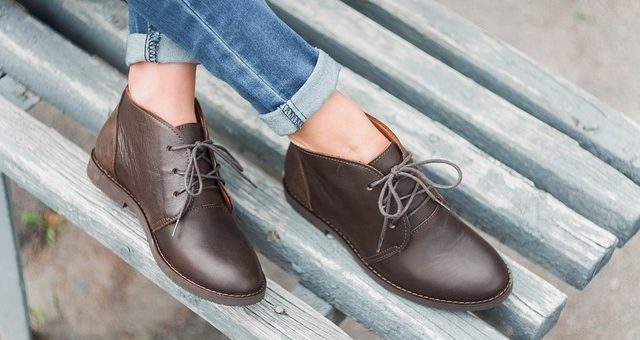 ---
Bursitis and How It Affects Your Feet
Bursitis is a condition where the Bursae situated in various body areas become inflamed and painful because of excessive friction.
The Bursae are small sacs that occur between tissues in the body where friction occurs most. Excessive friction because of overuse or an injury can cause damage and inflammation, or the Bursae create even more sacs in response to that trauma.
Infracalcaneal Bursitis is the type we will be addressing mostly today, which is inflammation in the Bursa of the heel bone, which is quite common.
Heel bursitis is confused with Plantar Fasciitis many times, and Heel bursitis usually occurs at the end of the day. In contrast, Plantar Fasciitis is generally worse in the morning or immediately upon waking.
Bursitis in the Heel can affect your quality of life and your ability to perform certain activities as well as daily activities.
Symptoms of Heel Bursitis may include;

Redness Under the Heel.
Pain and Swelling under the Heel.
Pain or Aching in the middle part of the Underside of the Heel.
Heel pain and Discomfort that increase with prolonged weight-bearing activities and actions.
There are also a few Causes of Heel Bursitis;
Injuries – Injuries such as Blunt Force Trauma, break down from chronic strain, and overuse injuries can lead to heel Bursitis.
Medical Conditions – Arthritis, Acute and Chronic Infections and Overpronation issues can all lead to heel Bursitis.
Other Causes – Exposure to freezing weather, Heel Striking when Running, and Improper footwear that does not support the heel or provides cushioning are all factors that can lead to Heel bursitis.
---
Footwear and Orthotics for Bursitis
To manage and prevent Heel Bursitis, a shoe with a flat uniform sole, cushioning in the heel, particularly a wide toe box and a more flexible sole, are ideal.
Using Padded socks for extra cushioning, heel pads, and a cushioned insole are great devices for supporting the foot to prevent and aid in healing heel Bursitis.
---
Features of a Good Shoe for Bursitis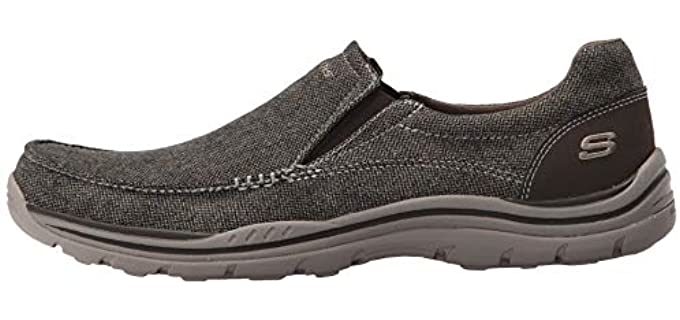 Uppers – Leather, mesh, canvas, textile, and synthetic materials can be used for the upper. The design needs to be light and breathable with AMPLE TOE ROOM so that you can comfortably splay out your toes.
Support – Support features including good ARCH SUPPORT and HEEL support is necessary, so look for a heel cup and contoured design footbed.
Cushioning – Proper plush and shock-absorbing cushioning in the sole and midsole are needed, and added cushioning in the heel is ideal.
Outsole – Rubber is the best option for the outsole that offers good traction and durability. Crepe is used in some Chukka Boot models, which is also a good choice.
---
Reviews: The Best Shoes for Bursitis
Listed we have some of the best available shoes for Bursistis;
---
1
The New Balance 411V2 is the ideal walking and running shoe to help with the symptoms of Foot Bursitis.
The upper consists of perforated leather for optimal breathability and durability.
There is a CUSHNB midsole that offers soft and durable cushioning and shock absorbency.
The Colar is padded for comfort, and there is a leather tongue.
The Heel Pillow insert offers excellent cushioning and relief in the heel area affected by Bursitis.
You can get this model in a few neutral color choices and wider width options as you require.
---
2
Here we have two lovely Chukka boot designs for men and women, a favorite among persons who have Bursitis.
The uppers are durable and genuine leather in a smooth or nubuck finish of your choice.
The sole is flexible, and there is a cushioned insole.
The sole is comprised of fo a Crepe material with a durable tread.
You can choose from many colors in both these boot models.
There is also a soft lining in the interior of the shoe for comfort.
---
3
For a dress shoe option for Bursitis, I have chosen two models from Dr. Comfort. DR. Comfort's footwear ranges offer layered cushioning, extra depth, and width, as well as the option of using your own orthotics, which are all ideal for Bursitis.
The Classic design for men is an original lace-up oxford shoe available in a black or brown leather option.
The Celina for the ladies is a Mary Jane Styled low Heeled Dress shoe available in a light beige or black color option.
Both models have a genuine leather upper and a soft, comfortable lining.
The shoe feature and extra depth design and are available in wider width options from which you can select.
There are different layers of cushioning for optimal shock absorbency and support, and you can remove some of the insole layers to use your won orthotics.
The rubber outsole is durable and offers good traction.
---
4
Walking Shoes for Bursitis
The Vionic Walker offers you many support and comfort features and the option of removing the insole and wider width selections.
The upper consists of durable leather that comes from Premium full-grain leather options that are water-resistant, and there is an action lacing system.
AMS Active Motion System Technology combines a podiatrist-designed orthotic and a flexible cushioned outsole, e along with the lightweight, breathable uppers.
The EVA molded midsole is removable for custom orthotic use, and there is a 5-inch built-in elevation design for the heel-to-toe strike.
The insole is also an antibacterial to the lining that keeps your feet dry and odor-free.
A thermoplastic heel counter, in turn, provides increased support and stability.
---
5
The two loafers from Skechers are comfortable, casual, and have the perfect features for Heel Bursitis.
Both models are available in a large range of color options from which you can select.
The Uppers of the Avillo are 100% lightweight canvas, and the Penny has 100% Suede leather uppers.
A cushioned Air Cooled Memory Foam Footbed, for comfort and support.
The Penny Loafer likewise has a Bio-Dri lining for moisture management.
Both models have a cushioned midsole for shock absorbency and a durable and high traction rubber outsole.
You can get the Avillo and the Penny Loafer in wider width options and extended sizes.
---
6
Running Shoes for Bursitis
The Brooks Glycerine 18 is the latest in the Glycerine range, with plush soft cushioning and a comfortable and roomy fit.
The Internal stretch bootie design offers a plush and comfortable fit along with an engineered and light Mesh upper for breathability.
There is Cushioning and support with the DNA Loft plush cushioning system and the Ortholite Sockliner.
The midsole offers excellent shock absorbency, and there is a thick and durable rubber outsole.
The fit is roomy, and there is ample space n the toe box.
You can also choose your favorite color from a few new fashionable color ranges available in the Glycerine 18 model.
---
Index Table: Top Rated Shoes for Bursitis
---
---