If you have Flat feet, the likelihood that you will Overpronate dramatically increases.
Overpronation can cause many issues in your feet and lower limbs, as well as an increased chance of injuries.
One of your best defenses against Overpronation in Flat feet is to get the Best Available shoes for Flat Feet and Overpronation, which we will discuss in this article.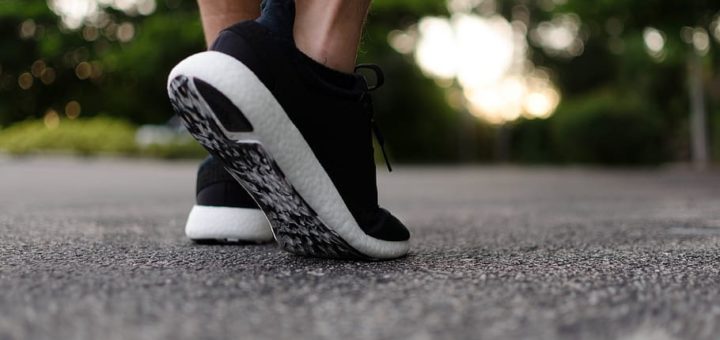 ---
Pronation and Undrepronation
Before we can get into Footwear for Flat Feet and Overpronation, let us first look into the different types of Pronation and how they affect your feet;
Firstly, Pronation refers to how your feet strike the ground and then roll inward towards the arch, which supports almost three times your body weight, and in this way, the shock is absorbed correctly.
Persons whose feet Roll Inward too much or too little mate have less effective shock absorbency, leading to overuse and singular injuries.
UnderPronation – When you UnderPronate, the outer side of your heel hits the ground first at an increased angle with little or no pronation, which means much shock is transferred to your lower limbs. UnderPronation is predominant in persons with a HIGHER ARCH type.
Neutral Pronation – Neutral pronation refers to the normal Pronation where your foot lands on the outside of your heel and rolls inward properly to pronate and absorb shock effectively. A standard Arch type is predominant in a Neutral Pronation Type.
OverPronation – With OverPronation, your foot lands outside of the heel as it should but then rolls inward excessively, Overpronating and transferring weight to the inner edges of the foot instead of the ball of the foot. Overpronation can lead to Shin Splints, Plantar Fasciitis, and even Bunions and Heel Spurs. Overpronation is also dominant in person with a LOW or FLAT ARCH, basically a FLAT FOOT.
So as you can see, Flat Feet tend to Overpronate in general. The right shoe for Overpronation and Flat Feet can help to correct Pronation and also provide support for a Fallen or Flat Arch.
---
What to Look for in a Shoe for Overpronation and Flat Feet
The best shoe type for Overpronation is a STABILITY or MOTION CONTROL shoe,.
A good stability shoe is ideal when you Overpronate as it provides more structured cushioning and added support.
A medial post is ideal for Overpronation and also provides arch support for flat feet.
For persons who Overpronate Severely Motion Control Technology and a much firmer sole with extra cushioning in the footbed is required.
---
Features of a Good Walking Shoe for Flat Feet and Overpronation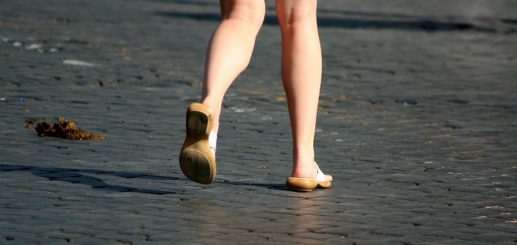 Uppers – A Breathable and comfortable lined uppers is ideal. Materials such as mesh, leather, and textiles are an excellent choice.
Cushioning – Plush and Energizing cushioning, particularly in the heel and ball of the foot area, is recommended for comfort. Cushioning in the midsole, such as a more durable EVA, SPEVA, or FlyteFoam, provides shock absorbency.
Support – Good arch support and stability features help to prevent Overpronation and controls pronation. A more rigid sole also provides better stability.
Outsole – Rubber on the outsole has proven to be most durable and slip-resistant. Look for a lug pattern for traction.
Options – Color optiosn are available, and also fit optiosn such a a narrow medium or wider fit.
---
Reviews: The Best Walking Shoes for Overpronation and Flat Feet
Here we have some of the best shoes available that cater for Flat Feet and help to prevent Overpronation;
---
1
Overpronation Walking and Casual Shoes
The New Balance 860V10 is a Walking and running shoe with stability features that are ideal for Overpronation.
The Mesh engineered upper is lightweight and breathable, offering a comfortable fit.
There is a 3D Molded Heel cup for a more secure heel fit and less chance of slipping.
Inside are a TRUFUSE midsole and an NB insole that is removable for cushioning and support.
The Medial support in the midsole ensures proper stability and Pronation control.
There is also a durable and high traction rubber outsole.
You can select from a few color options in the men's model, and both models are available in wider widths.
---
2
Overpronation and Flat Feet Walking Shoes
The Asics Gel Kayano 28 is another top favorite in Walking and Running shoes for Overpronation and stability.
The Mesh upper is lightweight and breathable, offering a snug and sock-like fit.
Because Asics have Quite a Narrow fit, I recommended looking at the wider width options if you have a medium to wide width foot shape.
There is a SPEVAFOAM midsole fr shock absorbency and an Impact Guidance System for support.
The FLYTEFOAM technology in the midsole offers even softer cushioning and support,
The Dynamic DuoMax system also ensures better stability and support.
Some color variations are available in the Asics Gel Kayano 26, as well as wider widths.
---
3
Walking Shoes for Overpronation and Flat Feet
The Vionic Cadee and Preston are two Walking shoe designs for all occasions, with features ideal for Overpronation.
The Upper consists of smooth leather, and there are many color options available and some Metallic color variations in the Cadee.
There is a Podaitrist designed contoured footbed for optimal stability and arch support for support.
The footbed is also cushioned for shock absorbency and comfort and offers excellent stability.
A durable rubber outsole ensures good grip and long-lasting support.
---
4
Overpronation Running Shoe
Another favorite walking and running shoe is the Brooks Glycerine 19, which is the latest stability model.
The Fit is plush and comfortable with a breathable mesh upper and wider width options available.
There is a super soft DNA Loft cushioned footbed and an Ortholite Sockliner for comfort.
The design offers excellent support for Overpronation and good heel-to-toe transition.
There is an outsole, a durable, and a high traction rubber sole.
You can choose from a few color selections in this model according to your personal preference.
---
5
Overpronation and Flat Feet Walking Shoes
The Adidas Solar Boost 21 is an excellent Walking and Running shoe that offers excellent stability and energy return.
There are mesh and synthetic upper that offer a snug and comfortable fit and excellent breathability.
The Temperature depending on ultra-soft cushioning uses heat to mold to the shape of your feet.
There is also a durable and high tractionContinental rubber outsole.
For support and cushioning, there is Energy Railworks for boosting energy return.
The Solar Boots Cushioning is soft and energizing.
You can likewise get the SolarBoost 19 in a few color selections for men and women.
---
6
Stability Walking Shoes for Overpronation and Flat Feet
The Propet Stability Walker is designed to provide excellent stability and pronation control for persons who tend to Overpronate.
You can choose from either full-grain smooth leather or a Brushed Nubuck leather finish for the upper, which also comes in some color variations.
The Propet Stability walker offers excellent Arch support for Low arches and has a cushioned EVA midsole for shock absorbency.
The insole has Gel padding in the heels for cushioning and a comfortable lining.
The shoe is available in wider width options for a wider fit.
The Stability Walker is likewise coded for reimbursement as Medicare Therapeutic Shoes for Diabetes.
---
7
Casual Shoe for Overpronation and Flat Feet
The Skechers Sports Energy Sneaker is a comfortable casual wear shoe that accommodates flat feet and helps with overpronation.
The Upper is 100% leather.
There is a durable and slip-resistant rubber outsole.
The collar is cushioned for comfort, and there is a cushioned insole.
The EVA midsole absorbs shock.
---
8
Walking Shoe for Flat Feet that Overpronate
The Asics Gel Nimbus 23 is the ideal running and walking shoe for individuals that overpronate and have flat feet.
The Upper is a stretchable synthetic and mesh.
A FlyteFoam midsole and Gel are cushioning.
Inside is an Ortholite cushioned sockliner.
The rubber outsole is durable and offers good traction.
---
9
Walking Shoe for Flat Feet and Overpronation
The Skechers Go Walk range is the perfect walking shoe for flat feet and Overpronation.
Both models have mesh and textile uppers that are breathable and lightweight.
They are an easy slip-on and off the design.
The shoes are available in more colors and wider width options.
They are fully cushioned and shock absorbing.
The rubber outsole is durable and slip-resistant.
---
10
Walking Shoes for Flat Feet and Overpronation
The Walking shoe range from Propet is comfortable and ideal for Flat feet and Overpronation.
There are black-white and bone color options available.
The shoes have a hook and loop Velcro strap closure.
They are cushioned and have an EVA midsole.
These are Medicare-rated shoes for persons with foot conditions or diabetes.
---
Index Table: Top Rated Walking Shoes for Overpronation and Flat Feet
---
---