Individuals with Flat Feet or Fallen Arches have either a shallow arch or no arch at all.
Most people who have a flat foot will experience no pain or discomfort at all; however, others may experience pain and discomfort in their feet or body.
Skechers offer shoe models that offer superb support and comfort, particularly aimed at this arch type, or Flat Feet.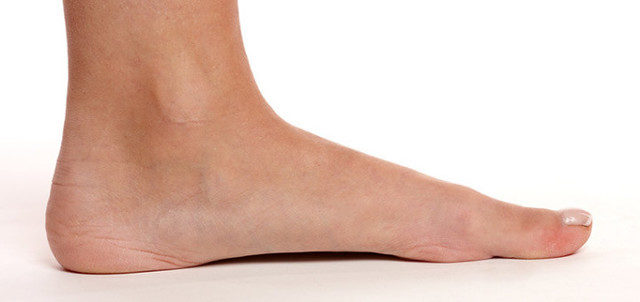 ---
Flat Feet in a Nutshell
Like I have mentioned before, people with Flat Feet have either a shallow arch or no arch at all, and one or both of their feet may be flat on the ground.
Your arches provide spring to every step that you take and help to distribute your body weight evenly across your feet and legs. Your arches will determine the way you walk and provide stability and flexibility so your feet can adapt to stress and a different variety of surfaces.
In the case of Flat Feet, your feet may roll towards the inside when you stand or walk, known as overpronation, and it can likewise cause your feet to point outwards.
Most people with Flat Feet do not notice any symptoms; however, others may notice pain in the heels, arches, calves, knees, hips, and even lower back. You may also experience stiffness and swelling in your legs and feet when walking or standing.
There are a Few factors that can lead to Flat Feet or Fallen Arches

Genetic – Flat Feet can be found in children, passed on from their parents, or may only develop later in life.
Pregancy – The hormone relaxin released during pregnancy, which affects your joints and bones, can cause the bones in your feet to collapse, particularly with excess weight, resulting in Flat Feet.
Posterior Tibial Tendinitis – Any damage, dysfunction, or rupture related to the posterior tibial tendon can lead to Flat Feet or Fallen Arches.
Health Conditions – Certain ailments and health conditions such as; nervous system or muscle diseases, cerebral palsy, muscular dystrophy, spina bifida, arthritis, and rheumatoid arthritis may cause flat arches.
Obesity and Weight – Excess weight on your feet can cause your arches to collapse under the pressure.
Age – Flat Feet may develop with age during later stages of life.
Injuries – Sprains , strains and foot or ankle injuries can likely also lead to Flat Feet.
---
How to Pick The Right Shoes for Flat Feet
THERE ARE A FEW MAIN FACTORS TO KEEP IN MIND WHEN CHOOSING THE BEST SHOE TYPE FOR FLAT FEET;
Arch Support – Arch support specifically aimed at a low arch is ideal in any shoe or orthotic for Flat Feet, which offers some stability and pronation control.
Motion Control – Motion Control shoes are very restrictive and perfect for individuals who pronate severely. They offer better stability and controlled support and less flexibility and cushioning.
Stability – Stability running shoes are similar to motion control shoes; they are just more moderate and more flexible, as well as providing a bit more cushioning. Stability running shoes offer firm heel support and also helps to prevent overpronation.
Orthopedic Shoes – Orthopedic shoes can be quite stiff and usually have a hard heel counter and hard shank to provide stability and prevent overpronation. If you can handle the stiffness, they are ideal for Flat Feet.
Casual Shoes – Casual sneakers, walking, or running shoes that have a firmer heel counter,r, and good arch support can likewise do the trick.
---
Features of a Good Skechers Shoe for Flat Feet
Uppers – Lightweight, flexible, and breathable synthetic or mesh uppers.
Spport and Cushioning – A stabilizing and shock absorbing midsole. Contoured 5Gen Cushioning or memory foam insole or footbed.
Outsole – Durable and high traction rubber outsole.
Lining – Smooth moisture-wicking interior linings.
---
Reviews: The Best Skechers Shoes for Flat Feet
We hope you love the products we recommend!
So that you know, We may collect a share of sales or other compensation from the links on this page.
---
1
Flexible Stability Shoes for Flat feet
The Go Train is a training and running shoe for men and women with a flexible, designed sole and stability features that make them the
best walking shoes for flat feet and overpronation
. These shoes are part of the
Skechers Go Walk Shoes
Line Models.
The uppers are made from synthetic materials and mesh to remain lightweight and breathable.
The midsole is designed to be shock absorbing and offer maximum stability.
A comfortable 5Gen lightly cushioned footbed and smooth interior linings.
The outsole offers excellent traction on many surfaces.
---
2
An easy slip-on and off walking shoe is lightweight, cushioned, and offers some superb stability features to aid with pronation issues and provide arch support.
Lightweight and breathable mesh uppers with an easy slip-on design.
There are heel overlays explicitly designed to offer better stability.
A shock-absorbing stability midsole with dual-density layers.
The insole features cooled foam and Goga Mat technology.
There is additional cushioning in the heel for shock absorption and to prevent heel pain.
A durable rubber outsole that offers superior traction.
---
3
Flat Feet Athletic Sneaker Shoes
A very lightweight and comfortable running shoe from Skechers with a stabilizing midsole design and Air Cooled memory foam cushioning technology, which is perfect for flat feet and overpronation.
Skech Knit breathable woven fabric uppers.
There are heel overlays for stability and durability from a durable fabric.
Inside is an Air-Cooled memory foam cushioned footbed.
The Shock absorbing midsole is designed with a stabilizing function.
A high traction durable rubber outsole.
---
4
Breathable Shoes for Flat Feet
The Relaxed Fit Breathe easy is a comfortable fitting and lightweight shoe with soft woven breathable uppers and a textured midsole for pronation control and shock absorbency.
Soft woven mesh fabric upper design for breathability and a loose and comfortable, relaxed fit.
The collar is padded for heel support.
A stability midsole with textured side panels.
Air-cooled memory foam topped cushioned insole.
The flexible rubber outsole offers excellent support and traction.
---
5
A lightweight and highly breathable walking shoe with innovative technology to accommodate flat feet and help with pronation control.
Durable synthetic uppers from two-toned kbit mesh that is very lightweight and breathable.
Features the new Goga Mat high rebound, energizing footbed, to fight foot fatigue.
5Gen midsole cushioning that is responsive and firm.
Inside is a Bamboo lining, For bacteri and odor control.
The rubber outsole is durable with a high traction design.
---
6
For Flat Feet and low arches, I have chosen the D'Lites and Vigor 2.0 from Skechers for their wider and more supportive design, which is ideal for flat feet.
Leather and synthetic uppers construction with availability in a few color options.
Inside is a memory foam footbed for contoured and conforming cushioned support and comfort.
The athletic midsole is lightweight and shock-absorbing, and there is a durable platform design rubber outsole.
The tongue and collar are padded for your comfort.
---
7
The Go Walk Lite range is a lightweight and supportive walking shoe range from Skechers, which is perfect for a flat foot.
It offers a relaxed fit with textile and leather design uppers.
Smooth and moisture-wicking interior linings.
A comfortable Air Cooled Goga Mat cushioned insole.
Energy returning and shock absorbing midsole.
Available in a few neutral color selections to choose from.
---
8
The Summits range for men and women from Skechers offers versatile and optimal support for flat feet.
A stylish sporty shoe with soft and breathable fabric uppers.
A flexible sole and shock-absorbing midsole,
Durable and non-marking outsole.
Cushioned and supportive footbed.
---
9
The Synergy and Terrabite from Skechers offer excellent stability and support for Flat feet.
The upper of the Synergy and Terrabite consists of leather and synthetic materials with a different feel for each model.
There is a comfortable memory foam insole in the Terrabite and Synergy, and the Terrabite also has waterproof uppers.
The Synergy has a more flexible sole, and both shoes have a rubber outsole.
---
10
Walking Shoes for Flat Feet
The Go Walk Honor and Evolution Ultra from Skechers offer the best support and comfort features for flat feet.
These two models are the ideal slip-on walking shoes with a breathable upper and supportive design.
A cushioned Air Cooled Goga Mat insole and a lightweight Dual-Density Ultra Go outsole with Pillar technology for shock absorbency and stability.
The uppers are lightweight and synthetic for a flexible fit.
Both shoe models are also machine washable and available in more color options.
---
11
The Skechers D'Lux range has some of the most comfortable walking shoes for flat feet.
The D'Lux models from Skechers have synthetic and textile uppers with a soft and comfortable memory foam insole.
There are a supportive midsole and a durable rubber outsole.
Both models offer a comfortable lace-up fit and are very lightweight.
There are also some colors you can choose from in each model.
---
Index Table: Top Rated Skechers Shoe Models for Flat Feet
---
---