Your risk of Arthritis increases as you age; this condition damage the joint and can cause ankle and foot pain.
These issues can easily be alleviated and treated with the right footwear, such as the Skechers shoes for arthritis.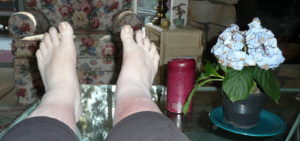 ---
How Arthritis Affect your Feet and Ankles
Arthritis is a painful condition that caused degradation, pain, and inflammation in the joints. This usually occurs in the joints of the hands, feet, knees, and ankles.
Thus your feet and ankles are greatly affected, which in turn can cause issues with walking and motion that can also lead to other foot ailments such as callouses, corns, and foot deformities.
With Arthritis, you also have an increased risk of suffering an injury because of its effects on your feet and ankles.
---
No High Heels or Flats – High heels place your feet in an unnatural position and cause excessive strain as well as uneven pressure distribution and should be avoided in general but even more so if you have Arthritis. On the contrary, very flat shoes also offer no support or shock absorbency and can be just as bad.
Adjustability – Because flare Ups can cause swelling and Arthritis can lead to specific changes in the shape and form of your feet, an adjustable shoe is always advised.
Removable Insoles – A comfortable cushion insole is vital, and if it is removable, even better so that you can use specialized orthotics if required.
Uppers – Look for a soft and flexible upper, particularly if you have painful Bunions or hammertoes, which will not place pressure on your feet.
Rocker Sole – A Rocker Style sole reduces pressure on your feet and ankles and distributes your weight more easily when walking.
Support – The more supportive the shoe, the less work the foot has to do. Look for a more rigid sole and heel counter or cups for stability and support.
Fit – Get the right fit in width and length and look for a shoe with a roomy toe box and a more relaxed and accommodating fit.
---
Features of a Good Skechers Shoe for Arthritis
Uppers – Made from Breathable and flexible Knit design textiles
Insole and Midsole – Memory Foam, Goga Mat, Air Cooled Memory Foam orResponnsive 5Gen cushioning, or a Goga Max High rebound insole and also in some models a Cushioned 5 GEN midsole or EVA Midsole., for optimal shock absorbency and cushioned comfort
Midfoot – Tapered Midfoot with arch support or a Goga Mat Support Arch.
Linings – Smooth Moisture wicking linings as well as an antibacterial and odor control Bamboo lining ins some models.
Design – Slip on or lace up design and some more formal oxford style and pump or Mary Jane styeled designs.
Sole – Firm or flexible with a tread for optimal grip and traction, or an outdoor trail specific tread.
Options – A Variety of color and width options in most models that you can choose from.
---
Reviews: The Best Skechers Shoes for Arthritis
Below are the top models in the Skechers shoe brand which are perfect to wear if you have Arthritic Feet;
---
1
Slip On Walking Shoes for Arthritis
The Skechers Flex Range has soft and flexible uppers, which are ideal for Arthritic feet.
Breathable and Flexible Knit Uppers that are lightweight and gentle against the skin.
An Air Cooled Memory Foam Insole with smooth moisture-wicking Linings.
Flexible comfort sole and durable rubber outsole.
Available in Neutral color selections.
---
2
Wider Width Arthritis Shoe
The Performance Go Walk Slip-On Range from Skechers is ideal for walking when you have Arthritis.
The men's model is available in a few color options, while the ladies' model is available in many bright and bold color selections to choose from as preferred.
Both have breathable and flexible mesh upper and a slip-on design.
Ther is an arch supportive, lightweight midfoot and Bamboo Lined Footbed for anti-bacterial odor control.
Lightweight retaliates Cushioning and availability in wider width options.
---
3
The D'Lites and ASftreburn are comfortable and fashionable chunky sneakers, which are also perfect for arthritic feet.
Leather and synthetic upper with two-tone colors.
A flexible and thick rubber sole for maximum shock absorbency and traction.
Comfortable padded footbed.
Available in a few color options as well as wider widths to choose from as needed.
---
4
Slip On Shoe for Arthritis
The GO Walk Joy and Go Walk Max Athletic are two slip-on walking shoes for persons with Arthritis.
A Soft and flexible textile upper with a breathable and accommodating design.
A comfortable Responsive 5Gen cushioning and Goga Max High rebound insole and Cushioned 5 GEN midsole for optimal shock absorbency and cushioned comfort.
Inside is a soft moisture-wicking fabric liner and a padded collar for a snug and comfortable fit.
Available in different color options as well as wider widths.
---
5
This is a comfortable and more classy Boat Style shoe for all occasions with a lightweight and accommodating fit.
Soft and flexible textile and leather uppers with a relaxed fit design and availability in wider width options.
A plush Air Cooled Memory Foam Insole and a Lightweight 5Gen Cushioning system.
Soft moisture-wicking fabric linings and a Goga Mat Supportive Arch.
Available in a few neutral color options.
---
6
Slip On Shoe for Arthritis
The Microburst is a Pump designed flat for women, and the Equalizer, Slip-on design for gents.
Synthetic and textile upper for breathability and easy slip on and off the design.
Available in broader width options as well as some color selections.
Inside is an Air-Cooled memory foam cushioned insole and a Shock Absorbing FlexSole lightweight midsole.
The sole is made from durable rubber and offers good traction.
---
7
Wider Width Arthritis Shoes
The Skechers Overhaul and Summits are comfortable casual sneakers with a fit perfect for Arthritis.
The uppers ate textile and synthetic with a comfortable fit.
There is a Memory foam comfort insole and a supportive Foam midsole.
The durable rubber outsole offers excellent traction and long-lasting support.
The sole is also flexible for easy movement.
---
8
The Skechers Go Walk Joy and Max model offers a wider and more accommodating fit for arthritic feet.
The uppers are textiles and breathable.
The shoe is very lightweight and flexible.
There are a comfortable memory foam insole and a foam midsole.
You can also get this model in a wider width and other color options.
---
9
Arthritis Athletic Dress Shoe
These are two athletic dress style shoes from Skechers for Arthritic feet.
The upper consists of leather and textile materials with breathable woven mesh.
Inside is a comfortable memory foam insole and a Bio-Dry moisture managing lining.
The shoes both offer a relaxed and comfortable fit as well as wider width options.
---
Index Table: Top Rated Skechers Shoes for Arthritis
---
---