Any footwear with a Rocker Sole is well known for redistributing plantar pressures during the gait cycle when walking or running and affects balance, mainly used in patients with Diabetes.
However, the Rocker Bottom shoe can be quite potentially dangerous when used by the wrong populations.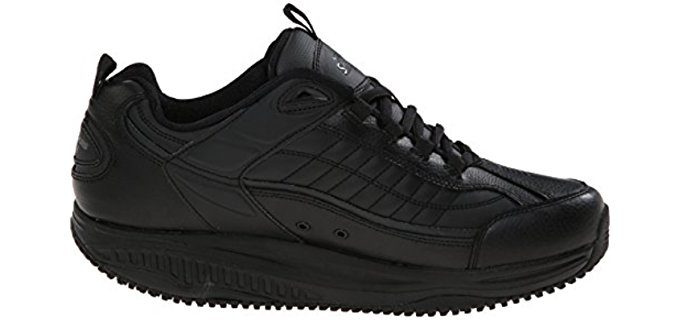 ---
How the Rocker Bottom Shoe Works
Rocker Bottom or sole shoes have the main function of improving the feet' function and protecting the foot against injuries in individuals who need load modification or rehabilitation because of injuries and wrong foot mechanics.
Rocker Bottom shoes are intended to change the gait mechanics and are among the most prescribed therapeutic shoe modifications.
Rocker Bottoms, in easy terms, are the "Aspirin" to temporary foot issues and chronic foot problems.
How Exactly does the Rocker Sole Work? – A rocker bottom or sole on a shoe inhibits excessive or painful joint movement. It prevents unwanted compensation for immobile joints while also reducing reactive ground forces and aiding in the harmony of movement and weight flow throughout the gait cycle.
Situational Instability – The Rocker Sole shoe is designed to transform a flat and hard surface into a more unstable surface to enhance functional performances and address most gait-related issues.
Lower Limb Biomechanics – The Rocker Bottom shoe produces significant and improving changes in the lower limb biomechanics in individuals who have improper biomechanics and musculoskeletal disorder. However, it can be detrimental to individuals with normal and effective biomechanical functions.
---
Benefits of a Rocker Bottom Shoe
The Rocker Bottom or Sole Shoe has many benefits for correcting foot and limb biomechanics, treating Diabetes symptoms, and improving Gait cycle efficiency.
There are two types of Rocker Bottom or Soled shoes, and here is how they benefit you;
Forefoot Rocker Sole – In this shoe type, a rocker design sole is placed just behind the metatarsal heads and is most effective in reducing pressure and pain in the ball of the foot, as well as reducing motion of the toe joints. This is ideal for treating conditions such as Hallux Rigidus, Sesamoiditis, metatarsalgia, hammertoe, Bunions, and even any other Ball of the Foot or toe pain and stiffness.
Heel to toe Rocker Sole – The Heel to Toe design Rocker Sole has its thickest part at the back of the shoe and becomes thinner towards the ball of the foot and toes. This rocker sole is beneficial in limiting ankle and midfoot motion, which s ideal for ankle protection and ankle arthritis, Achilles tendinitis, and even midfoot arthritis or issues. It also reduces the force on the heel strike, and the foot can roll faster off the heel.
---
Features of a Good Rocker Bottom Shoe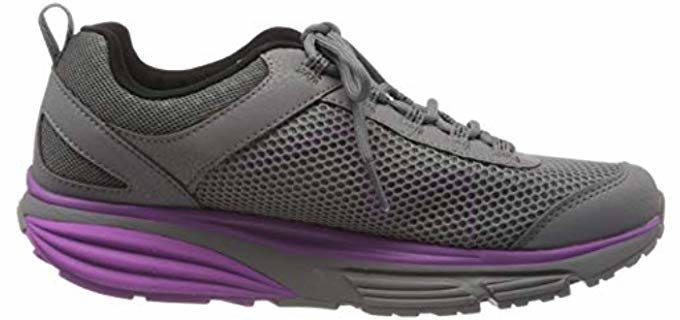 Rocker Bottom Sole design that offers heel-to-toe support or just forefoot support.
A cushioned EVA midsole for shock absorbency and a high traction durable rubber outsole for better grip.
Lightweight and breathable, mesh, synthetic, or leather upper with or without a closure system.
A cushioned insole and moisture-wicking interior lining or leather lining.
---
Reviews: The Best Rocker Bottom Shoes
Below are some of the top favorite shoe types and brands with a Rocker Bottom Design Sole;
---
1
Walking Shoes with a Rocker Bottom Design
The MBT Colorado is a comfortable athletic-style shoe with a rocker bottom sole.
Breathable and lightweight mesh uppers with synthetic overlays for structural stability.
Sensor technology cushioned and lightweight midsole and a non-marking rubber outsole.
A Rocker bottom sole for better motion control and stability.
Available in a few color selections to choose from.
---
2
Rocker Bottom Sporty Dress Shoe
The Shape Ups range from Skechers is specifically rocker Bottom designed shoes that offer ideal support and stability.
Durable and smooth leather upper in an oxford sneaker design for the men and a mary jane design for the ladies.
Comfortable Kinetic Wedge cushioning and dual-textured uppers.
A durable rocker bottom sole with a rubber outsole for better traction.
Soft and comfortable cushioning inside with a moisture-wicking lining.
---
3
Shoe with a Rocker Bottom
The whirlwind and Bris from Ecersteps are two exceptional rocker bottom syle walking and running shoes.
Durable leather is upper with airy mesh inserts for breathability to reduce heat inside the shoe.
The midsole is lightweight and cushioned for sufficient shock absorbency.
A Molded sock provides lasting cushioning and a comfortable fit.
The Non-Marking rubber outsole ensures excellent traction and durability.
A rocker Bottom design for optimal support and stability.
---
4
Rocker Bottom Design Work Shoe
From Dansko, we have their professional Clog, which has a Rocker bottom sole, ideal as a work shoe for all work environments.
Durable and soft leather uppers.
A roomy toe box and comfortable slip-on design.
Excellent slip-resistant PU outsole with a rocker bottom design to propel your feet forward and provide better shock absorbency.
There is also a wider heel strike for better stability.
---
5
These are two superb Rocker Bottom Sole Dress Shoes from MBT.
Leather and synthetic upper in an oxford design for men and slip-on pump design for the ladies.
Both shoes have a rocker bottom sole for stability and shock absorbency.
The sole is created with multiple layers to create a natural feeling of walking on the sand.
There is a cushioned dual-density PU midsole for shock absorbency and nylon for firmness and durability.
Nappa leather uppers are available in a few neutral colors and a comfortable insole and lining.
---
6
Shoe with Rocker Bottom Sole
The New Balance Zante is a top athletic shoe style with a Rocker Bottom Sole design.
Synthetic and textile Hypoknit uppers with a bootie style no-sew construction for a snug and comfortable fit.
A Melon Rubber 6mm drop outsole and Fresh Foam cushioned midsole.
Inside is an NB response cushioned insole and smooth moisture-wicking linings.
The sole has a rocker bottom design.
This shoe is available in many color options to choose from.
---
7
The Fresh Foam Vongo from New Balance has a supportive and comfortable foamy Rocker Sole.
The Fresh Foam Vongo has a Rocker Bottom design sole for optimal motion control and better movement.
There are sift screen printed synthetic and textile uppers.
The Fresh Foam midsole offers a superior ride and ample cushioning.
There is also a high traction durable rubber outsole.
---
8
Rocker Bottom Running Shoe
The Glide Ride from Asics is the Ultimate in Rocker Sole running shoes.
There are breathable and lightweight mesh and synthetic upper for a comfortable fit.
The Rearfoot Gel technology absorbs shock reducing the impact on your joints and back.
A Flytefoam midsole ensures excellent cushioning and shock absorbency, while the Guidesole technology curved design sole improves stability.
Inside is a plush cushioned insole and lining for your comfort.
The shoe model is available in a few color selections from which you can choose.
---
9
These are two comfortable leather work shoes from Skechers, both with a Rocker Design Platform Outsole.
The Uppers consist of durable and water-resistant leather that is breathable and comfortable.
There is plush and cushioned memory foam insole for comfort and a moisture-wicking interior lining.
The outsole is thick with a Rocker design and an outer rubber sole that offers excellent grip on slippery surfaces.
These shoe models come in a solid black color option, which also conforms to most uniform colors.
---
10
Rocker Sole Running and Walking Shoe
The Hoka One Bondi 7 is the latest model in their Bondi athletic range with a Rocker Bottom.
Hoka 1 Bondi 6 is the latest in athletic running and walking shoes with a Rocker Bottom Sole.
The uppers are lightweight and breathable with textile and synthetic materials.
There is a padded cushioned insole for comfort and an EVA midsole for shock absorbency.
The sole offers a durable grip and has a Rocker Bottom design.
---
11
The Skechers Shape Up design Rocker Sole offers you high performance and comfort in a casual sneaker for men and women.
The Overhaul has leather uppers and an Oxford design, while the 2.0 Comfort for ladies has Trubuck leather uppers with a more athletic style.
The insole is padded with cushioning Air Cooled Memory Foam for comfort, and there is a thick EVA midsole.
The sole has a rocker bottom design and a high traction tread.
---
12
Rocker Bottom Running Shoe
The GT 16 from MBT is one of the best Rocker Bottom Running shoes that you will find.
There are mesh and synthetic uppers for breathability and a variety of colors available in the GT 16.
The insole is cushioned, and there is an Air Mesh Breathable lining to keep moisture at bay.
The Co_Mold shank offers excellent support and stability.
There is also MBT sensor technology and a shock-absorbing heel.
The Rocker sole offers good support, and there is a durable rubber outsole.
---
Index Table: Top Rated Rocker Bottom Shoes
---
---