Your feet or ankles can become painful or swollen because you are on your feet either walking or standing for extended periods of time.
Feet and ankles that stay swollen and are accompanied by other symptoms, in particular for no apparent reason could mean that you have a serious health issue.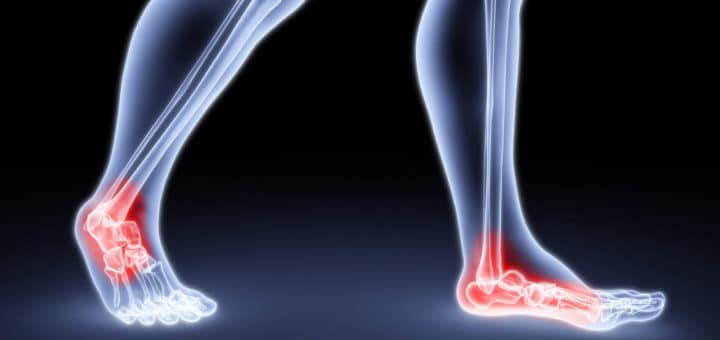 ---
Quick View: Selected Shoes for Ankle Pain
---
What does Ankle Pain Refer To
Any pain or discomfort that you may experience in your ankles, whether it is caused by an injury, sprain or medical condition such as arthritis falls under the category of ankle pain.
You can have unstable ankles that are prone to sprains, ankles that become painful as you get older because of arthritis, or ankle pain because of an overpronated (flat foot).
---
The Main Causes of Ankle Pain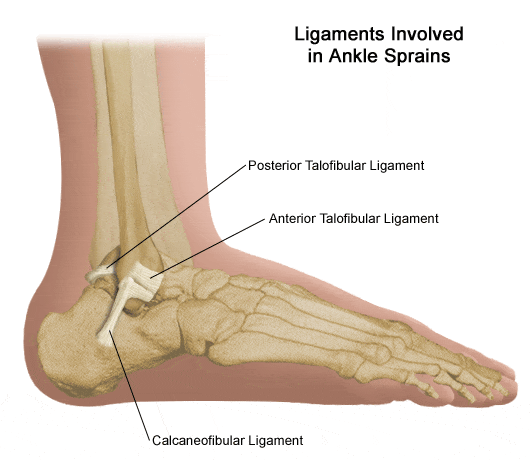 Some common causes of ankle problems are;
Sprains or injuries caused by everyday activities or sports.
Medical conditions such as Arthritis, Osteoarthritis and Gout.
Nerve damage or an injury such as sciatica.
Blocked blood vessels in your ankles.
Infection in your ankle joints.
---
How to Protect Your Ankles and Relieve Ankle Pain
Skip High Heels
When you walk on spiked high heels, you have very little stability on your feet, and you are much more likely to roll your ankle because of the narrow heel and shape of the shoe.
So rather opt for a shoe that has a wide, low or flared heel, or a lateral post shoe like a sneaker or hiking boots. A wider and flatter shoe is always a better option for painful ankles.
Do not Wear Flats
Most people who get arthritis in their ankles begin with a deformity known as pronation which is the inward rolling toward the arch of the foot and ankle causing ankle pain.
Flat shoes do not provide any arch support, and there is nothing to resist the painful movement when you have pronation. Most sandals and flip flops tend to be flat and provide very little arch or ankle support.
So rather stick to and enclosed lace-up shoe with a heel no higher than one and a half inches.
Orthotics and Shoe Modifications
Shoe inserts and insoles will provide you with the required cushioning and shock absorption as well as keep your ankles from rolling, to prevent ankle problems.
Modifying your shoe, such as adding heel inserts will also help to take the stress off your lateral ligaments.
Ankle Excercises
Towel crunches and resistance band exercises will help to strengthen your ankles.
Exercising your feet muscles will also help to strengthen your foot muscles which will in turn help to support your ankle joints.
The Right Sports
Avoid high impact sports and sports that require cutting movements from side to side, such as; basketball, tennis, running, soccer and benign golf.
An uneven surface is also very unhealthy for your ankles. Low impact sports such as swimming and biking are much safer when you have painful ankles.
Weight Gain
Gaining excessive weight can add pressure to your joints causing ankle pain and eventually arthritis.
Try to maintain a healthy weight at all times.
---
Reviews: Best Shoes for Ankle Pain
Below is a list of the Top Shoes that you can wear if you have ankle pain or an ankle problem;
---
1
The New Balance's fresh foam line offers you a perfect blend of support and cushioning, especially for running and walking. The support and extra cushioning will alleviate ankle pain and protect your ankles from further damage.
The uppers are fabric and synthetic.

A rubber sole for good grip.

A futuristic runner with ombre fade and a lace keeper overlay.

All-new FRESH foam midsole for arch support.

The combination bootie structure with engineered mesh ensures excellent support and breathability.

The sock liners (Insoles) are Ortholite and they provide extra protection to your foot in the shoe.

Data-Driven midsole and outsole.

This shoe is available in a variety of colorful designs.

---
2
Using advanced technology and placing the famous Asics Gel in strategic places, this shoe will provide you with a comfortable and perfectly fitting shoe to alleviate ankle pain.
This Nimbus model is lightweight and extremely durable.

Fluidride technology gives you a combination of bounce back and cushioning in this.

Rearfoot and Forefoot Gel cushioning systems to attenuate shock during impact and toe-off as well as allowing for movement on multiple planes.

The FluidFit upper technology combines multi-directional stretch mesh with stretch reinforcements, which will adapt to your feet creating a glove-like, customized fit which in turn reduce pressure on your ankles.

Heel clutching system gives you improved support and a better heel fitting.

---
3
The rocker sole in the Hoka One Bondi limits ankle joint motion when your foot hits the ground and provides superb cushioning to reduce the force on your feet and ankles.
Hoka One has three models of shoes that have the added rocker technology, make sure to choose the right one.
Breathable mesh uppers.

A sturdy rubber sole.

Rocker technology and excellent cushioning for comfort and support.

A versatile running shoe for on and off-road use.

The upper frame is made from comfortable Lycra.

An oversized midsole with 2.5 times more volume than standard running shoes.

---
4
Something a bit different, which is also a very healthy and stabilizing choice for people with ankle pain and arthritis is a boot with low, stable heels. I have chosen the Clarks Maymie because of its sleek and supportive
design.
Manufactured from good quality leather.

A durable synthetic sole.

The shaft measures 11 inches from the arch.

A 1.5-inch heel and 0.5-inch platform.

Offers a snug and comfortable fit for everyday wear.

Available in Black and Rust.

---
5
A flatter shoe that still provides solid support and pronation control with a removable cork and latex anatomical footbed that will help to accommodate orthotics. The Naot Matai range offers shoes that give the support and stability required for painful ankles.
Manufactured from high-quality leather.

A durable synthetic sole.

The heel measures up to 1.5 inches.

This is a Yoga-inspired flat with a dual-textured upper and scalloped instep.

Soft padded collar for a snug comfortable fit.

An adjustable Mary Jane straps for a perfect fit.

The Naot Matai Mary Jane is available in a large variety of colors and designs.

A more feminine and stylish shoe for everyday wear and great comfort.

---
6
The main idea behind any hiking boot is to provide extensive ankle and foot protection, more than that of any other regular shoe.
The firmer soles give more stability and the taller design, and heavy leather materials help to keep your ankles aligned and upright.
is an excellent hiking boot for ankle support and comes with an added climate control footbed and supportive frame.
Constructed from the finest quality leather.

A durable Vibram EVO traction outsole.

A leather hiking boot with a mid-rise silhouette and D-Ring lacing.

Gore-tex moisture wicking lining to keep your feet dry and fresh.

A climate control comfortable footbed.

The Monowrap frame in the midsole helps to give your foot the support it needs.

---
7
The Vionic Orthaheel Walker is an excellent choice if you are looking for a walking shoe that will relieve ankle pain and prevent further damage.
The Orthoheel technology along with the EVA midsole and the anti-bacterial orthotic insole will provide shock absorbency and cushioned support as well as reduce strain on your feet and ankles.

The flexible rubber outsole also acts as a shock absorber and provides excellent grip.

A breathable mesh liner and sock liner ensures your feet are kept dry and comfortable.

Available in six colors.

This comfortable walking shoe is also the Most Comfortable Work Shoe for women working in a more casual environment.

---
8
A comfortable and cushioned ankle boot, that supports your ankle.
There is a soft and cushioned removable foot bed.

Durable and slip resistant, rubber outsole.

Comfortable soft and supple leather uppers.

Available in three neutral colors for your own personal preference.

---
9
A comfortable and supportive ankle boot that has a slight heel and snug fit to protect your ankles from strain and impact.
Genuine and durable leather uppers in a stunning Cowboy style design.

A Narrow toe and slight heel for extra support and stability.

A cushioned comfortable footbed and comfortable fitting design.

Available in a few rustic color options to choose from.

---
10
The Sanibel from Orthofeet is an orthopedic comfort shoe in a cute Mary Jane style with a supportive heel.
Ortho-Cushioning system for luxurious comfort and support.

A protective ankle strap and a soft collar to protect your ankles and keep them comfortable.

Non–Binding and extra depth design for painful foot conditions.

Adjustable strap for a secure and snug fit.

Soft and breathable leather and mesh uppers.

---
Index Table: Top rated Shoes for Ankle Problem
---
The above picks are all great choices for painful ankles and arthritis.
The best, however, is to stick to a lace-up shoe that has a slightly higher shaft to keep your ankle firmly in place. Keep to a lower heel and stay clear of thinner and flatter heels when you have ankle pain.
---
---