If you have ever experienced that very persistent stabbing pain in the heel area of your foot, especially when you get out of bed in the morning, you might very likely be suffering from Plantar Fasciitis.
Plantar Fasciitis is one of the most common causes of heel pain and can be remedied with the right shoes.
This article looks at some of the best available Adidas shoe models that cater to this condition.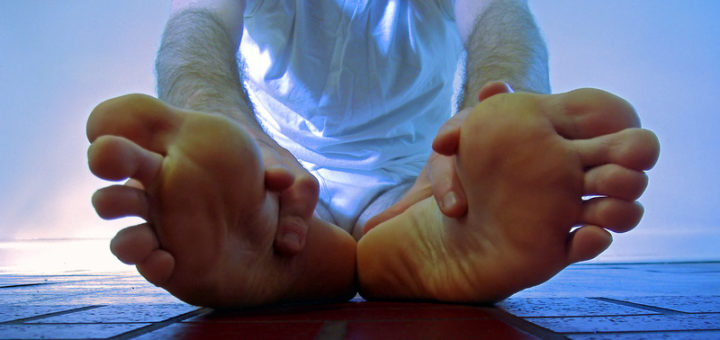 ---
Plantar Fasciitis and How it Affects Your Feet
Plantar Fasciitis occurs mainly because of strain and damage to the Plantar Fascia Tissue in your feet.
Here are a few Facts about Plantar Fasciitis;
Symptoms – Plantar Fasciitis causes a stabbing pain in your heel. This pain is usually noted when you get up in the morning or after sitting down for a while and generally occurs after you stood for a long time or after strenuous exercise.
The Science – The Plantar Fascia tissue is the shape of a Bow String supporting the arch of your feet. When strain is placed on the Plantar Fascia, they may become torn or inflamed, causing heel pain.
Some Causes and Risk Factors – Plantar Fasciitis is more common in people 40 o 60 years of age and among athletes. Certain activities and exercises that place strain on the heels and arches can lead to these conditions. People who have flat feet or low arches are also more prone to Plantar Fasciitis. Obesity is another main cause of Plantar Fasciitis.
---
What to Look for in a Shoe for Plantar Fasciitis
Now that we have looked at some of the factors contributing to Plantar Fasciitis, let's take a look at what to look for in a Good shoe for this condition;
Arch and Heel Support – Good arch support and heel support such as a rigid heel counter prevent excessive stretching and pressure on the Plantar Fascia, helping Plantar Fasciitis heal or prevent the condition in the first place.
Cushioning – Firmer ad more supportive cushioning in the midsole or insole provides shock absorbency and impact on the heel and arch, which in turn can prevent or help with Plantar Fasciitis.
Stability – Stability features also prevent excessive strain on the Plantar Fascia and can prevent issues such as Overpronation, which is also prevalent in persons who have Plantar Fasciitis or a Low Arch type.
What To Avoid – Shoes that are minimalist in design or have a very flexible sole should be avoided when you have Plantar Fasciitis. These shoe types lack adequate support and can worsen the condition.
---
Features of a Good Adidas Shoe for Plantar Fasciitis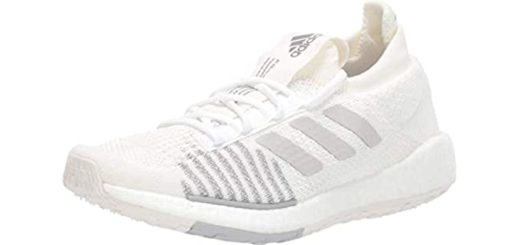 Uppers – Air mesh, Engineered Mesh, Knit, or Primeknit Uppers are visible on most Adidas shoe models that offer a flexible and adaptive comfortable fit. You can also choose from many available color options in every model.
Midsole and Support – For cushioning and shock absorbency, there are the Cloudfoam or Boost dual-density midsole designs. Support systems such as Guide Rails and heel counters are used for better stability.
Insole and Lining – Every model will have a comfortable insole and moisture-wicking textile lining for comfort and to keep your feet dry and cool. The Alpha boost System features dual-density Boost in the midsole and insole.
Oustole – Rubber or continental rubber is used for the outsole, which is highly durable and offers great grip. A stretch web design or lug patterns are used to tread for better traction on wet and dry surfaces.
---
Reviews: The Best Adidas Shoes for Plantar Fasciitis
These are some of our top choices in Adidas Shoe modesl for persons who have Plantar Fasciitis;
---
1
Plantar Fasciitis Casual Shoes
The Cloudfoam and Cf Lite running and walking shoe models offer super-soft cushioning for painful heels.
The Upper is synthetic and textile, with Stretch mesh for an adaptable fit and breathability.
The Cloudfoam Midsole and Ortholite Sockliner work together to provide Plush comfort cushioning and wick away moisture.
The Midsole offers excellent shock absorbency and foamy cushioning.
There is a durable rubber outsole for optimal traction and long-lasting support.
---
2
Running Shoes for Plantar Fasciitis
The Nova is slightly different with excellent support and comfort for Heel Pain and Plantar Fasciitis, also using Cloudfoam cushioning.
For comfort and cushioning, the popular Ortholite Sockliner and Cloudfoam cushioning are used in the sole.
There is a durable and high traction rubber outsole.
Inside is a smooth textile lining for moisture management and cooling.
The uppers are lightweight and breathable Engineered mesh.
You can also select oy of a few color options available.
---
3
Running Shoes for Plantar Fasciitis
The Ultraboost 20 is very popular for its shock absorbency and cushioning that is responsive and energizing.
You can enjoy a more supportive sock-like snug fit with breathable and lightweight Primeknit and textile uppers.
The Boost cushioning is responsive and energizing, protecting your heels from pain caused by impact.
The rubber outsole is bot durable and high in grip and traction./
Many color options are available for ladies.
---
4
Cross Training Shoes for Plantar Fasciitis
An excellent Cross Training or gym shoe for Plantar Fasciitis is the Edge range from Adidas.
The Flexible fit and Midfoot lockdown design is ideal for Cross Training and running.
There are a Bounce Energizing Cushioned midsole and soft textile lining for comfort.
The TPU and Rubber outsole comes with multi-depth Flex Grooves for more secure traction and flex.
There are also quite a few color options available in this specific model.
---
5
Plantar Fasciitis casual and Running Shoes
The Adidas Alphaboost is a walking and running shoe that is perfect if you have Plantar Fasciitis.
The Upper is light and breathable Air Mesh with Forged mesh for better support and comfort in the fit.
There is a smooth interior textile lining insole for your comfort.
The Alphaboost system features a dual-density Boost midsole and stability pods in the outsole.
The durable Continental rubber outsole is ideal for wet and dry surfaces.
---
6
Walking and Running Shoes for Plantar Fasciitis
The Solar Glide is the optimal running shoe for persons who have Plantar Fasciitis.
The Upper Air mesh with forefoot ribbing and suede overlays for better support and flex.
A Daul density Boost midsole provides excellent under arch support and cushioning.
The Stretchweb continental rubber outsole ensure superb traction on wet and dry surfaces.
There is also a heel counter and stability rail for better support and motion control, making this ideal for those who overpronate.
---
Index Table: Top Rated Adidas Shoes for Plantar Fasciitis
---
---