Plantar Fasciitis is a prevalent orthopedic complaint and is mainly just heel pain and stiffness because of inflammation in the Plantar Fascia of the foot.
Insoles are an excellent treatment option that can bring fast and effective relief as well as prevent further damage and injuries to the Plantar fascia.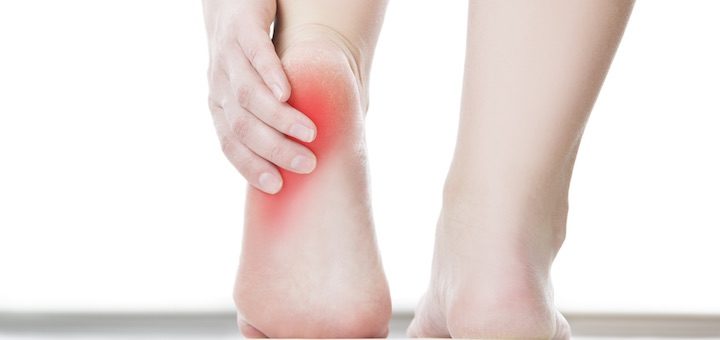 ---
Plantar Fasciitis and How it Affects Your Feet
Before we can discuss how an orthotic insole will help you, let us first look at exactly how Plantar Fasciitis affects your feet.
Plantar Fasciitis is mainly caused by excessive stress and aggravation to the connective tissue stretching from the heel bone to the ball of the foot called the Plantar Fascia.
When the Plantar Fascia becomes inflamed, you have pain in your heels with every step that you take, and the muscles may become stiff.
Symptoms of Plantar Fasciitis – Stiffness in the heel at the bottom in the center of the heel, or the middle of the foot. Also, pain in the heel that is sharp or burning, particularly when standing up after a long rest period. Other symptoms include pain and tenderness or even swelling at the bottom of the midfoot and heel area.
Causes of Plantar Fasciitis – Anything from age to abnormal walking patterns such as Overpronation may lead to plantar Fasciitis. Flat feet or low arch foot types also tend to quickly develop this condition, and overweight or pregnant individuals may suffer from Plantar Fasciitis. High-stress activities can lead to plantar Fasciitis, and diseases such as arthritis may increase your risk.
Other Risk Factors – Unsupportive and improper footwear can increase your risk and may even worsen the symptoms of Plantar Fasciitis. An increase in weight, lack of exercise, and ill-fitting shoes are also risk factors.
---
How can an Orthotic Insole Help for Plantar Fasciitis
An Orthotic insole can help to relieve the pain and discomfort of Plantar Fasciitis as well as preventing the condition from developing or being aggravated.
Minimize Stress – Most insoles come with good arch support, which minimizes the strain on the Plantar Fascia when you walk or stand to prevent and treat the condition.
Pronation Control – An insole can provide stability and control excessive pronation to prevent incorrect walking and running patterns.
Heel Protection – The deep heel cup in most orthotic insole keeps the heel stable and cushions it from a severe impact.
Support – An insole provides anatomical support for the arch's foot that improves stability, posture and reduces strain on the feet, which ensure immediate pain and discomfort relief.
---
Features of a Good Plantar Fasciitis Insole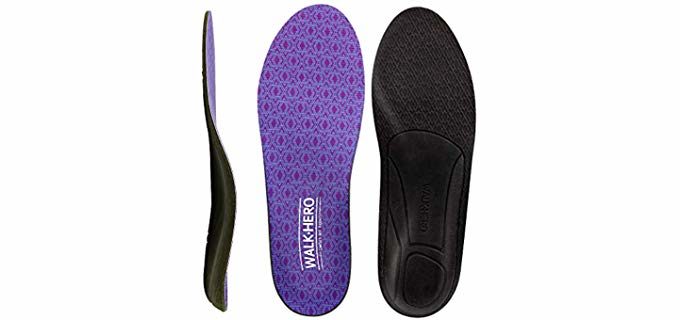 Durable and flexible design made from top quality materials.
A cushioned heel and forefoot with stability features in the heel or a Deep Heel Cusp.
Cushioned PU or EVA materials.
A smooth moisture-wicking Top Liner.
Good Arch support and contoured design.
---
Reviews: The Best Plantar Fasciitis Insoles
Here are some of the best options in Insoles for Plantar Fasciitis;
---
1
Insoles for Plantar Fasciitis
From Physics Gear, we have their sports model insole, ideal for wearing athletic shoes and casual sneakers, providing all-day comfort and support for Plantar Fasciitis.
Excellent arch support, which relieves metatarsal and heel pain effectively.
It is made from high quality and durable materials with a medical-grade base layer and High-performance EVA and PU materials.
Lightweight and ergonomically designed to provide Non-Slip support with a deep heel cup for stability.
The top layer wicks away moisture and keeps feet cool and comfortable.
---
2
High Arch Plantar Fasciitis Insoles
One of the top favorite insoles for Plantar Fasciitis is, of course, the GREEN model form Superfeet.
A High Volume and High Profile insole that offers full-length support and comfort in most shoe types.
There is a stabilizer cap at the base of the insole for rearfoot support.
The deep heel cup ensures maximum support and shock absorbency in the heel.
A stability shape and design that reduces strain and stress on the feet and heels.
Made with high-density foam layers and a moisture wicking fabric top layer.
---
3
Insoles for Plantar Fasciitis
From Dr. Scholls, we have their popular arch Support insole, which is ideal if you're suffering from Plantar Fasciitis.
Designed specifically to reduce heel pain and Plantar Fasciitis symptoms.
Shock Guard technology for immediate and all-day pain relief.
A Full-length insole that cushions and supports the whole foot.
Fits most casual and athletic types of shoes easily.
Comes in a trim to fit size option.
---
4
Plantar Fasciitis Insoles
The Walk Hero Comfort and Support Model offers lasting comfort with a supportive deep heel cup for heel pain relief.
Excellent arch support for better alignment and posture.
The Deep heel cup provides stability and cushioning in the heel.
Designed for everyday use with most closed shoe styles.
Idea for shock absorbency and pain relief.
---
5
Plantar Fasciitis Insoles
The Nicewin Orthotic insole provides full comfort and relief from Plantar Fasciitis symptoms.
They are designed to provide stable support and comfort with a heel stabilizing cap and shock absorbers.
Bouncy and energy-returning cushioning ideal for walking and running.
Ideal for flat or fallen arches offering excellent stability and arch support.
Full-length comfort and all day support.
---
6
Cushioned Insoles for Plantar Fasciitis
This is the thinner model insole from Wal Hero, which takes up less space in a shoe and is ideal for dress shoes that are more lightweight and lower profile.
Low profile and thin design with anti-slip textured fabric.
Premium orthotic design and materials with shock-absorbing EVA foam and a TPU material for stability.
Offers high-density full length cushioning and has a Semi-Rigid stability cradle for arch support and to cup the heel.
Ideal for daily wear with all shoe styles.
---
7
Pain Relief Plantar Fasciitis Insoles
A comfortable and supportive insole ideal for pain relief associated with plantar Fasciitis.
It is made from premium shock-absorbing EVA with a three-point mechanic design.
Long-lasting durability and comfort are promised with the Walkomfy Insole for plantar Fasciitis.
There are a deeper U heel cup and excellent arch support,
The smooth uppers lining offers good moisture management.
---
8
Plantar Fasciitis Insoles
The Trim To fit Cradle Me Comfort insole is also available in options for pregnant women and toddlers sizes.
A trim to fit design insole that you can adapt to your sie.
There are silicone Gel pads to absorb shock in the forefoot and heel.
Excellent arch and heel support can be expected from the console.
My soft memory foam provides cushioning.
---
9
Plantar Fasciitis Insoles
The Powerstep Pinnacle is available in support ranges for a High or Low arch type.
An EVA Insole with an antimicrobial odor protects lining for Plantar Fasciitis Relief.
There us Semi-Rigid Arch support and a flexible sole for better comfort.
Foam based cushioning from EVA offers excellent shock absorbency.
The Insole is versatile and will fit most shoe types.
---
Index Table: Top Rated Insoles for Plantar Fasciitis
---
---