People who are overweight or bigger tend to put much more strain on their feet, ankles, knees hips and lower back causing pain and discomfort in these areas and with time possibly damage or lead to a series of foot conditions.
People who are overweight also tend to opt for slip-on shoes which are easy to put on because most of them struggle to reach their feet.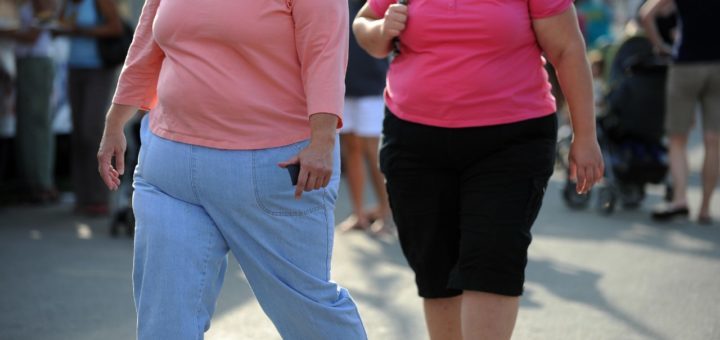 ---
Obesity and its Effects on Your Feet
The main concern with overweight people is the damage that is done to the arch of the foot which has to carry the additional load. When there is excessive weight forced on the feet the muscles, tendons, and ligaments that hold up the arches weaken and become stretched out.
If not well treated these structures in the feet will result in allowing the bones and joints of the feet to shift and collapse causing pain in the arches and flattening of the entire foot as well as ankle, hip, shin knee and lower back pain.
Therefore it is critical to wear shoes that offer good support, and it is advisable for your own health and the health of your feet to try and lose weight by doing some exercise and following a healthy and balanced diet.
---
Walking to Lose Weight
Walking is a great method to not only lose weight but improve your fitness and stamina and become more healthy, Walking is a cardio exercise that is easy and less intensive to start out with.
Walking will burn calories and improve your overall well-being.Make sure to get an appropriate pair of walking shoes before you start walking though because you do not want to risk an injury or have painful feet at the end of the day.
Because of your weight, you will need an extra supportive shoe with a good fit.
---
The Anatomy of Shoes for Heavy Walkers
Heavy walkers should make sure that they find the right shoes that offer good support and shock absorbency to prevent further damage to the arches of the foot as well as prevent injuries. So before you start walking make sure to look for a shoe that secures your feet from heel to toe, offers a comfortable fit along with cushioning and support.
---
Top Walking Shoes for Overweight Women
We have scoured all the available footwear and chosen only the best walking shoes with unique features to accommodate heavier walkers;
---
1
You can depend on the New Balance WW928 for a comfortable and easy walking experience.
Soft and durable uppers with a breathable mesh lining to keep your feet dry and protected.

The Thick heel wedge ensures a stable base for your feet.

Thermoplastic urethane posting mechanics help to control excessive rearfoot movement.

The rubber outsole provides excellent grip and traction.

A special foam insole helps to distribute weight and reduce shock on the feet.

---
2
The Orthaheel Walking Shoe will provide you with comfort and reduce shock on the feet; it is also an ideal choice for women suffering from Plantar Fasciitis.
A shock absorbing and comfortable EVA midsole.

The rubber sole is durable, absorbs shock and offers good grip and traction.

Full grain leather and mesh uppers with a sock liner for added comfort and protection.

Available in wider sizes to accommodate a wider or swollen foot.

A good choice for Plantar Fasciitis.

---
3
For the best stability and cushioned comfort, you should try the Asics Gel Cumulus 17.
and Forefoot Gel cushioning systems to attenuate shock during impact and toe-off phases.

Allows movement in multiple planes as the foot transitions through the gait cycle.

With 8mm from the heel to toe cushioning, you have better balance, comfort, and control.

Improved midsole geometry and the sleek new seamless construction provides even more comfort.

Durable and comfortable uppers with seamless construction.

---
4
For a lightweight and breathable walking shoe, the Reebok Work n Cushion is your best bet with added comfort and
stability features.
The rubber outsole is oil and slip resistant and allows for more controlled and balanced movement.

The lightweight synthetic mesh uppers keep your feet dry and fresh.

Available in different widths to accommodate every foot size and type.

A durable shoe that is well cushioned and comfortable.

---
5
One of the best choices in walking shoes; the new Balance W1540V2 offers exceptional cushioning and arch support as well as helping with pronation.
The Abzorb cushioning system absorbs shock and provides luxurious comfort.

The posting system provides excellent motion control capabilities.

An endurance rubber outsole gives the best traction and grip.

A polyurethane foam insert provides, even more, comfort and support.

The best arch support and pronation control.

A running and walking shoe that comes in very wide widths – up to 4E.

---
6
The Saucony ProGrid Integrity ST2 is a walking shoe that will provide great support and has a more flexible fit to accommodate a wider foot and more weight.
A cushioned forefoot and rearfoot with Strobel board to reduce the impact on the feet.

The proGrid Reson technology heel absorbs shock and improves the gait cycle.

The compression molded EVA midsole can handle quite a bit of weight while still keeping you comfortable.

An XXTM outsole that is durable and provides good grip and traction to prevent slips.

Breathable and flexible leather uppers ensure a good and well-ventilated fit.

This is one of the Best Shock Absorbing Walking Shoes as well.

---
7
A comfortable and sleek designed Flip Flop sandal with extra cushioning and support for the larger woman.
Soft Nubuck leather uppers available in three color options that are neutral and light.

Available in wider widths and larger sizes.

A comfortable and supportive cushioned foot bed,

Ideal for heel pain and other foot conditions.

A dual density lightweight cushioned midsole.

---
8
The Skechers work sneaker is highly breathable and lightweight, as well as available in larger sizes and widths.
Soft and flexible mesh uppers for super breathability and comfort.

A shock absorbing midsole and cushioned insole, for comfort and support.

A thick durable and high traction rubber outsole.

Available in larger size and wider widths, for overweight women.

Two design options are available both i n black color.

---
9
An easy slide on and off sandal without having to use your hands, and with a supportive and comfortable design.
Leather uppers straps and an easy slide on design.

A synthetic thick and durable outsole.

Cushioned removable foot bed, for using your won orthotics.

Adjustable hook and loop straps for the most comfortable fit.

---
10
A comfortable Orthopedics shoe for the overweight women that needs extra support and comfort for painful feet or foot conditions.
A thick shock absorbing and high traction rubber outsole.

Available in larger sizes and wider widths.

Non-binding seamless design with an adjustable Velcro strap.

Cushioned from heel toe to for complete comfort.

---
Index Table: Walking Shoes for Overweight Women
---
So if you are looking for the best walking or running shoe and you are a bit on the heavy side, you cannot go wrong with any of these choices.
They are all exceptional shoes that provide comfort as well as the best support in a durable and long lasting shoe. Walking has never been this easy, and you can now concentrate on the road ahead and no longer on the pain and discomfort of your feet.
---
---