Plantar Fasciitis is quite a common foot condition and one of the leading causes of heel pain.
When Cross-Training, you should wear the proper supportive and cushioned shoes to accommodate this condition.
So in this article will discuss some of the best Cross Training shoe options that help with Plantar Fasciitis.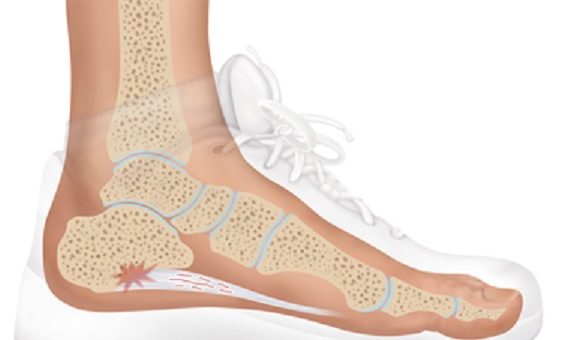 ---
How Do Shoes Help with Plantar Fasciitis
One of the first and most effective treatments you will find for Plantar Fasciitis is wearing the proper footwear for all occasions or using a customized orthotic device.
The right footwear can significantly reduce your pain levels, as well as speed up the recovery process of this painful condition.
Here are a few ways that the right footwear will help with Plantar Fasciitis.
Supporting Your Arches – Because Plantar Fasciitis is more prevalent in persons who have a low or flat arch and tend to Overpronate, good arch support helps to correct these issues and, in turn, prevent Plantar Fasciitis pain and speeds recovery.
Cushioning the Feet and Heels – Cushioning in the sole and midsole absorbs shock and spreads the weight of your body evenly so that it is not concentrated on the heel area. An additional Heel cushion further reduces pressure on the painful heel area.
The Right Type Of Flexibility – When you have Plantar fasciitis, it is vital that your shoes flex a little but not too much. You want the flexing to be at the ball of your feet with some resistance.
Mption Facilitation – The design of the sole of the shoe should be so to help propel the foot forward when walking or running to minimize the impact.
Comfortable and Roomy Fit – Because you do not want cramped toes to exacerbate pain, a roomier and more depth in the toe box can help allow you to splay out your toes comfortably.
---
What to Look for in Cross Training Shoes for Plantar Fasciitis
So following the guidelines we have discussed above, here are a few characteristics that are important in a good Cross-Training shoe from Plantar Fasciitis;
Arch Support – Look for good arch support for your specific arch type. Usually, persons who suffer from Plantar Fasciitis have a lower arch and Overpronate, so seek a Stability support shoe for these reasons.
Uppers – In Cross Training shoes, you need an upper that does not cause friction and flexes and adapts to your feet' shape. You also want a roomy toe box for Plantar fasciitis.
Traction – A Good Cross-Training shoe should offer excellent traction and grip depending on the exercise routines you partake in.
Flexible Sole – For a Cross Trainer, a Flexible sole is ideal, yet for Plantar Fasciitis, you need less flex that is only in the ball of the foot area. So take care of this issue by making sure the flex is not too much or too little.
Cushioning – In a Good Cross-Training shoe, Excess cushioning can weigh you down, but it is necessary for Plantar Fasciitis, particularly in the heel area. Look for balanced cushioning that is still lightweight with additional cushioning in the heel area.
---
Features of a Good Cross-Training Shoe for Plantar Fasciitis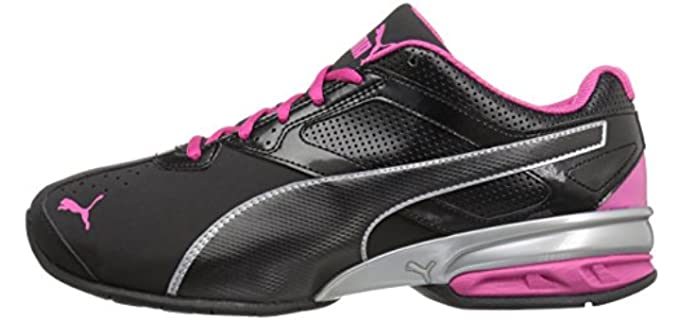 Uppers – Any Good Cross Training shoes need to have flexible and breathable upper that accommodate and adapt to your movement while still providing a certain level of support. A knit or engineered mesh with a flexible sock-like or bootie fit is ideal for flexibility and to keep your feet well ventilated. A moisture-wicking interior lining likewise helps to keep sweat and odors at bay.
Insole – A cushioned insole with a moisture-wicking lining provides comfort, shock absorbency, and support. EVA, Foam, Memory Foam, or specialized cushioning can be used. A removable insole is also ideal, as you can remove it to use your own customized orthotic devices.
Midsole – A foam or EVA midsole is essential as it helps reduce strain and impact on your feet, heel, ankles, knees, and back by providing shock-absorbing cushioning.
Heel Cushioning – When you have Plantar Fasciitis, looking for a Cross Traning shoe with additional padding such as EVA or Gel in the heel is advisable, as this is the area where you need the most protection.
Outsole – In a good training shoe a more flexible outsole is ideal. Rubber is the best material for the outsole, with a high traction patterned tread.
---
Reviews: The Best Cross Training Shoes for Plantar Fasciitis
Here we have some of the best available shoes for Cross Training which are perfect for Plantar Fasciitis;
---
1
Cross Training Shoes for Plantar Fasciitis
The Puma Tazon 6 is one of the best choices in Cross Training Shoes for Plantar Fasciitis.
The Upper is a breathable synthetic leather with a lace-up closure.
Ther is a breathableOrtholite cushioned sock liner inside and a supportive cushioned midsole.
The TPU shank adds stability and support.
There is also a durable rubber outsole that offers some flexibility.
You can choose between a few color options in the Puma Tazon.
---
2
Cross Training Shoe for Plantar Fasciitis
The Asics Conviction X is a comfortable and supportive Cross-Training shoe for Plantar Fasciitis.
The upper is synthetic leather with RhynoSkin technology that is abrasion and tear-resistant.
The shoe is also ideal for CrossFit training, which includes rope climbing.
The perforated and cushioned sock liner provides comfort and support.
Ther is also a supportive and shock absorbing midsole and a flexible rubber outsole,
Inside, the design is seamless for less friction irritation.
---
3
Shoe for Cross Training if You Have Plantar Fasciitis
The Nike LunarGlide 8 is very lightweight with support and stability features for Plantar Fasciitis.
The LunarGlide 8 features Flywire technology lightweight and wraps around the midfoot and arch for a dynamic, secure fit and stability.
There are a cushioned insole and supportive midsole for better shock absorbency.
The Laser cuts on the outsole cuts throughout to enhance grip on wet surfaces.
The rubber sole is also durable and shock absorbing.
There are synthetic uppers and some color options available.
---
4
Cross Training Shoe for Plantar Fasciitis
From Brooks, the Ghost 13 is a running shoe that is also ideal for Cross Training when you have Plantar Fasciitis. widths
The Uppers are a 3D print engineered mesh that is light and breathable.
The shoe has a neutral support system and is ideal for Plantar Fasciitis.
There is a BioMoGO DNA loft cushioning system that offers balance support and cushioning.
The durable rubber outsole flexes slightly for better stability and support
You can also choose your favorite color from many available in this model.
---
5
Plantar Fasciitis Cross Training Shoe
The Gravity Defyer Orion is a casual shoe for Cross Training and running with support to accommodate Plantar Fasciitis.
The Strobel construction ensures excellent breathability and flexibility in the shoe.
There are genuine leather uppers and a removable insole for cushioning.
The Front rocker design sole supports the midfoot to relieve Plantar fasciitis.
You can also select different width options as well as a few other colors available.
---
6
Cross Training Shoe for Plantar Fasciitis
The Reebok CrossFit 6.0 Covert has some unique technology for Plantar Fasciitis in a Cross Training shoe.
The uppers are soft and durable fabric and textile material.
The sole has flex grooves for improved flexibility and is durable as well as lightweight.
There is a cushioned and shock absorbing Compression Molded Midsole.
The RopePro Midsole teeth also allow you to do rope climbing.
---
7
Cross Trainers for Plantar Fasciitis
The New Balance 608V5 is a casual and comfortable Cross-Training shoe for persons who have Plantar Fasciitis.
There are durable and soft leather uppers and a flexible rubber outsole.
ABZORB technology in the sole with a Heel Crashpad makes them ideal for Plantar Fasciitis pain and symptoms.
There is also a Dual-density foam collar for a more comfortable fit.
You can select from a few colors available in this model.
---
8
Plantar Fasciitis Running and Cross Training Shoes
The Asics Gel Kayano 28 is a running shoe with a design that also makes it perfect for Cross Training.
For Cushioning and Plantar Fasciitis pain, you have Rearfoot and Forefoot Gel cushioning.
A lightweight Flyetfoam midsole provides good shock absorbency.
The rubber sole flexes for better movement, and there is a TRusstic system to reduce weight.
Furthermore, a DuoMax support system distributes weight easily and provides light stability.
---
9
Plantar Fasciitis Cross Training and Running Shoes
A well-cushioned and comfortable shoe for Cross Training when you have Plantar Fasciitis is the New Balance 680V6.
The upper offers a soft, flexible, and structured fit.
You can choose your width options for a more generous fit.
There is an ABZORB technology ACTEVA midsole for cushioning and well as a removable cushioned insole.
The rubber sole is durable and ensures excellent traction.
---
Index Table: Top Rated Cross Training Shoes for Plantar Fasciitis
---
---