Wide feet are not a huge concern in general and quite common among many individuals. The only issue with a wider foot is that you will need a wide width shoe to prevent injuries and damage to your feet.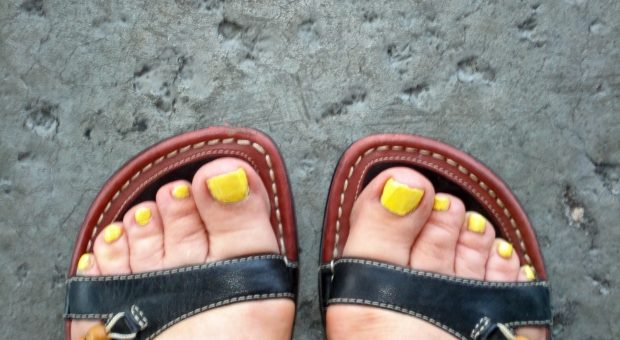 ---
Causes and Concerns of a Wide Foot
You may have been born with a wider shaped foot, or your feet may have become broader with age, none the less wide feet are absolutely nothing to worry about. In the case where wider feet are caused by a health concern, you may require some treatments for problems that may occur, such as pain and foot deformities; however, this is a different concern.
There are a few causes to wide feet in general;
Genetics – You are most likely to be born with a naturally wider foot, particularly if you have a family with wide feet.

Age – With age and weight gain, your feet can become broader and even longer.

Foot Condition Issues – Certain foot conditions may broaden your feet and cause growths or deformities that may widen your feet or call fire a wider width shoe. These conditions include Bunions, Hammertoes, and injuries to the joints and ligaments in your feet.

Improper Footwear – Wearing shoes that do not fit well or do not provide adequate support, increase your risk of foot deformities and conditions, injuries, and swelling, which in turn may add to the need for a wider width shoe.

Swelling – Swelling of the feet and a condition called Edema, from water retention, may increase the size and width of your feet quite a bit.

---
Other Reasons You May Need a Wider Widths Shoe
Deformities – When you have deformities or conditions such as Bunions, Hammertoe, Cross Toe Corns and Calluses a wider fitting and the more roomy shoe is ideal if you want less pressure on these painful areas. Arthritic feet likewise need to be protected from pressure and strain; therefore, a wide width shoe can make a huge difference. Extra-depth in a shoe is likewise ideal for these conditions and issues.

Swelling and Adema – feet that tend to swell or have the condition Edema need extra depth and width in a shoe to accommodate the swelling, mainly if this is a frequent occurrence.

Pregnancy – During pregnancy, the hormone relaxin relaxes the joints and muscle in the body and the feet, which may then become more stretched out a broadened, requiring a wider width shoe. Usually, feet go back to their natural form after birth, though there are some cases where your feet will stay broader and longer.

Injury – Certain injuries require a more roomy shoe to accommodate orthotics and bandages or healing devices, as well as to lessen the pressure on painful and swollen areas.

Roomy Toe Box – A wider width shoe provides more toe room for you to wiggle and splay out your toes, which is healthy for movement and prevents foot deformities that are caused by tight-fitting shoes.

---
Features of a Good Skechers Wide Fit Women's Shoe
Uppers – Uppers can be made of either Flyknit, mesh, Mesh, and Synthetic or Leather materials, which offer breathability. A smooth interior lining is desirable and ensures excellent moisture-wicking capabilities. The Uppers of the Skechers wide fit range is either more roomy or flexible or come in wider width options that you can choose from.

Cushioning – You can look for comfortable cushioning systems such as the Air-Cooled Memory Foam, Memory Foam, Goga Mat, or 5 Gen cushioning system.

Sole – Eva or foam in the midsole offers even better shock absorbency and rubber in the outsole ensures long-lasting durability and high traction.

Other Features – Other features may include a padded heel or collar for a more snug fit and flexibility.

---
Reviews: The Best Skechers Wide Fit Women's Shoes
Here are few of the best available Wide Width Shoe Options form Skechers
---
The Flex Appeal is a fun and all day everyday wear sneaker for ladies that features a very flexible upper fit and wider width design for wider feet and foot deformities.
100% Flexible and soft textile uppers that are lightweight and breathable.

A durable and high traction rubber outsole.

The tongue and collar are padded for comfort and a better fit.

Available in Wider Width options.

Available in a few color variations.

---
2
The Go walk Joy is an absolute must for a wider foot or when you require added toe room, as it has a roomy and relaxed fit design with soft and flexible synthetic uppers that will adapt to the shape of your feet easily.
Soft and flexible synthetic uppers with a fabric lining and padded collar.

Responsive 5gen cushioning and a Goa max high rebound insole, ideal for walking.

A parametric cushioned 5GEN midsole for better shock absorbency and durable rubber outsole.

Score:
98
By David Alegeta
---
3
Yet another superb and fashionable sneaker that will accommodate a wider foot and provide all-day comfort.
These shoes are also our choice of the best Skechers Zumba Shoes.

Available in many colors to choose from as well as wider width options.

Soft and flexible textile uppers.

A durable and flexible rubber outsole.

Comfortable Memory foam insole.

Score:
97
By David Alegeta
---
4
The Skechers D'Lites is a fun and fashionable sneaker with a wider and bulkier design, which is ideal for a wider foot type.
Leather and synthetic upper design with a lace-up vamp for centralized support.

The tongue and collar are padded for comfort and a snug fit.

Available in wider width options, and a few neutral color variations.

A high traction thick rubber outsole.

Comfortable memory foam insole.

Score:
98
By David Alegeta
---
5
The Skechers Go Walk Lite is a comfortable and modern feminine styled walking shoe that is available in broader width options.
Synthetic uppers have a soft fabric lining.

Lightweight and responsive 5Gen cushioning.

A Goga Mat high rebound insole for support and comfort.

Breathable mesh uppers design.

Durable rubber outsole.

Stylish pump for all occasions.

Available in a black navy and Taupe color options, as well as wider widths.

Score:
98
By David Alegeta
---
6
The ideal wider width work shoe is the Skechers Sure Track Trickel for the ladies.
Available in a black, grey or charcoal color option as well as wider widths.

Genuine leather uppers that are very durable and comfortable with a lace-up closure.

A thick rubber slip-resistant outsole.

Shock absorbing midsole.

A comfortably padded insole that ensures ample shock absorbency and support.

All materials are electrical hazard safe to protect you against electrical hazards in the workplace.

A perfect work shock for industrial and heavy-duty environments, as well as for hospital workers and for those in the food industry

Score:
97
By David Alegeta
---
7
A light and comfortable women's sandal, which is available in a wider fit option, from Skechers.
Soft and smooth textile upper straps

Lightweight and highly responsive 5Gen cushioning system.

Platform sole with a slip-resistant rubber outsole.

Available in wider widths and other color options.

Score:
98
By David Alegeta
---
8
The Dighton Sneaker is a comfortable and casual every day wearing a sneaker that is available in wider widths.
A Smooth leather upper design with lace-up closure and wider width options.

A relaxed and wider fit in general with a padded tongue for comfort.

Features a comfort memory foam insole and shock absorbing midsole.

It comes with a thick and durable high traction rubber outsole.

Score:
97
By David Alegeta
---
9
The Sports Skech from Skechers is a very lightweight and comfortable running shoe.
The popular Skech Knit breathable woven fabric uppers that are highly breathable and lightweight.

It features a more flexible and wider fit.

Heel overlays for stability and durability from a durable fabric.

Features a comfort Air-Cooled memory foam cushioned footbed.

Shock absorbing midsole is designed to offer better stability

It also has a high traction durable rubber outsole.

Score:
98
By David Alegeta
---
10
This comfortable sneaker from Skechers is available in Wider Width options, as well as many colors and designs to choose from.
Textile uppers with a secure lace-up system.

Many colors and design patterns are available for your perusal.

A durable and white non-marking rubber outsole.

Excellent shock-absorbing midsole and a slightly elevated heel for stability.

Available in wider width options and comes with a flexible and lightweight sole and cushioned insole.

Score:
97
By David Alegeta
---
11
The Go Run Ride shoe is ideal for heavier weight women with a wider foot.
Soft textile uppers and wider width and color options available.

A very thick and supportive cushioned sole and rubber outsole for heavy-duty wear and heavyweight wearing.

Ultra Lightweight 5Gen cushioning system and a gusseted tongue for a better fit.

There is also a traction plate on the outsole for improved durability.

Score:
98
By David Alegeta
---
12
The Energy Sneaker from Skechers is a fun and colorful all-day wear sneaker that is available in wider width selections.
Neutral and bold color selections with 100% genuine and breathable leather uppers.

A thick and shock-absorbing sole with a durable rubber outsole.

Availability in extended width options.

An EVA midsole for cushioning and durability.

Cushioned and comfortable insole and moisture-wicking interior linings.

Score:
97
By David Alegeta
---
Index Table: Top Rated Skechers Wide Fit Women's Shoes
---
---