Having the right work shoes for your occupation is absolutely vital, and depending on your work environment and type of trade, you may need to consider certain features in the perfect work shoe.
I have found that Skechers offers a wide variety of works shoes that are ideal for every work environment, from a more formal office environment to an Industrial environment and even much more casual and relaxed workspaces.

---
Who Are Skechers
Skechers is a company found in 1992 by Robert Greenberg, the previous founder of L.A Wear.
Greenberg sought to concentrate on more casual comfort footwear such as utility roots and skate shoes but later diversified to athletic style shoes, informal and formal style, work shoes, and even children's shoes.
Skechers offers a Lifestyle shoe division, Performance sports shoe division, and work shoe division. Their technologies are some of the best you will find in footwear, giving other top brands a run for their money!
---
What Do Skechers Work Shoes Offer
The Skechers Work shoe range includes casual athletic and slip-on style work shoes that are durable and comfortable, with few Industrial Safety features. Formal designs, a range for Hospital Staff and Hospitality workers, and a range for Industrial work environments.
Safety features for Industrial Work Environments – Their safety work boot and shoe range offers durable shoe options with their comfort features such as the Memory foam and Goga Mat insole Midsole foam, along with safety features. Safety features can include a protective toe cap in Alloy, Composite, or Steel, Electrical Hazard safe materials, and a rated slip-resistant outsole that can be used for wet and greasy floors.
Comfortable Regular Fit and Comfort Features – Most shoe models in the working range from Skechers have a relaxed fit design, and you can choose different width options. They cater for every foot type and offer the most comfortable work shoes for women and men with a style that suits everyone.
Formal Work Shoe Styles – Some slip op models and Pump and Mary Jane models for the ladies with a more formal and professional style, with the same comfort, features high-quality, durable materials. These ranges are ideal for office environments where you need to dress up.
Casual and Athletic Work Shoe Styles – there is also the casual and more athletic style work shoe range with features ideal for nursing, Hospitality, service industry, delivery and hospital, and emergency staff occupations.
---
Features of a Work Good Shoe from Skechers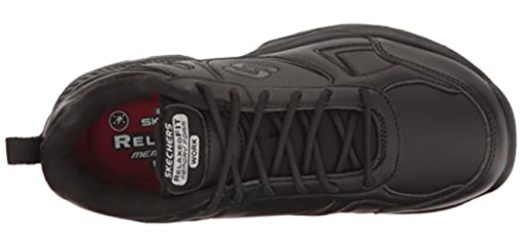 Uppers – The upper usually consists of synthetic leather and mesh, solid leather, or mesh, depending on the type of work shoe. Some models have a waterproof design and lining.
Safety Features – Safety features include Electrical hazard safe Materials, the choice of an Alloy, Composite Steel or regular protective toe, and a slip and oil, or SR slip-resistant rubber outsole.
Midsole – The Skecher's work range Usually features a shock-absorbing Midsole or a FlexSole design shock-absorbing Midsole.
Footbed – Almost all Skecher's work shoes have a Memory foam Footbed that sometimes has an added arch support, and that has a moisture Wicking Lining.
Outsole – The Outsole on most work shoes is slip-resistant and made from rubber. The industrial work shoe models have an oil and slip-resistant lug rubber outsole.
---
Reviews: The Best Skechers Shoes for Work
These are the top shoe ranges from Skechers that ideal to use as Work Shoes;
---
1
Slip-On All Purpose Work Shoe
The Sure Track and Nampa Groton have been rated as the top favorite model in work shoes from Skechers by many satisfied customers.
The Nampa Groton and SureTrack offer some safety features and many comforts and durability features, making them perfect for almost any work environment.
Both models are slip-on design shoes with leather uppers, electrical hazard safe materials, and a slip and oil-resistant durable rubber outsole.
There are a memory foam footbed and a shock-absorbing midsole along with a moisture-wicking interior lining for comfort.
These shoes are ASTM rated for slip resistance and meet industry standards.
---
2
The Cessnock and Ghenter Dagsby are SR (Slip-Resistant) ASTM rated and Electrical Hazard safe Industrial and other work shoe models.
These shoes have to leather yours with a moisture-wicking lining and comfortable, relaxed fit design.
They are Electrical Hazard Safe and have a standard Slip[and Oil resistant industrial rubber outsole for safety features.
The Memory foam footbed and shock-absorbing midsole offer all-day comfort, and there is a slight heel for added stability on both models.
The collar is padded for a better and more snug fit design and comfort.
---
3
Steel Toe Industrail Shoes for Work
The Cankton Ebitt and Biscoe ST are Industrial and heavy-duty work environment Safety Work shoes with a protective steel toe.
The Boscoe for the ladies has a Protective and rated Steel toe cap and is also Electrical, Hazard safe, and standard rated, while the Ebbitt only has a protective steel toe.
Both shoes have a smooth leather upper that provides some water resistance and an interior moisture-wicking lining.
Comfortable memory foam cushioned footbed and a supportive midsole with a padded tongue and collar for a more snug fit.
The outsole is made from durable rubber and offers excellent slip resistance on industrial floors.
---
4
Professional Office Work Shoe
Something a bit more on the formal side for a Professional Office environment is the Ostego Eckington and Flattery transpire.
The Flattery is a dress-style flat pump, and the Ostego is a men's slip-on loafer.
Both shoes have leather uppers and a comfortable shock-absorbing midsole.
A Memory foam comfort cushioned insole and a moisture-wicking interior lining.
The Outsole of the Otsego and Flattery offers excellent traction and slip resistance.
The Ostego is waterproof and offers complete protection.
---
5
The Burgin Congaree and the Burgin Krabok are two industrial work boots for heavy-duty work environments that hold many hazards.
The Ladies Krabok has a Steel safety toe, while the men's Congaree has a protective toe cap.
Both shoe models have leather uppers and are electrical hazard safe and ASTM rated.
They offer a more relaxed fit design with fast lace lacing uppers.
There is an Air-Cooled memory foam insole for comfort and a durable shock absorbing midsole.
The All-terrain Rubber outsole offers exceptional slip-resistance on wet, oily, and uneven floor surfaces.
---
6
Another famous work shoe range with a more athletic appeal is the Dighton, from Skechers.
The Dighton has smooth leather uppers and is tested Electrical Hazard safe and slip and oil resistant on the sole.
The interior has a soft, comfortable lining, a breathable fabric tongue, and a comfortable memory foam arch support insole.
There is also a shock-absorbing midsole and Micro Perforations in the toes, sides, and collar for ventilation.
The High traction rubber outsole is oil and slip-resistant, meeting ASTM work industry standards.
---
7
Slip resistant Work Shoes
The Felton and Eldred are comfortable and slip-resistant work shoe models.
The Felton has leather uppers, while the Eldred features mesh fabric uppers.
Both models feature a comfortable memory foam insole and foam midsole for shock absorbency.
There is also a slip-resistant, durable rubber outsole.
The shoes have an athletic style and a secure lace-up system with black or white color options.
---
8
The Ghenter and Bendon from Skechers are lightweight athletic-style work shoes for a more casual work environment.
Both models feature lightweight and breathable mesh and synthetic fabric uppers.
There is a secure lace-up system for a snug fit.
The rubber sole is durable and slip-resistant.
There is also a memory foam insole for comfort and support.
---
9
The Skechers Afterburn and D'Lites range are two of their most comfortable shoe ranges for everyday wear, especially when you are on your feet all day. So why not add them as an athletic work shoe.
The Afterburn and D'Lites range comes in many colors and patterns that you can choose from to preference.
There is an Air Cooled Memory Foam insole as well as a cushioned foam midsole for shock absorbency.
The thick and lug rubber outsole offers excellent slip resistance and shock absorbency.
The upper consists of mesh and synthetic leather in various designs, and the tongue are also cushioned with mesh.
---
Index Table: Top Rated Skechers Shoes for Work
---
---