Comfort is not in the job description for nurses. They spend long hours on their feet, on unyielding and hard slippery floor surfaces.
But, have you ever considered an athletic shoe design as a shoe for your occupation as a nurse?
I want to introduce the Nike range of athletic shoes to you that have many comfort, support, and slip-resistant features, as well as color options that will make them the perfect shoe for nurses.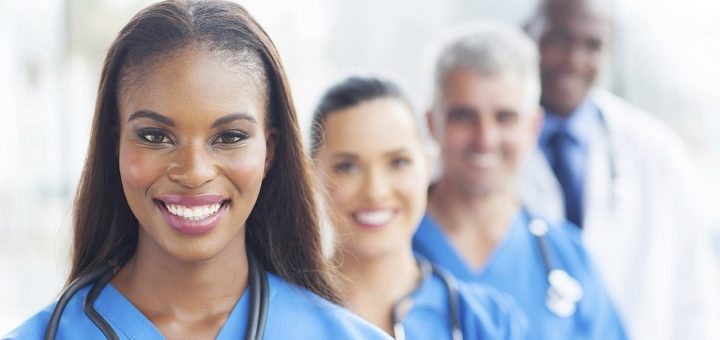 ---
Why Do Nurses Need Good Shoes
The right shoe can make a huge difference in the daily life of any nurse. Good shoes take the pressure off the feet, which means that your feet will not be fatigued and aching at the end of the day.
A proper shoe will also help a nurse maintain a good posture, which prevents back problems. Good arch support will evenly distribute pressure and weight to prevent foot fatigue and pain, and a slip-resistant sole can help prevent slips and falls.
The shoes that a nurse wears will affect their entire day, so they must be chosen wisely. They need to keep cool, stay comfortable and ideally fit properly.
Nike athletic shoes can provide features that are ideal for comfort, breathability, and slip resistance.
---
Types of Shoes for Nurses
Although we are concentrating specifically on Nike athletic shoes for nurses in this article, I also want to share with you a few of the shoe types that essentially work best for nurses;
Clogs – Clogs are the cliché shoe for nurses, but they are also very comfortable and ideal if you get the right design. They are easy to slip on and off, waterproof, and very slip-resistant. Most clogs today also come with some superb cushioning and support features.
Slip Ons and Slippers – These are less daily shoes and more a slip-on and off shoe when you need to go into theatre and maintain sterile. They are a practical choice for this reason and do not need many comfort features. However, keep in mind, you may be on your feet for a few hours in the theatre.
Sneakers and Tennis Shoes – Sneakers and most tennis shoes have become a more favored choice by nurses because of their exceptional comfort and support features, as well as their slip-resistant soles. Tennis shoes actually offer grip and support for impact on hard surfaces, which is much what nurses experience daily on hard hospital floors. Most sneakers have breathable mesh or synthetic uppers, so they are not always fluid and water-resistant. However, some leather models do offer exceptional water resistance and fluid protection.
---
Features of a Good Nike Shoe for Nurses
These are some features that you can find in shoes for nurse from the Nike brand;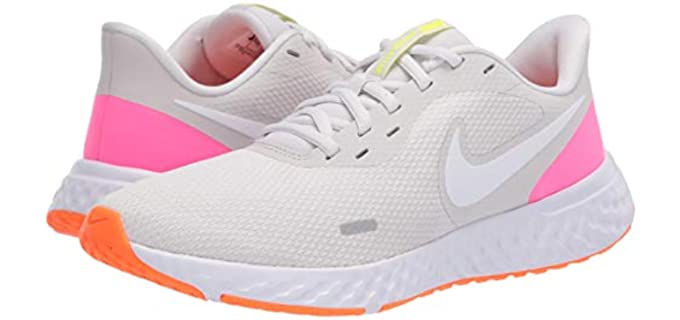 Uppers – Knit or mesh uppers are prevalent in most Nike shoes for nurses, though there are some breathable leather models that offer better wetness resistance.
Midsole and Cushioning – Nike shoes for nurses have midsole cushioning that varies from softer foam to firmer support foam and dual-density layers for added cushioning. You also get Air Cushioning which is in the entire midsole or the heel for shock absorbency. There will usually be a light padded or cushioned insole for comfort.
Support – For support, there may be a TPU midfoot panel for stability and more molded and contoured midsoles or footbeds for cradled support.
Outsole – Nike uses mainly rubber in their outsoles with a lug pattern on the tread for optimal slip resistance and traction.
Options – It will rely on the specific model of more colors available, especially lighter colors for nurses. We have aimed to choose options that have lighter color variants. Size and some width options are also available.
---
Reviews: The Best Nike Shoes for Nurses
Here are our top favorite shoes from Nike that are ideal for Nurses to use as a work shoe;
---
1
The Nike renew sneaker is lightweight and breathable, ideal for nurses.
It has soft and flexible mesh uppers that breathable well.
There is lightweight and responsive midsole cushioning and a comfortable insole.
The outsole is a durable rubber that offers great slip resistance.
---
2
The Nike Downshifter has a one-piece mesh upper with synthetic overlays and TPU midfoot panels for structure and support.
The sole consists of layers of EVA foam for firmer cushioning.
There is a comfortable insole and liner.
The Downshifter has a solid rubber outsole that is slip-resistant and durable.
---
3
The Nike Air Max is also a superb choice for nurses.
It has synthetic and mesh uppers and a synthetic sole for optimal slip resistance.
The Max Air technology unit provides good underfoot cushioning and comfort,
The uppers are minimal with mesh that breathes well.
---
4
This is a tennis shoe with features ideal for nurses.
The Nike Court Lite 2 has synthetic leather uppers that provide good water resistance.
The rubber sole is quite slipping-resistant and durable.
The tongue and collar are padded for a more comfortable fit.
There is a foam cushioning midsole and comfortable insole that is very lightweight.
---
5
The Nike Court Royale is also a tennis shoe idea for the nurse.
They have leather uppers available in lighter colors and whites.
They offer a comfortable locked-down fit and traditional style.
The durable outsole has a herringbone pattern for optimal grip on slippery surfaces.
It also has firm midsole cushioning.
---
6
The Nike revolution 5 is a running shoe with features ideal for nurses.
It has lightweight knit uppers and plush padding.
There is a soft and cushioning foam midsole and textured outer walls to minimize weight.
The outsole is durable rubber with a lug tread for grip.
---
Index Table: Top Rated Nike Shoes for Nurses
---
---