More and more women are committing to their careers and moving up in the professional world today.
Her wardrobe is a vital part of her work environment image for a woman and reflects her personal style, professionalism, and personality.
However, when it comes to shoes, you want the pst comfortable work shoes that are also stylish and professional.
---
The Importance of Appropriate Work Shoes
Outfit: An appropriate and professional outfit is incomplete without a suitable pair of shoes complementing it.
Comfort: More important than a fashionable pair of shoes are a comfortable pair of shoes, especially if your workday consists of many hours on your feet.
Style: There are many styles and types of shoes to choose from when it comes to professional work shoes; the decision can be tricky.
Match for Work: You need to make sure that your shoes are trendy, comfortable, and sturdy while still matching your work outfits.
Heels vs. Flats: When choosing the perfect pair of work shoes, you have two significant options, and that is the choice between heels or flats;
---
Heels or Flats Work Shoes?
High heels though very attractive, can cause foot pain and discomfort. The structure of a high heel and its height shift your body weight forward, increasing pressure on the ball of your feet and the toes. So if you would like to opt for a high heel, make sure to keep the following in mind;
Choose a heel that is no higher than two inches to reduce stress on the foot's front.
Ensure that the shoe has a wide enough toe box and avoid pointy toes to reduce the stress on your forefoot.
Avoid thin stiletto heels and pointy toes.
Avoid peep toes because this causes your toes to push forward and become cramped, and overlap in some cases.
Avoid wedges and platforms that are too high. They can cause balance and stability problems that can lead to an ankle roll or injury.
Flats often seem like a more comfortable option for a work shoe, although flats can also cause foot pain and problems if chosen incorrectly. So here are a few tips to follow when choosing a pair of flats for work;
Choose a flat made of durable leather to support the sides of your feet.
Ensure that the flat has a rubber sole to provide extra cushioning and prevent you from slipping and falling.
Where necessary, use a supportive and comfortable insole in your flat.
In the end, a pair of flats is usually a better choice than a pair of high heels because flats help to distribute your weight more evenly, but unfortunately, they lack support and comfort most of the time.
---
Matching Work Shoes to Your Career
Industrial, Agricultural, or Outdoor Work – If you work in an industrial environment such as a construction or engineering environment or outdoors, a Safety work boot with protective features that suit your work environment is your best option.
Hospital and Medical Sector or Food and Hospitality Sector – The shoes you will wear for these occupations are quite similar; they need to provide excellent shock absorption and cushioning for operating on your feet all day, they need to be breathable, non-irritating and have slipped and oil-resistant outsoles.
Professional Sector – For all your office-related jobs where you need to dress up and look good as well as perform on and off your feet all day, you need a shoe that looks good and feels comfortable. A low heel with proper cushioning and shock absorption, as well as soft uppers, will do the trick here.
Marketing, Sales, Transport – For the type of work where you are on and off your feet and do not need to dress up, you can settle for comfortable walking shoes or sneakers.
Teaching and Counseling – A career that involves interacting with and helping children and adults require comfortable and still good-looking shoes. You can wear less casual shoes for teaching.
---
Features of a Comfortable Work Shoe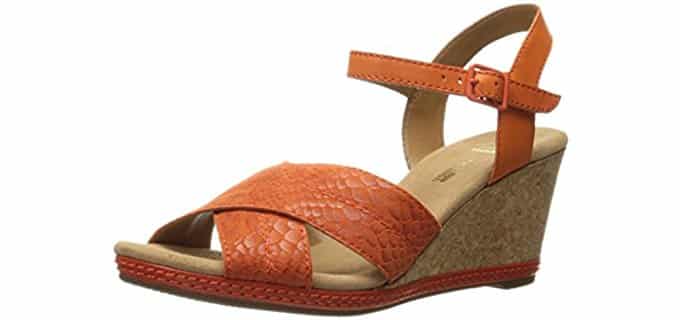 Fit – A good work shoe needs to provide a wider forefoot fit with ample toe room so that you can spread out your toes. Th fit should be snug but not tight with a secure heel that will not slip in and out.
Durability – Any good work shoe should last long; therefore, look for quality construction with durable materials such as genuine or synthetic leathers and rubber for the outsole.
Comfort and Support – A foam or EVA midsole will offer excellent shock absorbency along with the rubber outsole. Also, look for a contoured and cushioned insole with materials that will keep your feet dry and cool.
Comfortable Upper Design – Uppers should be comfortable and not cause any chafing or friction. A smooth and moisture-wicking interior lining and breathable upper materials are also ideal for keeping your feet fresh.
Outsole – Last and most importantly, look for a durable outsole that offers some shock absorbency, and that has high traction and gripping tread to prevent slipping.
---
Reviews: Most Comfortable Work Shoes for Women
Listed here are a few examples of the best available heels and flats for women to wear to work in a professional environment;
We hope you love the products we recommend!
So that you know, We may collect a share of sales or other compensation from the links on this page.
---
1
Perfect for a long day at the office, the Clarks Emslie Monet is a classy and stylish ankle boot that offers a comfortable and personalized fit.
Manufactured from the finest full-grain leather.
A Leawood stacked heel to offer stability and support.
The twin buckles at the side are a trendy extra that also provides you a personalized fit.
An insole that eliminates odor keeping your feet dry and fresh all day.
A durable synthetic sock liner for added comfort.
The steel shank improves stability and gives added cushioning with each step.
---
2
If you are looking for the perfect flat pump to wear to the office or any other work environment, then the Michael Kors Moccasin will work for you. This shoe is an in-betweener; it is casual and comfortable yet still feminine and classy enough for an office environment.
A loafer-style pump with a decorative logo buckle.
Fine quality leather uppers.
Heavily treaded rubber sole for excellent grip and support.
A slight heel for better stability.
A durable and comfortable shoe for long work hours on or off your feet.
---
3
Birkenstock is well known for its superb comfort features. The Birkenstock Gizeh Birko Flor is a very trendy and attractive sandal most suitable for a work situation where you need comfort first.
Manufactured with Birko-FlorTM fabric that is soft and luxurious.
A stylish crackle finished and leather look.
Adjustable instep straps and buckles for a perfect fit.
The smooth toe post and raised toe bar give added grip and allow proper ventilation.
The higher rim secures the outside of your foot.
The cork footbed with its suede lining contours to the shape of your foot for support and comfort.
A deeper heel cup and arch support dispersing weight evenly across the heel and giving excellent stability.
The EVA outsole reduces shock and adds flexibility.
A durable rubber outsole.
---
4
The Helio Latitude from Clarks is a fashionable heeled sandal for a professional work environment where you need to perform at your absolute best. This heeled sandal will complement any outfit from a pencil skirt to a
work-appropriate denim, as well as keep your feet comfortable and supported all day.
Manufactured with soft and durable leather straps and a chunky Leawood heel.
The adjustable buckle closure ensures a customized fit every time.
Soft fabric linings that keep your feet dry and comfortable.
A cushioned footbed for luxurious comfort and support.
The rubber outsole will keep you on your feet all day.
---
5
Naturalizer is a well-known brand famous for its comfortable and stylish-looking shoes that have been designed for women of all age groups. Naturalizer offers fresh and unpretentious designs that fit well and comfortably, and the Cycle flat work boot is no exception.
Manufactured from 100% soft and durable goat leather.
The grip-friendly designed rubber outsole makes this shoe suitable for any surface.
An inside zipper for a trendy appearance and personalized fit.
The soft Agion lining helps to reduce foot fatigue.
An asymmetrical topline.
N5 comfort system for great cushioned support and shock absorption.
Available in a variety of colorful designs.
---
6
Long work hours will never be the same again with this wonderful flat from Walking Cradles. It comes with some interesting and unique features:
Synthetic outsoles that offer comfort and good grip while walking or standing at work.
High-quality premium leather uppers provide the best of comfort for a longer time.
It also comes with a fabric sock liner, which adds to the overall comfort of the shoe.
Footbed: high-quality latex foam which offers extra cushioning.
Made from breathable materials that you can wear for long hours in the office or other workplaces.
---
7
If you are someone who works in a more relaxed or less formal environment where you need to be on your feet or walking around quite a bit, then the Vionic Orthaheel is the perfect shoe for you.
Your feet will be kept dry and odor-free because of the anti-bacterial orthotic insole.
A breathable mesh liner and sock liner will also aid in keeping your feet dry and ventilated.
An Eva midsole ensures that your feet are supported and cushioned.
A flexible rubber outsole offers superb durability and a good grip on slippery and wet floor surfaces.
This shoe is also water-resistant and very lightweight.
Because of the orthotic insole and EVA midsole providing shock absorption and cushioning.
Six different colors to choose from
---
8
For a comfortable and more casual slip-on work shoe, you can try the Vionic Joan, available in a range of vibrant colors with beautiful beaded flower detail.
The soft fabric and leather uppers are comfortable and come with trendy-looking beaded flower detail.
An orthotic footbed cushions your feet for comfort and support.
A hook and loop instep strap allows a natural fit.
The outsole is made of durable rubber that will keep you on your feet on any surface.
Available in many colors for every preference.
---
9
A sturdy and stylish Chelsea Work Boot for rough and industrial work environments from the famous Dr. Martens.
Genuine leather uppers construction is tough and durable, with stretchable Gore insets easy on and off.
A rubber outsole that is slip, abrasion, and oil resistant.
A comfortably cushioned footbed and a shock-absorbing thick sole.
Comfortable and long-lasting Safety work boot for all-day protection.
---
10
A comfortable waterproof, hiking-style outdoor work boot for very cold weather conditions and work outdoors.
Waterproof leather uppers in a bootie construction with breathable mesh insets.
An Omni-Grip outsole for superior traction on wet and slippery surfaces.
Cushioned support for energy return and all-day comfort.
An adjustable lace-up system for a secure and comfortable fit.
---
11
A classic and stylish old faithful, the Clarks Brier Dolly is your classic-styled "Office Shoe" with a few added comfort features.
Rich leather uppers are available in decadent color variations.
The round toe and molded heel on the Clarks Dress Pump ensure all-day comfort and a perfect fit.
The Clarks Brier Dolly also features an ortholite foot bed that ensures maximum support and cushioning.
A durable rubber outsole provides a good grip on those slippery office floors.
A 3.25-inch heel and 0.75-inch platform for that elegant and professional appearance.
---
12
Dansko Clogs are well known among many nurses and food and hospitality industry workers for their comfort and protective features.
Durable and comfortable leather uppers and a thermoplastic toe box with extra wiggle room.
The Dansko Professional Clog has an open-cell PU foam footbed for luxurious comfort and support and breathability.
The heel counter adds stability and support, and the durable and slip-resistant outsole will keep you secure on your feet.
Available in many different colors and designs.
---
13
For women working in the industrial or agricultural, and outdoor sectors, the Timberland Pro Titan is a strong performer with all the required safety and comfort features.
The Timberland Pro Titan has a protective steel toe and a Nylon diffusion shank for torsional rigidity.
The uppers are manufactured from premium full-grain leather with a moisture channeling spacer mesh lining with added Integral anti-microbial technology to keep your feet dry and protected from infection.
The polyurethane midsole with the high-rebound heel insert provides durable cushioning and returns energy to the feet.
The Timberland Titan also has a contoured open-cell polyurethane footbed with anti-microbial technology regulating temperature to provide you with superior comfort in any work conditions.
The rubber dual-density outsole is durable, oil, and slip-resistant.
---
14
Perfect for almost any work environment, the Skechers Toier is comfortable, breathable, and slip-resistant for a long day on your feet.
Available in classy matt black or shiny black leather that is both durable and comfortable.
The sturdy synthetic sole of the Skechers Toier provides excellent slip resistance and traction.
For superior comfort, a memory foam footbed will provide cushioning and support.
A great shoe for teachers, administration workers, restaurant staff, and many other occupations.
---
15
The Ryka Flutter is a fantastic shoe for a less formal work environment where you must be active on your feet for long periods, such as in the sales and marketing or distribution industry.
A slip-on style shoe with breathable mesh uppers with synthetic overlays that are available in many different colors.
The lightweight EVA bottom provides good support and shock absorption.
An anatomical precise-return footbed and sock liner provide comfort and support, attenuate shock, returning energy to the feet.
A rubber traction outsole is perfect for walking and will prevent slips and trips.
---
16
With its Ortholite Footbed and shock-absorbing rubber sole, the Flores Poppy is not only comfortable and supportive but has an appealing style and elegance to it.
Genuine suede leather uppers in a Dress Style shoe with a higher heel.
A sturdy and high traction rubber outsole.
Cushioned footbed for comfort and shock absorbency.
It also features additional Cushion Soft technology.
---
17
The perfect comfortable Ballet Flat to wear at work will keep you comfortable and relaxed all day long.
Full Grain soft leather uppers treated with Scotchguard for stain resistance, in a Nubuck feel.
AMPA-accepted as an orthopedic shoe.
Natural arch technology for optimal arch support.
A cushioned and comfortable insole.
---
18
The Lexi Myrtle is a Flatform Sandal that offers all-day comfort and support, along with an elegant style.
Full-grain leather uppers are available in a few color variations.
A cushioned insole for support and comfort.
The rubber outsole is flexible and offers good traction.
A slight Flatform style for stability.
---
19
An extremely comfortable loafer with a low heel and cushioned footbed for all-day comfort at work.
The footbed is removable for the use of your own orthotics.
Reduced seam lines and a soft micro-suede lining to prevent friction.
A firmer heel counter for better support with an added tongue for less irritation.
Easy on and off and a snug fit, available in wider widths.
---
20
A stunning and professional-styled Wedge pump from Dansko with all the comfort features you need.
Soft and supple leather uppers.
Removable comfort-cushioned footbed with additional arch support.
A wedge heel for sophistication and appeal.
TPU outsole with leather wrap and stain-resistant 3M Scotch-guard treatment.
---
21
Comfortable slip-on loafers for any work environment available in a few neutral color variations.
Easy slip-on and off style.
Fashionable design with smooth synthetic leather uppers.
A comfortably cushioned footbed and comfortable non-slip leather bottoms.
Ideal for standing on your feet all day.
---
22
Comfortable basic black heeled pump that is ideal for any work occasion or outfit.
Synthetic leather uppers with a Dry-Lex moisture-wicking lining and Aegis Microbe and odor shield treatment.
Oil and slip-resistant Lockstep outsole.
Memory foam cooling fit cushioning system.
The outsole is also non-marking.
---
23
An exquisite and sophisticated work shoe for the professional environment.
A high-heeled Dress shoe for professional work environments.
Synthetic uppers with a slightly pointed toe.
Comfortable LifeStride Soft system, with ample cushioning.
Available in different width options for a comfortable fit.
Available in a red, Black, or Taupe color option.
---
Index Table: Top Rated Most Comfortable Work Shoes
---
It does not matter your budget; make sure that you spend well and wisely on a good pair of work shoes.
Choose shoes that are supportive and comfortable and not only on looks alone.
Make sure to try on a pair of shoes for the best fit. You cannot go wrong with any of the listed choices; they are all attractive, fashionable, and have all the necessary support and comfort features.
---
---