If you are someone that has a flatter foot than normal or lower arches, then you will know how important the correct footwear offering the required amount of support and stress relief is.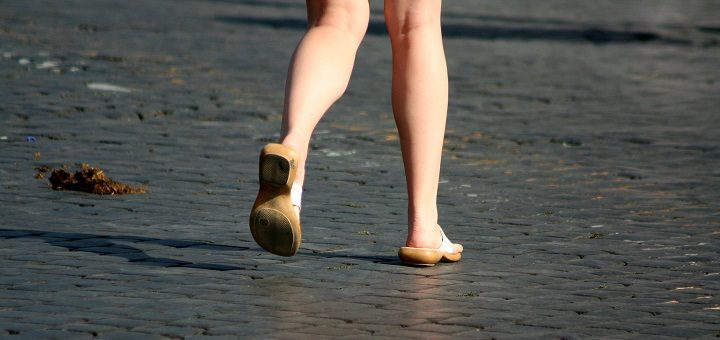 ---
What Exactly is a Flat Foot and Low Arch (Fallen Arch)
When you look at your foot from the side, you will see that there is an upward curve in the middle of your foot this is called an arch. You have tendons which are tight bands that attach to your heel and foot bones, as well as several tendons from your feet to lower leg that all form the arches in your feet.
When there is a proper amount of tension pulling your tendons, then you will have a normal arch, but when your tendon do not pull together correctly, there is no arch which is then a fallen arch, or flat foot because your arch is sitting completely on the ground.
---
Causes of Collapsed Arches, or a Flat Foot
A birth defect.
Tendons that are injured, stretched or torn.
When your posterior tibial tendon connecting your lower leg to your ankle and then the middle of your foot becomes inflamed or infected.
When you suffer broken bones or dislocation.
Diseases such as rheumatoid arthritis, nerve problems and diabetes.
When you become overweight
Pregnancy can also cause a fallen arch.
Your arches can also fall as part of the aging process.
---
Features of Good Shoe for Low Arches
Support
When you are choosing a shoe for flat feet make sure to bend and twist the shoe, it should be flexible in the toe area but more supported and sturdy in the middle where your arch will be.
Sturdy Outer Sole
An absolute must for fallen arches or flat feet is a sturdy and stiff outer sole that reinforces construction of your shoe enabling it to support and prevent your foot's tendency to roll inward.
A sturdy and durable sole will also last you longer.
Stability
Plenty of cushioning, a snug fit and added material in the midsole supporting your arch will relieve the symptoms of flat feet and help to prevent over-pronation. A good pair of running shoes usually has the perfect amount of support and stability required by someone who has fallen arches or flat feet.
---
Reviews: Best Shoes for Low Arches
We have reviewed some of the top shoes for low arches and flat feet on the market today;
1
Vionic sandals have been designed by a podiatrist to offer the best comfort and support, particularly for foot conditions. Vionic has a category of sandals that is specially designed to provide arch support.
Vionic sandals are also wider to help spread out your weight evenly and to withstand more weight.
Manufactured and designed specifically for low arches using human-made materials of the finest quality.

A microfiber-covered biomechanical orthotic footbed with Orthaheel technology and a deeper heel cup, designed by a podiatrist.

Helps to stabilize, support and realign your feet back to their natural position when you wear them.

Provides relief from the causes of heel and ankle pain that are related to over-pronation.

Available in stylish designs in blue, red, beige and black.

---
2
A comfortable pair of sandals that will provide you with a good fit and great cushioning and support. They will prevent pain and tension caused by over-pronation and give you the required support for flat feet and low arches.
Manufactured from the finest quality leather.

A TR rubber sole for good grip on slippery surfaces.

A 3.25-inch heel and 0.5-inch platform that offers added support and stability.

Well cushioned padding for a comfortable all day wear.

Available in a variety of colors and designs.

Buckle closure for a secure fit.

---
3
Excellent shoes for a lower arch or flat feet. The Skechers Women's lace-up sneakers are not only sporty and fashionable shoes, but they also provide exceptional support and stability making them one of the best shoes for low arches and flat feet.
Constructed from good quality leather.

The rubber sole with the kinetic wedge and super soft foam midsole provides superb shock absorbency and an exercising effect on the wearer.

A one and a half inch heel and three quarter heel platform for stability and support.

Designed primarily for women in colors such as silver, black, and pink.

---
4
The Original S.W.A.T is a military style work boot for women that will keep your feet well protected in hazardous environments as well as comfortable and supported during prolonged wear.
These boots are intended for tough jobs in harsh environments and for feet that have conditions such as fallen arches.
Constructed from high-quality leather and textile material.

The rubber soles are slip-resistant.

Shock-absorbing molded soles that offer extra arch support and reduces pain associated with foot conditions.

A 1.5-inch heel and 1-inch platform for added stability and support.

A tough and durable pair of boots that will last you for very long.

---
5
The Nike Lunarglide is the highest rated stability shoe that NIKE has to offer that is specially designed for people who have over-pronation.
A lightweight training shoe that offers a great customized fit.

The entire sole has Lunarfoam technology, adding superior cushioning, great shock absorption and excellent stability to the shoe.

The engineered foam will conform to the shape of your foot giving you the best fit possible.

A reinforced midsole gives you added over-pronation protection and the dynamic support system along with the midsole and dual density cushioning provides you excellent medial support.

An additional crash pad at the bottom of the heel for added support.

Newly upgraded for a stellar feel with every mile that you run.

Flyknit material and Flywire cables are used for breathability and stability.

---
6
The new T22 series offers improved ventilation, as well as excellent durability and support which is expected with this series.
A synthetic and mesh combination is used for the uppers.

The outsole is made with a unique material (PRC 1000) for longer durability.

The wishbone shank provides excellent stability for the midfoot.

The bootstrap design gives excellent stability.

Abrasion protection via a RASH toe cap.

This shoe is also featured as one of the best tennis shoes for flat feet.

---
7
The Asics Cumulus offers exceptional and vast cushioning and gel padding that are great for absorbing shock and supporting the arch of the foot particularly those that are lower than usual.
Breathable and lightweight uppers manufactured from high quality and durable materials.

The Fluid Ride technology and rearfoot and forefoot gel padding aids in absorbing shock, supporting the arches and provides soft cushioning.

The durable rubber sole will ensure you good grip and traction on any floor surface.

This shoe has proven to be an excellent choice for the Best Shoe for Knee problems.

---
8
A lightweight and comfortable ballet flat, ideal for the low arch, available in many color options to choose from.
Soft and supple leather uppers for a comfortable and flexible fit.

Supportive and cushioned midsole and insole.

Good arch support for a low arch.

A durable and high traction outsole.

N5 technology for comfort and support

---
9
A Lightweight and supportive Mary Jane Style shoe that is ideal for lower arches and flat feet.
Soft and breathable uppers.

A durable and thick rubber outsole.

Removable supportive foot bed.

Available in many color options to choose from.

---
10
these orthopedic sandals offer you the best in cushioning and arch support, that is perfect for a low arch and many other foot types and conditions.
Fisherman style sandals with a open and breathable design leather upper.

Available in extended sizes and widths.

Features Gel Plus insoles, for comfort and support.

Ideal for foot and medical conditions.

---
Comparison Table: Shoes for Fallen Arches (Flat Feet)
---
---