If you have flat feet, which means that the arches on the bottom inside of your feet are completely flat or fallen, the entire sole of your feet will touch the floor.
With flat feet comes certain issues, especially when walking and running, and that is why you need the best shoes for flat feet.
In this article, we look at a well-known brand for the best Brooks shoes for flat feet.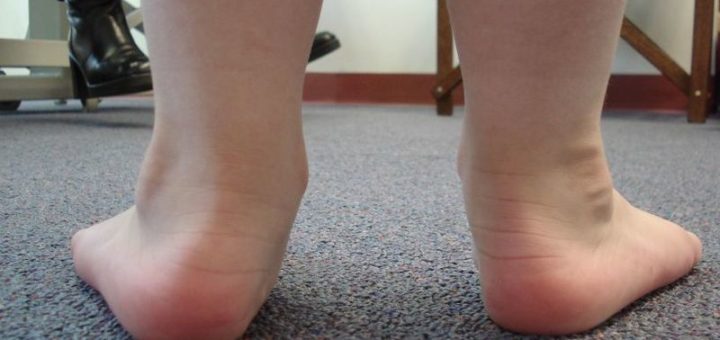 ---
Flat Feet Symptoms and Causes
Most people will have no signs or symptoms related to flat feet. However, some may experience pain in the heel or arch of their feet. Some swelling along the inside of the ankles may also occur.
Flat feet may be inherited or develop over childhood. However, some other factors may cause flat feet;
Obesity – When you pick up a weight or even when picking up weight when pregnant, your arches may become overly strained and stretched out. This, in turn, causes them to collapse completely, leaving you with flat feet.
Foot and Ankle Injuries – Injuring your feet and ankles in certain ways may have an effect on your foot mechanic or arches, which in turn may cause your feet to flatten.
Rheumatoid Arthritis – Rheumatoid Arthritis is another culprit when it comes to conditions that may cause foot deformities and changes because it causes inflammation in your joints and feet, which can, in turn, lead to flat feet and other issues.
Aging – As you age, the muscles and tendons in your feet become weakened. You may also have less cushioning on your feet. These factors can cause your arches to collapse and your fete to flatten.
Diabetes – Diabetes is a condition that has so many distresses on your body in general, many of these effects can lead to foot deformities and issues, which in turn may cause flat feet.
---
Types of Flat Feet
Generally, you get two kinds of flat feet, those that are anatomically flat and hereditary or those that are flat because of a collapsed arch or muscle weakness.
They may look very similar, yet you should approach choosing footwear for both differently.
Flat feet because of collapsed arches are much more likely to be problematic than hereditary flat feet with an anatomical flat shape.
With Collapsed or weakened arches, you still have a chance that the arches may return to normal with proper arch support and cushioning, yet with an anatomically flat foot, arch support may place extra strain on your feet, so you will need to keep this in mind.
With flat feet, you need one of three shoe types, Motion Control or Stability or Cushioning.
Motion control and stability shoes are for people who overpronate mildly to more excessively. This is when your feet tend to roll inward more when you walk or run. Motion-control shoes are for excessive overpronation, while stability shoes are for mild Overpronation.
Cushioning shoes are for persons who tend to supinate, which means their feet roll outward excessively. However, most persons with flat feet are more likely to overpronate than supinate.
These are some aspects to consider when you have flat feet.
For neutral flat feet that do not supinate or overpronate and are not hereditary, good arch support may be all you need.
---
Features of a Good Brooks Shoe for Flat Feet
Brooks shoes offer a range of running, walking, and daily wear athletic shoes that have features ideal for flat feet.
Here are a few of the Brooks shoe features and how they help with flat feet;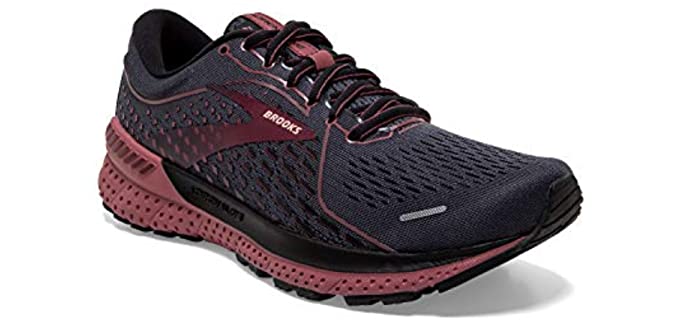 Uppers – They can have either Flyknit uppers that offer a more sock-like fit and are breathable, Mesh uppers that are lightweight and breathable, or more durable leather uppers. #D printing overlays are used on the knit and mesh uppers for structure and support. The inside will be lined with a comfortable moisture-wicking lining, and the tongue and collar may be padded for your comfort.
Stability Features – Some Brooks models have a Triple density PDRB post on the medial sides for stability. Then there are the models with the DRB axel shank-like unit for torsional rigidity in the midfoot provide support and stability. The saddle of the shoe may be adjustable for better structure and support.
Cushioning and Midsole – You get energizing cushioning, along with the S-257 material insole that offers flexible cushioning, or the DNA full-length cushioned insole for more plush cushioning. Then there is the Hydroflow technology cushioning in the rearfoot and forefoot for shock absorbency. As for the midsole, DNA AMP technology may be used for energizing cushioning or MOGO cushioning for better shock absorbency.
Outsole – Some models have softer blown rubber on the outsole's forefoot, while others have Omega Flex grooves for better forefoot movement. The outsole will generally be rubber with a lug tread for traction. There are also the Flextra rubber outsole models that allow better flexible traction.
Options – Brooks do offer color, size and width options for most of their shoe models for flat feet.
---
Reviews: The Best Brooks Shoes for Flat Feet
These are some of our favorite Brooks shoe models that are all ideal for flat feet;
---
1
Running Shoes for Flat Feet
The Brooks Glycerin 19 has many perfect features for flat feet.
It has the DNA full-length cushioning insole and adjustable saddle construction.
The forefoot features softer blown rubber construction, while the sole is a durable and high traction rubber.
The uppers are flexible and breathable with 3D print Overlays for structural stability.
The fit is snug and comfortable.
There are also a few color options available to you.
---
2
Walking Shoes for Flat Feet
The Addiction Walker is a favorite walking shoe for persons who have flat feet.
The walking shoe has a MOGO midsole for optimal shock absorbency and cushioning.
In the rearfoot and forefoot, there is HydroFlow technology cushioning, and there is a triple density PDRB post in the medial side of the shoe for stability.
Furthermore, the uppers and full-grain leather, and there is a durable rubber outsole.
---
3
Stability Running Shoes for Flat Feet
Although these shoes are made for running, they are very comfortable and just as suitable for walking.
The Adrenaline GTS 21 is a comfortable running shoe from Brooks for flat feet.
It has mesh uppers that are lightweight and breathable.
The Extended crash pads offer better ground contact and transitioning for stability and motion control in flat feet.
The saddle is fully adjustable, and there are flex grooves for better movement on the medial sides.
The sole is a durable and high traction rubber.
---
4
The Brooks Ravenna is another favorite for flat feet, and it comes in some gorgeous color options.
It has a removable foam insole and a shock-absorbing midsole.
There is a DRB Accel shank-like unit for torsional rigidity in the midfoot
For the uppers, there are moisture-managing Element Mesh materials to keep your feet dry and cool.
The Outsole is a Flextra rubber for better support and flexibility and HPR Plus technology in high-wear areas for enhanced durability.
---
5
The Ghost 13 is the perfect shoe model for flat feet from brooks.
It has New Element design uppers and breathable mesh.
Inside is a cushioned insole and shock absorbing midsole.
There are unique crash pads to protect your heel and ball of foot areas, most affected in flat feet.
The outsole is a durable and high traction rubber.
---
6
The Brooks levitate 4 has energizing cushioning and is much lighter in weight.
There is a DNA AMP midsole for cushioning and shock absorbency.
The uppers are a soft knit design that offers a sock-like fit.
The sole is durable rubber with a lug tread for traction.
There are also more color options available.
---
Index Table: Top Rated Brooks Shoes for Flat Feet
---
---