Tennis today has become so much more radical. It is faster, more powerful, and much more aggressive.
Asics Tennis shoes cater to the new changes with always improving technologies and the most durable materials used in their tennis shoes.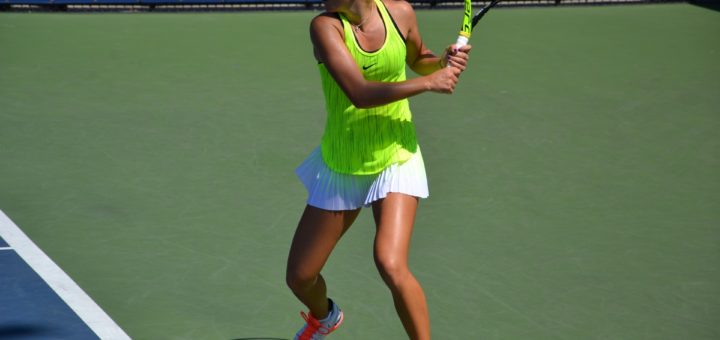 ---
Why Is Asics Your Best Tennis Shoe Brand
Speed – Speed in tennis is everything, and it seems like the game is only getting faster. Asics Tennis shoes are becoming much more lightweight, with the Gel-Solution being the most lightweight Tennis shoe on the market so far.
Stability – For the most powerful baseline Game, stability and cushioning are precious to every tennis player. The new, improved upper designs and material give a much better fit for optimal stability. Asics has some of the best cushioning systems that are durable and lightweight.
---
How can the Right Asics Tennis Shoe Model Improve Your Game
Every tennis player is different with a different foot shape and different playing technique, which are the two basic factors affecting their choice n footwear;

Fit – Asics Tennis Shoes offer a secure and more flexible fit, particularly in the uppers, for better stability and control. Hence Asics tennis shoe also comes in width options for different foot shapes.
Outsole for Court Type – The outsole design and materials are crucial depending on the type of court you play on, whether CLAY or GRASS. Clay Court shoes usually have a treaded pattern to prevent the clay from building up in the gaps, where a Grass Court shoe outsole has nubs almost like a spiked golf shoe for better grip.
Playing Style – If you are fast and light on your feet all over the court, the lightweight range provides good cushioning and is more flexible and lightweight. Whereas if you are a hard-hitting baseliner, a more durable and substantial shoe with much denser cushioning in the Asics range will be your best option.
Support – Asics tennis shoes offer excellent support and stability features that still allow for fast and flexible movements yet keep you from injuries and insecure footing. The Trusstic Guidance system and heel clutching system in some of the Asics models help give you more secure footing and heightened efficiency in the gait functionality. Good arch support also reduces your risk of injuries or overuse injuries, for that matter, and, in turn, protects and cushions the arches against impacts. Arch support should be specific to your arch type, whether you have a neutral, flat, high arch, and Asics have different tennis shoe models that can cater to every arch type.
Pronation – Pronation refers to the inward or outward rolling of your feet when you walk or run. In tennis, this is important as excessive pronation, whether Overpronation or Underpronation, can increase your risk of injury and affect your speed and performance in the game. Asics shoe models offer stability and motion control features to help control pronation more normally and naturally.
Comfort – Comfort is always key, not only in the fit and breathability of the shoe but also in the cushioning and support that the footbed provides. Asics shoes for tennis come with comfortable cushioned and sometimes removable sock liners that manage moisture and provide a comfortable cushioned platform for your feet. The Moisture-wicking materials have a drying and cooling effect of preventing moisture build-up and overheating. Your feet keep cool and energized with breathable uppers, thus reducing foot fatigue for better performance overall.
---
Features of a Good Asics Shoes for Playing Tennis
Uppers – Form Fitting, Pu, Mesh, or Synthetic uppers that are lightweight and breathable.Moisture absorbing and temperature managing sock liner or interior linings.
Cushioning – Flytefoam or EVA midsole that is lightweight and shock absorbing. Rearfoot and Forefoot Gel Cushioning.
Outsole – The AHAR PLUS outsole is 3 times more abrasion-resistant.
Support – Trusstic Stabilization system.
---
Reviews: The Best Asics Shoes for Playing Tennis
Here are some comfortable and safe working shoes from Asics that are ideal for Playing Tennis;
---
1
The Gel Contend that Asics is an excellent choice in tennis shoes for hard courts and grass courts.
Soft and flexible fabric uppers.
An Amplifoam durable and does shock-absorbing midsole.
Rearfoot Gel; cushioning for better shock absorbency.
Ortholite comfort and moisture managing soc liner.
High abrasion-resistant and slip-resistant lug rubber outsole.
---
2
The Gel Court for men and women from Asics offers excellent motion control and better gait efficiency.
Breathable synthetic and mesh uppers with smooth moisture-wicking interior linings.
A Trusstic System that reduces weight in the sole and retains structural integrity.
A Molded Orthalite cushioned and moisture managing sock liner.
Forefoot Gel cushioning and a Personal Heel Fit design with two; layers of memory foam in the collar line for a better heel fit.
Durable rubber outsole.
---
3
This is a gender-specific model from Asics in which each gender shoe caters specifically to their foot needs and comfort requirements.
Synthetic breathable and lightweight uppers to keep you cool, offering a snug yet comfortable fit.
Better midsole compression for the ladies with cushioning in the midsole.
Flexion fit flexible and form-fitting uppers.
There have rearfoot and forefoot Gel cushioning to attenuate shock on impact.
A PGUARD Toe protector and durable rubber outsole that is robust and long-lasting.
---
4
The Gel Dedicate from Asics is a Lightweight and ample cushioned Tennis playing shoe for those hard and unforgiving courts.
A comfortable padded tongue and collar.
Smooth-lined interior and mesh and synthetic breathable and lightweight uppers.
Molded foam footbed that is lightweight and comfortable.
Gel cushioning to attenuate shock on impact.
Durable rubber outsole that offers excellent grip.
---
5
The gel Challenger 13 is one of my top favorites when it comes to Asics Tennis Shoes. This shoe is designed ideally for clay courts and is extremely lightweight and well-cushioned with lightweight foam.
Breathable mesh and synthetic uppers.
Solyte lightweight cushioned and shock-absorbing midsole that is highly durable and effective.
Rearfoot and Forefoot gel cushioning to attenuate shock in the sensitive areas of your feet.
A Trusstic Guidance system for better gait efficiency and overall stability and movement.
Ortholite moisture managing and cushioned sock-liner to keep you cool and comfortable throughout the game.
The sock liner is removable so that you can use your own orthotics.
Durable and high traction rubber outsole.
---
6
The Solution Speed offers a glove-like comfortable fit and exceptional cushioned comfort that will improve your performance and protect you from injuries.
Flexion Fit design uppers that are form-fitting and lightweight on your feet.
An AHAR high abrasion-resistant rubber outsole, with reinforced toe and heel area, provides more robust, long-lasting protection.
P-GUARD toe protection, enhanced toe durability and protection, and a removable comfort sock liner reduces moisture and provide comfortable cushioning.
Flytefoam technology in the midsole is the most lightweight midsole cushioning material, along with being very durable.
---
Index Table: Top Rated Asics Shoes for Playing Tennis
---
---