You often see Tennis players playing in running shoes, or even training shoes, even if this is not the most suitable, you should play what is most comfortable and suitable for you to play in.
Hoka One shoes for Tennis offer features and characteristics that provide the right support and durability for playing tennis.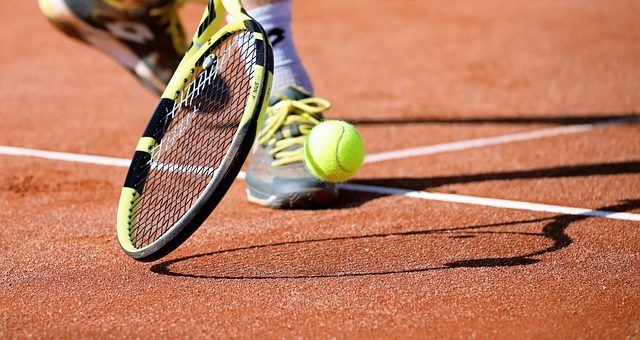 ---
Choosing Tennis Shoes
Tennis is a game with quick stops and starts, plenty f vertical, forward and backward movements, and fast-acting.
So you need to think about your playing style and the court surface you will be playing on when selecting proper shoes.
Here are a few features to look at;
Tennis Shoe Styles – A tennis shoe has a more flat sole with plenty of patterns on the sole's tread for proper traction and grip. Tennis shoes are more sturdy and rigid and generally not very soft in cushioning.
Playing Style – For a baseline player, they play mostly at the back of the court, and these players require plenty of lateral support and a very durable sole. For a Serve and Volley player that frequently charges the net, a shoe with a durable toe cap is required because they often slide their backfoot along the court during a serve.
Court Surface Types – The Surface type of the court you play on has an impact on the sole of shoe choice. On a Hard concrete court, you need good underfoot cushioning and a shock-absorbing midsole, as well as a durable and resilient outsole. For Soft clay Courts, you need traction that will not damage the courts. A Multi-Court requires light cushioning and an outsole that offers good traction.
The Fit – Besides just a comfortable and proper fit for your size and width, you need to look at your arch types and your pronation type to determine what support you need. If you have a low arch, you need more stability and arch support for this arch type. For w a high arch, more cushioning is needed and high arch support. If you Overprnate, which means your feet roll inward excessively when you walk and run, you need motion control or stability shoes. If You supinate or underpronate, meaning your feet roll outward excessively, you will need more flexible and cushioned shoes.
---
Types of Tennis Shoes
In any tennis shoes, the outsole and mid-sole become an integral part, and this is where the difference in shoe styles comes into play.
The Outsole is the outer part that provides traction and grip on the court, whereas the midsole sits between the bottom of the shoe and the outsole and provides cushioning and shock absorbency.
Different tennis shoes are designed for different types of courts and different types of play.
There are three basic types of Courts to Consider, each with different needs in a tennis shoe;
Grass Courts – For Grass courts, you need a specialized shoe. However, grass tennis courts are not all that popular. The shoe will need to be similar to a cleat with nodules on the sole for grip on the grass. This shoe type will only perform on an actual grass court and not on hard or clay courts.
Clay Courts – A tennis shoe for clay courts generally has a pattern across the outsole to help grip the clay without actually holding on to the clay inside the sole. You do not want to slip on the clay but also do not want your shoes to become caked up with clay. This shoe will offer much better lateral support because you slide around much more on a clay court.
Hard Court Shoes – The first and most tennis shoes are designed for hard courts. They offer a patterned tread for grip and traction, mostly in a herringbone pattern. They are much more durable because hard courts can be hard on your shoes. Moreover, they are cushioned and have a shock-absorbing midsole to protect you from the hard impacts of a hard court.
---
Features of a Good Hoka Shoe for Tennis
Uppers – The Uppers of Hoka One shoe for tennis may be either an engineered or sandwich mesh, with 3D prints or TPU overlays for lateral support and structure. There are also more durable leather models. A J-Frame or H-Frame midsole technology can be used for stability and lateral support, The Collar can be padded with foam or memory foam, and some models have a gusseted tongue. Some models have a supportive internal heel counter for a more locked-in fit.
Midsole – Besides the J-Frame or H-Frame midsole fit, EVA, CMEVA, and Profly midsole designs depend on the specific model. Each midsole type provides different levels of cushioning and support with more layers than others, to accommodate the type of court you play on and how much flexibility you need.
Outsole – Some Hoka One tennis shoes may have a late-stage or early-stage Meta-Rocker sole for balance and support or a more flat waisted geometry with a solid and unform sole. The sole has a patterned tread for traction and consists of durable high abrasion-resistant rubber.
Options – As far as options go, you can choose from different sizes and width selections, as well as color varaitions.
---
Reviews: The Best Hoka Shoes for Tennis Tennis
---
Below we have some of the best available shoe models from Hoka One that you can use for playing tennis with;
---
1
The Mach 3 from Hoka One is an excellent choice as a tennis shoe.
It has textile and jacquard mesh uppers as well as excellent midfoot lockdown.
There is a removable padded insole that offers foamy cushioning,
The midsole has durable and lightweight Profly technology for underfoot support and cushioning,
The sole is a rubberized foam with a textured tread.
This is an ideal shoe for clay courts.
---
2
The Bondi 7 is also a good choice as a tennis shoe for hard courts.
It has flexible and adaptable open engineered mesh uppers with TPU overlays, an internal heel counter, and midfoot support for lateral movements.
The midsole is a full-length compression EVA for underfoot protection.
The outsole is durable rubber with an earl stage refined meta-rocker design.
---
3
The Hoka One Clifton is a multipurpose tennis shoe for hard and clay courts.
It has breathable open engineered mesh uppers and seamless synthetic overlays with a textile lining to prevent abrasions.
There is a removable foam padded insole and a full-length EVA midsole for cushioning.
The rubber outsole is very durable and has additional grips for traction.
---
4
The Gaviota has an engineered mesh upper with a friction-free seamless lining to wick away moisture.
There is a removable foam padded insole for cushioning and support.
The durable rubber outsole has inserts for better grip.
This model is also available in a few more colors.
---
5
The Bondi SR has a leather upper and is available in black or white color options.
There is a removable foam padded insole and a full-length EVA Midsole.
The Outsole is a thicker platform style with a slight rocker design.
The durable rubber sole offers a good grip and stability.
---
6
The Hoka One Arahi 5 is a more minimalistic shoe from Hoka One for tennis players.
It has a simplified stripped-back uppers design that is more reined in feel.
The uppers are slightly updated for structural support.
There is a firmer EVA J-Frame midsole for stability and an early-stage meta-rocker sole.
The sole is a durable rubber for all court types.
There are also more color variations available.
---
Index Table: Top Rated Hoka Shoes for Tennis
---
---