Every tennis player knows that the right shoes for the game will make a huge difference in your performance and prevent injuries and foot discomfort.
Adidas shoes for playing tennis comes in a large range with unique features that are ideal for players at all levels and different court types.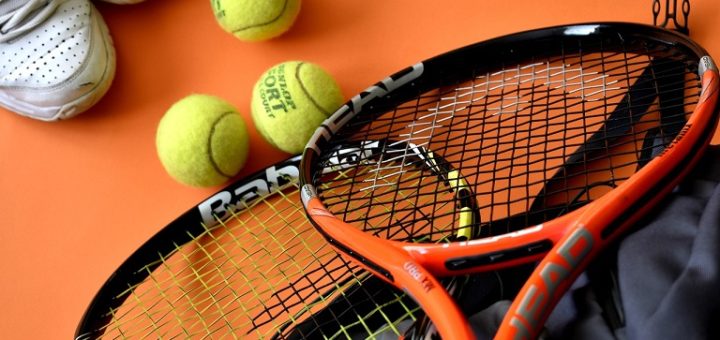 ---
Adidas tennis Shoe Range
One of Adidas' first Tennis shoe ranges is the Stan Smith range, first launched in 1965. The shoe was first named Adidas Robert Haillet after a prominent tennis player, Adidas endorsed Robert Haillet, but in 1978 they were renamed after Stan Smith, the American Tennis Player that was more active between the 1960's and 1980's time period.
The Stan Smith Tennis shoe was also one of the first Leather Tennis shoes created, marking a very long line of classic Adidas tennis Shoe ranges for the future.
As you will see, the basic white, perforated leather uppers and laces, simplistic tennis shoe design of the Stam Smith is still prevalent in most of the newer Adidas Tennis shoes, such as the Grandcourt, and Advantage design, which is still a top favorite.
Today the Simplistic design has also become more advanced with more technologies for comfort and support, as well as synthetic and mesh tennis shoe models available from Adidas.
---
What to Consider when Looking for a Good Tennis Shoe
There are, however, a few things to consider when choosing the right Tennis Shoes from Adidas;
Tennis Shoes VS Other Athletic Shoes – Tennis shoes are designed specifically to provide optimal support for the rigorous lateral movements involved in playing Tennis. A running shoe or training shoe will not suffice and is also not as durable.
Court Type – The Court Type also has a role to play in the type of shoe you select, though most tennis shoes today are designed for all courts. Hard Courts need a very durable and non-marking sole type, whereas a softer Clay court requires a Herringbone tread that will not clog with clay and synthetic uppers. Grass courts require a slip-resistant tread with nub patterns and synthetic or mesh uppers.
Playing Style – Some players stick to the baseline, or that old-style, serve and volley type players that storm the net. For Baseline players, a durable sole ad good cushioning with strong lateral support is advised. For those who frequently charge the net, a durable toe cap and flexibility in the foot's ball are advised.
Foot Type and Requirements – Then there is your foot type, a high, low, or neutral arch, which requires different levers of support. Also, pronation levels, Underpronation, Overpronation, or Neutral pronation to be considered.
---
Features of a Good Adidas Shoe for Playing Tennis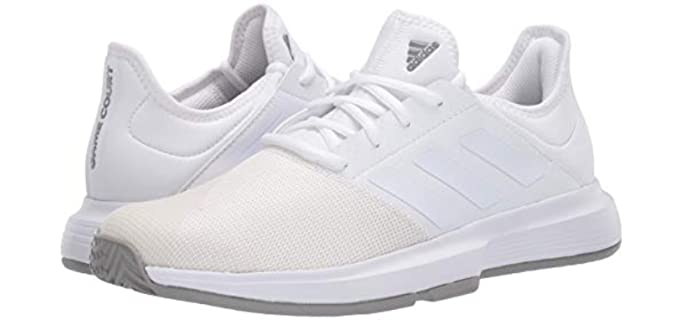 Uppers – Adidas Tennish shoes come in a range with perforated leather or synthetic leather uppers that are very durable and breathe well. Then there are also synthetic models with mesh insets that are cooler and more lightweight.
Midsole and Insole – For the midsole, you can have either a Cloudfoam soft cushioning technology, a Bounce Energizing foam, or a firmer EVA midsole as well as an EVA or Ortholite Insole and moisture-wicking lining.
Outsole – Adidas use a more durable Adiwear high wear and tear rubber in their outsole in either a cup-sole design, with a supportive TPU shank in most models. The Tread of most Adidas tennis shoe model offers excellent slip resistance and have a pattern that will not collect clay on clay courts. The Adiwear Rubber outsole design is ideal for hard courts as it can take more impact and is much more durable.
---
Reviews: The Best Adidas Shoes for Playing Tennis
These are some of the best available shoe options offered by Adidas, designed specifically for playing tennis;
---
1
Adidas Grand Court offers you a very durable and comfortable tennis sneaker for all levels and courts.
The Upper is 100% synthetic and offers a comfortable and more accommodating regular fit.
There is a Cloudfoam cushioning sockliner for comfort and a lightweight midsole.
The rubber outsole is designed to offer exceptional grip on all types of courts.
You can also select from a few available color options.
---
2
Comfortable Shoe for Playing Tennis
The Advantage range offers a sleek and comfortable Tennis shoe with Cloudfoam cushioning.
The Upper consists of synthetic leather with perforations for breathability.
For comfort, there is Cloudfoam cushioning.
The rubber outsole is durable and ideal for all types of courts.
You will also enjoy the moisture-wicking interior textile lining.
---
3
The Courtjam Bounce is an energizing and cushioned Tennis shoe with a highly durable Adiwear Outsole.
This specific shoe offers a wide fit for wide feet with breathable mesh uppers and a durable RPU forefoot for more aggressive players.
The Flexible Bounce Midsole offers energy-returning cushioning.
There is a durable Adiwear high traction outsole and a TPU lateral stability shank.
All in all, the shoe is very lightweight and ideal for hard and clay courts.
---
4
We have the Solemate Bounce with energizing technology, cushioning, and abrasion-resistant uppers.
The Upper f the shoe is synthetic and Abrasion resistant with an Adituff toe for aggressive players.
The Flexible Bounce midsole offers cushioning and flexibility.
There is a durable rubber outsole for great traction and long-lasting durability on different court types.
There are also a few color options available in this model, from which you can select as you desire.
---
5
The Adidas Solecourt is one of the most durable tennis shoes, with energizing boost cushioning technology.
The Solecourt has abrasion resistant textile and synthetic uppers with an Adituff reinforced toe.
Inside is a smooth moisture-wicking lining and comfortable insole.
The midsole offers responsive Boost cushioning and support.
A durable rubber outsole with a non-marking tread is ideal for hard courts.
---
6
The Adidas Gamecourt is a snug-fitting and very breathable tennis shoe.
The Gamcourt has synthetic uppers and a TPU reinforcement for stability, with mesh for breathability to keep you cool and comfortable.
The fit is snug and sock-like for better comfort and less slipping or friction.
A cushioned midsole offers shock absorbency and support ideal for the impact endured during a tennis game.
The rubber outsole is durable and ensures good traction on different court types, even grass courts, and clay courts.
---
Index Table: Top Rated Adidas Shoe for Playing Tennis
---
---