Every tennis player is unique and has exceptional skills and personal preferences when choosing the best shoes for playing tennis.
We try to cover shoes designed especially to meet the specific requirements of a diverse range of players.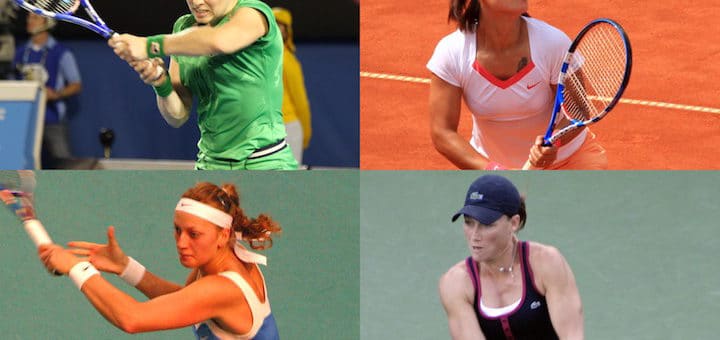 ---
What to look for on Tennis Shoe
When choosing a tennis shoe, it all boils down to three aspects; what type of tennis player you are, what type of court you will be playing on, hard or clay court, and last and most importantly, your personal preference.
Most designs of tennis shoes today can cater to all court play, which makes it a bit easier to choose, although some models perform better on soft than hard court and vice versa.
You need to examine your feet carefully, their size, and foot type to choose the shoe that will fit you most comfortably.
Also, take into consideration your style of playing when you are selecting a tennis shoe.
There are many colors, designs, and materials that you can choose from, which is entirely up to you and your style preference.
---
The Specific Function of a Tennis Shoe:
Tennis shoes have a few functions that regular athletic shoes do not provide;
Durability – Tennis shoes have been specifically and meticulously designed to hold up all the severities of the court. The soles and toe caps are reinforced using a material that is heavier and more close-knit.
Quick Movement – Tennis shoes have been designed with the specific intention of stopping and starts during the game, short sprints, lateral moving, jumps and lunges during the game, and fast pivoting.
Lateral Support and Cushioning – Because of these aspects, tennis shoes are manufactured to provide optimal lateral support, extensive cushioning, added shock absorption.
The best pair of Tennis Shoes will provide you with the maximum amount and levels of speed, skill, and endurance that are couturier to your playing style.
---
Features of a Good Tennis Shoe
Cushioning – Gel, memory foam, or air foam cushioning, particularly in the heel area. EVA or foam midsole for shock absorbency.
Support – Arch support for your specific arch type.
Lined – Moisture-managing sockliner or interior lining.
Uppers – Lightweight and breathable uppers from mesh and synthetic materials.
Lightweight – Overall lightweight design.
Outsole – High abrasion resistant rubber outsole.
---
Reviews: Best Shoe Types for Playing Tennis
Here are some of the best options in tennis shoes;
---
1
The Asics gel resolution is a tennis shoe that aims to provide ongoing comfort and stability for long and exhausting matches and perform at its best when you need it the most.
The shoe frame is designed to be tough and flexible enough to withstand long hours of play.
For improved breathability and comfort, a combination of mesh and synthetic materials has been specially designed.
For a better and more comfortable fit, the collar and tongue have been padded.
The Asics Gel Resolution is specially intended to fit a woman's foot and to provide extra cushioning.
A toe protector has been added for improved durability.
A cushioned and lightweight midsole has been inserted.
Positioned inside the shoe is a Dual-density support system for the enhanced support and stability that this sport requires.
Gel cushioning in the rearfoot and forefoot helps to minimize shock and allows for better foot movement.
A custom-fit is created with the memory foam lining the shoe molding's collar to the player's foot.
A hidden system helps to equalize the sole's weight, keeping the shoe's structure.
The outsole has a high density and durable rubber in all the critical areas to prevent abrasion.
The outsole is also a non-marking rubber that provides excellent grip capabilities.
---
2
Perfect for more versatile players, these shoes are preferred by one of the world's best tennis players Roger Federer; the Nike Zoom Vapor 9.5's are the absolute best in tennis shoes made for perfectionists court.
This shoe features a very dynamic fit system made from soft and durable material fingers that wrap your arch and midfoot from underneath and can be adjusted with the laces' aid.
For those quick turns and improved stability on the tennis court, an added foot frame wraps around from midfoot to heel.
The Nike Zoom unit and the light and firm Phylon cushioning offer improved cushioning and increased responsiveness.
A mesh and synthetic leather upper overlay ensure improved breathability and aids in lockdown.
Rubber overlays on the soles and high-wearing areas help reduce damage caused by hard-wearing and slide on the court.
The outsoles have a multi-surface herringbone pattern and flex grooves to aid in traction and improve the shoe's overall flexibility and durability.
---
3
If you are one of those easy-going, no mess, and no-fuss types of players who do not mind some extra mileage on your shoes, this is the perfect pair of tennis shoes for you; they are tremendously sturdy and durable and will last you very long. The stylish and sleek design is an added feature, and the responsive cushioning provides ample comfort.
The uppers are manufactured from leather and mesh material for improved breathability and absorption and provide comfort and durability.
The Yonex contains a unique power cushioning technology that provides extra support and fantastic shock absorption.
you will greatly enhance your performance on the court because of the extreme durability of this shoe.
A soft middle layer is created using the power cushion, which will return to its original shape after receiving a shock load.
The sole is round, ensuring smoother movement and more energy to be transferred where needed.
The upper is made from a specially designed PU leather and double Russel mesh material, which improves ventilation and keeps your feet dry.
The midsole and Brid are elastic and tough and help to retain shape.
A power graphite sheet inside the shoe prevents the foot from moving around in the shoe during those fast steps.
The TPU outsole is made from durable rubber that has very high endurance capabilities.
---
4
This tennis shoe is durable, comfortable, stylish, and fashionable and will help build the confidence of an underdog player who still needs to prove themselves on the court.
The synthetic rubber soles offer improved stability and are very durable.
There is a Kurim upper for breathability, flexibility, and more comfort.
This shoe aids in giving more stability when you are quickly changing direction on the court, giving you full confidence in your movements.
It also features one of the most durable outsoles on the market today, the AdiWear 6 rubber outsole.
To improve your foot drags, there are strong medial sides.
A Kurim upper enhances breathability and flexibility to keep your feet dry and comfortable.
There is a DST foam insole board for extra comfort.
The midsole had a torsion system and added AdiPrene to improve stability and add cushioning for better shock absorption.
A lightweight shoe made specifically for comfort, stability, and durability.
---
5
If you are an Old School player and do not like to mess with a good thing, this is the perfect tennis shoe for you that will help you keep up with today's competition while still sticking to your roots.
A classic Wilson look, with new and improved technology making it a shoe that will ensure excellent performance.
Made from comfortable and breathable leather and mesh.
The synthetic soles will improve traction capabilities and increase stability.
This shoe can be used on both hard and soft courts and is also extremely durable.
It fits perfectly and is designed to improve agility and acceleration.
A fashionable and durable shoe that will be a perfect and comfortable fit.
---
6
Tennis Shoe for Flat Feet
If you are looking for maximum comfort and the best performance, then look no further; the Asics Gel Game 7 will give you luxurious comfort and support as well as tough endurance.
A foam padded tongue and collar for a comfortable fit.
A breathable mesh lining for improved breathability.
A supportive and cushioned footbed.
Rearfoot gel cushioning to reduce the impact on the feet and absorb shock.
The EVA midsole is lightweight and cushioned for comfort and support.
A perforated toe box for enhanced ventilation.
Forefoot grooves for flexibility.
A durable rubber outsole that will enhance traction and grip.
One of the Best Tennis Shoes for Flat Feet.
---
7
For the hard courts, protecting you against impact, we have the New Balance 696V3 model2.
A lightweight Cushioned Revlite midsole, for support and shock absorbency.
Non–Marking herringbone, rubber outsole.
Supple and flexible leather uppers and a moisture-wicking lining.
The perfect shoe for hard courts and floor surfaces.
---
8
A phylon foam midsole and GDR outsole have all the support and shock absorbency you need on the court from the Nike Court Lite Tennis Shoe.
A full length phylon midsole, for lightweight cushioning and support.
A durable and high traction GDR outsole.
Abrasion-resistant added layers of material at the toe areas.
A breathable mesh tongue and uppers design.
---
9
Perform at your best on any court type with the K–Swiss Express, available in many bright and neon color options to choose from.
Molded Ortholite sock liner, for comfort and support.
A Dragguard Rubber and Aosta Rubber outsole, for the best controlled traction.
Textile and synthetic leather uppers with a ventilating and lightweight design.
A secure and snug lace-up closure system
---
10
A colorful and amply cushioned tennis shoe for all courts.
Removable sockliner to accommodate medical orthotics.
Ortholite sockliner design, for comfort and moisture management.
A Trusstic support system.
Rearfoot Gel cushioning.
Lightweight and breathable upper design with a high traction rubber outsole.
---
Comparison Table: The Best Tennis Shoes
---
So whether you are a perfectionist, professional player, underdog, or just a relaxed Old school tennis player, there is a shoe in the list specially designed for you. Some of the shoes listed are available in a men's and women's range.
---
---