When you have flat feet or a shallow arch type, you will need specific footwear, particularly for walking and running, to provide you with the best support and control; for this foot type, to prevent injuries and overuse damage to your feet.
Asics have some superb technologies in their footwear that make them ideal for a low arch type and flat feet.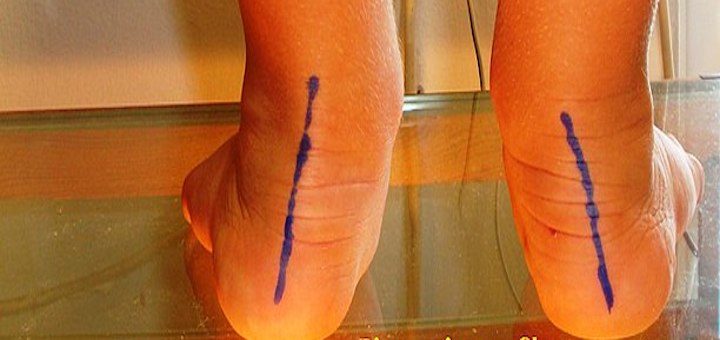 ---
What Exactly Entails a "Flat Foot"
Individuals with Flat feet basically have no gap in their arch, and the arch has fallen or is flat on the floor. When you stand, the gap beneath your foot's inner part is called your arch, which is normally raised slightly off the ground in a normal arch type. When you have flat feet, this part of your foot is shallow to the ground, or there is no open gap at all.
Most people have a flat or low arch with no issues ever documented. However, less fortunate individuals may experience pain or discomfort in other areas of their bodies caused by flat feet.
People who have flat feet may tend to roll their feet excessively to the inner side when they walk or run, known as OVEPRONATION. Overpronation does need to be corrected and can easily be done by footwear or orthotic devices to prevent injuries.
Some Causes of Flat Feet May Include;

Genetics – Flat feet may be inherited from your parents or a family member.
Develops with Age – As you become older and with daily use of your feet, the Posterior Tibial tendon may become weaker. This tendon is the primary support for your arch, and when it weakens or becomes damaged, you may have a fallen arch causing a flat foot.
Tendinintis – Damage and injuries to the tendons in your arch can also lead to flat feet, as these tendons support and strengthen the arches.
Developmental Faults – With age, changes in your feet and arches' development can result in flat feet during childhood or pregnancy.
Preganancy – The hormone Relaxin is released when you are pregnant, softening your joints and tendons in preparation for birth. This may result in your arches stretching and falling, which in turn usually goes back to normal, but in some cases may not, resulting in flat feet.
Wheit gain – One of the most general causes of Flat feet is excessive weight gain and obesity, as well as Diabetes, which can lead to weakened and fallen arches.
Medical Conditions – Any nerve-related conditions, arthritis, and rheumatoid arthritis, as well as injuries to the feet and tendons, are all connected to the causes of Flat feet and fallen arches.
---
Treatments and Exercise for Flat Feet
Exercising is a great way to strengthen the tendons in your arches and to prevent flat feet. There are also many other treatments for the symptoms related to flat feet;
Excercises – Stretching your Achilles tendons and Calves, or doing Heel Cord Stretching exercises daily, can help strengthen your arches and improve flat feet. Rolling a Golf ball under the arch of your foot is likewise an excellent exercise form for fallen arches and flat feet.
Wieght Control – Keeping a healthy weight is one of your greatest defenses against flat feet, fallen arches, and many other conditions that affect your health and mobility.
Footwear – Proper footwear that provides the right arch support along with cushioning and good stability features are ideal for addressing flat feet, supporting them to reduce symptoms, and helping prevent Overpronation associated with flat feet.
---
Features of a Good Asics Shoe for Flat Feet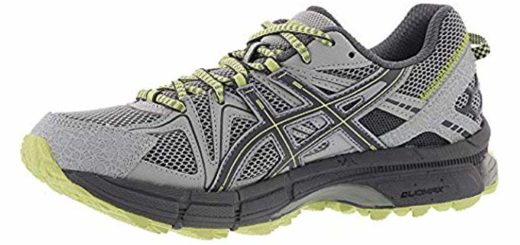 Uppers – Soft and flexible uppers made from mesh with leather insets for structural stability and a wider fit for a flat foot. Moisture Wicking and drying interior linings.
Support and Cushioning – Popular Goga Mat and Max technology for energy return, cushioning, and shock absorbency. Memory foam or EVA foam, or air-cooled memory foam insole for cushioning and cooling. Heel clutching system for better stability and motion control to prevent Overpronation. Trusstic and Guidance systems that enhance your gait efficiency when walking or running and help with Overpronation. Gel Forefoot and Rearfoot cushioning or just Gel Rearfoot cushioning, which ensures cushioning and shock absorbency.
Outsole – A durable rubber outsole with a tread for trail walking and running or a general patterned high traction tread prevents slipping. High abrasion rubber is used in some models – AHAR rubber outsoles that resist abrasion.
---
Reviews: The Best Asics Shoes for Flat Feet
Some of the best available models in Asics shoe that caters for Flat Feet;
---
1
Trail Running Shoes for Flat Feet
The Gel-Venture is a Gel Cushioned Running and Walking shoe from Asics ideal for a flatter foot.
Synthetic upper materials with a low top from the arch.
There is a Rearfoot GEL cushioning system that attenuates shock during the impact phase.
The sock liner is removable, allowing you to use your own orthotic devices and inserts.
The outsole is Trail Specific with AHAR design and materials and a lug tread, abrasion, and slip-resistant for outdoor use.
---
2
A comfortable and cushioned running and walking shoe from Asics, the Gel-Quantum Infinity has the ideal design and features for fat feet.
The uppers consist of a smooth and soft fabric material with an Ortholite Sockliner that helps manage moisture.
The Rearfoot and Forefoot Gel technology cushioning helps to attenuate shock during impact and toe-off phases.
An Ortholite lasting for plush underfoot comfort and superb moisture management.
The outsole is made from durable and slip-resistant rubber for better traction.
---
3
Walking Shoes for Flat Feet
The Gel Cumulus 23 is one of the Best and Latest models of the Asics Cumulus range, a superb shoe for any foot type or condition, even for flat feet.
The Mesh and synthetic leather uppers ensure excellent breathability and comfort.
There is a solid rubber outsole that ensures good grip and traction as well as excellent shock absorbency.
The ComforDry technology, keeps your feet dry and odor-free.
The uppers also feature reflective detail for more visibility at night.
Excellent cushioning and shock-absorbing comfort technology.
The Front and the rearfoot gel have been placed in the midsole to reduce shock during impact and give added support.
Available in four color variations.
---
4
The Kayano range from Asics offers some of the bests fits and shock absorbency, particularly the Gel Kayano 26, one of their latest models in the range.
The Gel Kayano 26 has a unique system called IGS – Impact Guidance System that maintains a neutral step for overpronators, usually the case in individuals with flat feet.
The Kayano has a Moisture-control Ortholite X-40 sock liner to keep your feet dry and fresh.
Soft Synthetic uppers with breathable mesh and reflective overlays, making it highly visible in poor light conditions.
The Asics FluidRide midsole provides enhanced shock absorption.
The FluidFit® technology for the upper allows a much better and more adaptable fit.
The heel clutching system technology ensures better stability and a more secure heel fit.
---
5
The Gel Excite from Asics is a comfortable and durable athletic shoe with features ideal for flat feet.
Rearfoot and forefoot Gel cushioning along with a Trusstic system for better gait efficiency and impact resistance.
Guidance line midsole technology and vertical Flex grooves likewise enhance gait efficiency.
Seamless uppers and interior construction that is breathable and will not cause friction of any sort.
A shock-absorbing and cushioned SPEVA Midsole and a comfort-cushioned insole.
---
6
Wider Width Running Shoe for Flat Feet
The Asics Gel Contend offers superb comfort and performance technology for all foot types.
The uppers offer an adaptable, comfortable fit and are highly lightweight and breathable.
The tongue and collar are padded for comfort.
There is a removable cushioned sock liner allowing you the use of your own orthotic devices.
Reflective colors and a glossy finish gives this sho a more modern and fashionable appeal.
Soft and breathable textile and synthetic uppers for a superior fit.
A padded tongue and collar, along with the Gel cushioning, ensure luxurious comfort.
The removable sock liner allows you to use your own orthotic devices.
The glossy finishing and reflective colors allow you to use this shoe at night.
---
7
The Asics Defiance X is comfortable and cushioned athletic shoe ideal for flat feet and related symptoms.
A durable and shock-absorbing rubber sole and SPEVA midsole.
Comfortable GEL heel cushioning and support.
Seamless interior construction and breathable and lightweight uppers.
Cushioned for comfort with good arch support.
---
8
The Asics Gel DS-23 trainer is the ideal training shoe for individuals with flat feet.
A DUOSOLE outsole for enhanced traction and stability in Flat feet.
Mesh uppers with an adaptable and flexible fit.
Comfortable Gel cushioning in the heel that attenuates shock.
A Flytefoam energy-enhancing cushioned midsole.
---
9
Overprontaion Stability Shoe
The Asics Gel Surveyor and Excite is a top in its class for flat feet, Plantar Fasciitis, and overpronation, predominant in flat feet.
Breathable and lightweight synthetic design uppers.
An Impact Guidance System that enhances gait efficiency.
FluidRide technology cushioned midsole for shock absorbency and bounce back.
A DUOMAX support and stability system.
Durable rubber outsole.
---
Index Table: Top Rated Asics Shoes for Flat Feet
---
---