Shoes for Older individuals do not always need to be old fashioned Box styled Orthopedic brand shoes. There are some very fashionable shoe options available for both young and old today.
Adidas shoe for the elderly offers a comfortable range with designs with a more accommodating fit, and superb comfort and stability features required by older adults.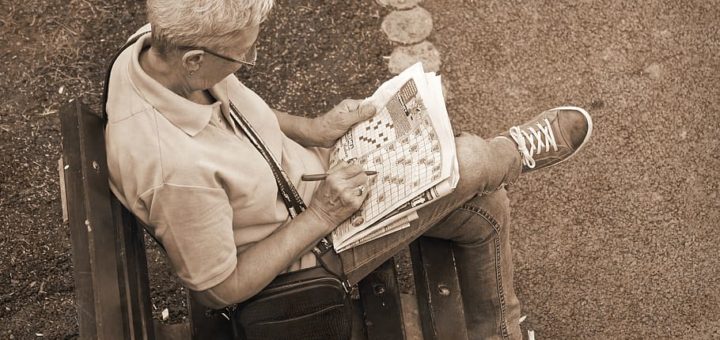 ---
Some Common Footwear Issues in Elderly Persons
As we get older, our feet undergo many changes that can affect how our shoes fit, how we walk and balance, as well as how comfortable we are.
Other issues such as Diabetes and Arthritis, which is prevalent in aging adults, affect your feet and ankles and may require footwear for extra care and comfort.
As we get older, we also become less stable on our feet and more prone to slips and falls.
Issues such as Bunions, corns and calluses, hammertoes, and plantar fasciitis are all common ailments among elderly persons, in which an accommodating and specific shoe design is required.
---
What to Look for in Shoes for Elderly
If you want the most comfortable and safest shoes for an older person, here are a few considerations to look at;
Removable Insoles – Sometimes, an older person may need an orthotic device or insole, and therefore a removable insole is always an excellent idea.
High Back – A higher back or collar that offers a more snug fit helps with ankle control to prevent strains and sprains.
Low Heel – Higher heels place unnecessary strain on your toes and the balls of your feet, and a flat-soled shoe may be too uncomfortable. So something with a low heel or heel to toe drop is ideal.
Uppers – Comfortable and sturdy uppers with a roomy toe box is advised for a more accommodating fit.
Padding – Underfoot cushioning in the midsole and insole helps to absorb shock so that there is no pressure from the impact on the feet, joints, and hips.
Lace Free – For Older adults who struggle to tie their shoes, a lace-free option such as a hook and loop closure or a slip-on, or even a bungee lace-up design is ideal.
Slip Resistance – Slip resistance is very important so a durable rubber outsole with a lug patterened tread is advised.
---
Features of a Good Adidas Elderly Shoe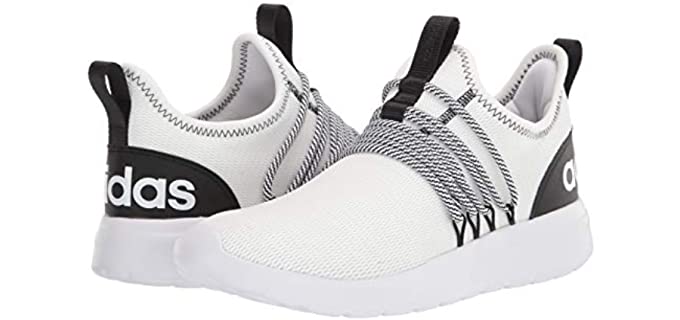 Uppers – Look for a roomy toe box design or wider width options, especially if your feet tend to swell or if you have Bunions. Soft and flexible uppers are also a great idea. Adidas offers soft mesh or knits uppers that breathe well, are seamless, and flex with your feet.
Comfort – Most Adidas shoe models come with a padded tongue and collar for comfort, and with a Bounce foam or Cloudfoam cushioned midsole and some with an Ortholite sockliner for comfort. Adidas shoes also have seamless moisture-wicking interior linings to keep your feet dry.
Outsole – Outsole options are rubber, Adiwear high durability rubber, and the Stretchweb design rubber sole for traction and slip resistance.
Stability features – Some modesl come with a TRPU or Nylon shank for stability and underfoot protection.
---
Reviews: The Best Shoes for Elderly
These are our top choices in Adidas shoes with excellent designs for elderly persons;
---
1
From Adidas, the Ultraboost 20 is a cushioned and supportive shoe that offers the perfect fit and comfort for elderly feet.
The Upper is a flexible and breathable Primeknit with a sock-like snug fit.
Ther is a responsive Boost cushioned midsole and comfortable insole.
The Stretchweb rubber outsole is ideal for grip and traction on wet and dry surfaces that tend to be slippery.
You can get this model in quite a few color varieties.
---
2
The Adidas Solarboost 21 is a comfortably fitting shoe with light-stable support that is ideal for senior persons.
The Solarboost offers a regular and more accommodating fit, with breathable and lightweight Airmesh uppers and Tailored fiber placements for midfoot support and stability.
There is a Responsive Boost midsole for cushioning and an Energy rail for support,
The shoe offers excellent stability and support for people who struggle with balance.
There is also a durable and high traction Stretchweb rubber outsole.
---
3
Shoes for Elderly Persons
The Adidas Duramo has an accommodating fit and easy lace-up system that can be easily secured by fragile hands.
The Duramo 9 offers neutral support and regular accommodating fit.
The uppers are mesh with a smooth textile lining for comfort and moisture control.
There are a Cushioned Plush Lightmotion midsole and an Ortholite comfort footbed.
A durable rubber outsole ensures good grip and traction.
---
4
The Adidas Adilette Slide is easy to adjust with a hook and loop closure and has a stable design, with a cushioned footbed for older feet.
The uppers offer a medium fit and easy slip-on construction for older people.
Ther are synthetic and nubuck materails on the uppers and a hook and loop design closure that is very easy to use.
The Supercloud cushioning provides exceptional soft cushioning and comfort.
A durable rubber outsole ensures good traction and support.
---
5
The Adidas Lite Racer Adapt is a slip-on design shoe that is easily managed by older persons, with a plush cushioned midsole and insole for comfort.
The Upper is synthetic with an easy slip-on design and a smooth moisture-wicking textile lining.
There are a combined Cloudfoam midsole and outsole with a cushioned tongue and easy heel pull for comfort.
The outsole is supportive and cushioning, as well as durable, offering good traction on different surfaces as needed.
You can likewise select from a few available color options to suit your personal preferences ideally.
---
6
The Adidas Originals range offers some excellent style smart casual shoes that are ideal for elderly persons.
Both models have lightweight and breathable synthetic uppers and a smooth textile lining.
There are a comfortable EVA padded insole and midsole and a durable rubber outsole.
The design comes in many color options available for men and women.
The sleek and elegant design is ideal for a more formal style shoe that can be worn for a variety of occasions.
---
Index Table: Top Rated Adidas Shoes for the Elderly
---
---