Aging feet come with many demands, foot and health issues, and conditions, as well as much wear and tear from all the years they have carried you.
Therefore you need to take extra care of your feet in your old age and invest in shoes that offer ample support and comfort, as well as extra protection.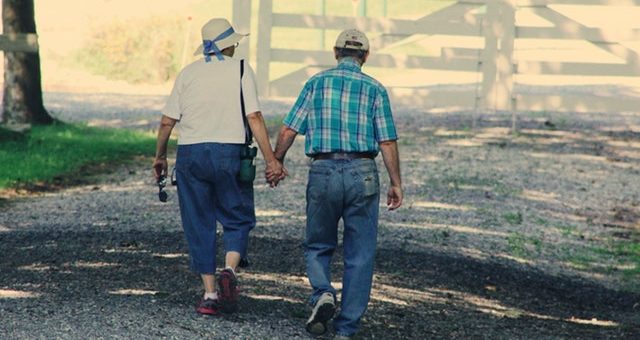 ---
A Few Things to Know About Aging Feet
All in all, healthy feet are a catalyst for healthy movement and activity and, then again, a healthy lifestyle. Your feet are your base of support, and as you get older, the bottom may become weaker.
Here are a few things that you may not have known happen to your feet as you age;
Obesity – Many older individuals tend to pick up extra weight, which in turn places strain on your feet and joints, which can cause pain and discomfort and, in turn, increase your risk of injury.
Less Fat in Your Feet – We are all born with fat padding under our feet, especially in the heel area, but as we age, this padding may diminish, especially when you lose weight. This because the lack of shock absorbency from the fat padding can lead to pain and discomfort and conditions such as calluses and Bunions.
Circulatory Issues – Poor circulation, mainly caused by Neuropathy and Diabetes conditions, which are more prone in the elderly, can cause pain and swell in the feet due to reduced blood flow.
Foot Ailments – Many different foot ailments such as calluses, Corns, Bunions, Hammertoes, and even plantar Fasciitis can become more evident with age, which in turn requires extra care and comfortable footwear solutions that fit old people shoes.
---
Tips on Choosing The Best Walking Shoes for Old People
Here are a few Great Tips to help your Find Good Shoes for older adults;
Fit – Choose a shoe with much more toe room and a wider fit, as well as a thumbnail's extra length between the toe and the shoe. This enables you to have a comfortable fit with any foot condition or even swelling.
Stability – As we get older, our balance also deteriorates, and stability features in a shoe become necessary. Look for stability features such as excellent arch support, a heel cup, a contoured footbed, and a stable and well-balanced supportive sole.
Less Friction – Make sure the interior of your shoes is seamless and the materials do not irritate your skin. Because our skin becomes softer and less prone to chafing when we get older and uncomfortable shoes or even socks can cause blisters and sores.
Cushioning – As I have mentioned, the fat padding in your feet is less as you age, so look for ample cushioning in a shoe to protect your feet against impact.
Slip Resistant Sole – A good slip-resistant rubber sole offers stability and decreases your risk of slipping on slippery floor surfaces, which can be deadly or very severe in your old age.
---
Features of a Good Elderly Walking Shoe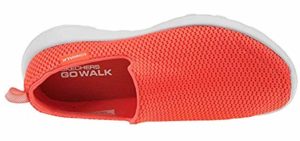 Cushioning – Cushioned with EVA, Ortholite or Memory Foam, or Gel for shock absorbency and comfort. Shock Absorbing EVA or lightweight foam midsole.
Support – Stability features to control motion and prevent lack of balance.
Outsole – Durable and high traction slip-resistant rubber outsole.
Uppers – Wider width upper construction from soft and flexible materials with a roomy toe box to accommodate foot deformities such as Hammertoes and Bunions. Smooth and seamless interior linings that manage moisture.
---
Reviews: The Best Walking Shoes for Seniors
here are the most comfortable and supportive walking shoes that are perfect for older individuals;
---
1
The Vionic Walker is a comfortable and supportive walking shoe with an orthotic footbed and a stabilizing deeper heel cup.
Durable and comfortable leather uppers with enough toe room and a secure fit lace-up system.
There is a moisture-wicking fabric lining that is also lightweight and breathable.
The Orthotic Footbed has a deep heel cup for stability and motion control.
It is clinically proven to alleviate heel and knee pain.
Cushioned for comfort and shock absorbency with a durable and high traction rubber outsole.
---
2
Walking Shoe for The Elderly
From DR. Comfort, we have the Endurance Plus and Victory, two walking sneakers, considered one of the best older people's shoe choices, that are also available in wider withs to accommodate painful Bunions and Hammertoes.
The Ladies' Victory has an additional hook and loop closure strap with Velcro fastening for a more secure fit.
Leather and mesh uppers for breathability and comfort with a roomy toe box.
It comes with a comfortable, removable Gel insert for cushioning.
The midsole offers excellent shock absorbency, and there is a durable rubber outsole.
Lightweight design with excellent arch support and pronation control.
Available in wider width options.
---
3
Elderly Trail Walking Shoe
From New Balance, we have these athletic walking and running shoes, which also deem to be perfect for elderly feet.
Soft and supple textile and leather uppers for a breathable and comfortable fit.
An ACTEVA shock absorbing lightweight midsole and AT tread highly slip-resistant rubber outsole.
There is an NB cushioned response insole for maximum energy return and cushioning.
Available in a few color options.
---
4
Walking Shoes for Seniors
I have chosen these two models for Skechers for their flexible and comfortable fit, as well as the superb memory foam cushioned insole.
The leather and synthetic uppers are highly flexible and offer an accommodating and moldable fit.
Inside is a comfortable and cushioned memory foam insole and moisture-wicking linings.
The durable rubber outsole offers excellent traction and the cushioned midsole ample shock absorbency.
---
5
Trail Walking Shoe for The Elderly
The Gel Kahan from Asics is an outdoor Trail walking and running shoe, which I can also recommend for older and more fragile feet because of its superb comfort and protection features.
Textile and synthetic uppers are flexible and breathable.
The Gel heel attenuates shock on impact, and the DuoMax support system offers a dual-density shock-absorbing midsole that offers enhanced lightweight support,
There is also SPEVA foam in the midsole for bounce-back cushioning.
The outsole is made from rubber with trail-specific reversed lugs for uphill and downhill walking on wet and slippery surfaces.
---
6
Walking Sandal for Older People
The Breeze is the perfect sandals if you have any foot deformities such as Bunionsaand Hammertoes or feet suffering Neuropathy symptoms that need to be protected.
Soft and supple leather uppers with a closed design and open slits for ventilation and cooling.
Comfortable cushioned EVA sole and durable rubber outsole,
A cushioned and comfortable insole.
It comes in wider widths and extended sizes, as well as other neutral color options to choose from as you prefer.
---
7
Elderly Slip On Walking Shoe
The Propet wash and wear is an all-day, easy-wearing sneaker for walking that is quick and easy to wash and maintain.
Leather uppers in the men's model and textile in the women's model are breathable and flexible.
Wide and roomy toe box for comfort.
A durable and high traction rubber outsole.
A removable cushioned footbed and shock-absorbing midsole.
Both shoes are available in other color variations.
---
8
Senior Slip-On Walking Shoe
I have added these two superb walking shoe models for Elderly feet from the Skechers Go Walk range.
Breathable textile and mesh uppers that are also very lightweight and flexible.
A comfortably cushioned 5GEN and Goga Mx high rebound footbed and insole.
Soft moisture-wicking fabric linings and a Bamboo anti-bacterial lining in the men's model.
Featherweight cushioned sock liner and a lightweight and flexible sole.
Available in many color variations to choose from.
---
9
Walking Shoe for Elederly Persons
The New Balance we have, the 680V7 model, is a comfortable and supportive Walking shoe for Elderly Persons.
The New Balance 680V7 has an Injection Molded EVA Midsole and 10mm Heel-to-Toe Drop, ideal for back pain and heel pain in elderly persons.
The uppers consist of engineered mesh and synthetic materials that are light and breathable.
There is also a cushioned NB insert that is removable.
A durable rubber outsole ensures a stable and smooth ride.
---
10
Walking Sneaker for Elderly Persons
The Adidas EQT Racing ADV W shoe offers excellent stability and flexible fit, and breathability for elderly feet.
The Adidas EQT ADV W shoe offers excellent Midsole support with the Compression mOlded EVA midsole and shock absorbency.
There are a moisture-wicking lining and comfort cushioned Ortholite footbed inside the shoe.
The uppers are flexible and breathable with a Primeknit design in multiple colors.
A Torsion system and TPU shank provide exceptional support for a disability.
---
11
Walking Sandal for Elderly Persons
The Yucatan is a comfortable and customizable sandal ideal for outdoor walking for senior persons.
There are leather uppers with a smooth lining.
The shoe has three adjustability straps for a perfect fit.
Receptor Technology, in the sole, offers excellent stability and support.
The footbed is contoured and cushioned for optimal arch support and comfort.
The rubber outsole offers excellent grip on all terrains.
---
Index Table: Top Rated Old People Shoes for Walking
---
---