Finding comfortable and easy footwear for a senior person can be quite challenging.
As we have, we become less flexible, and our finer motor skills become less effective.
Something as simple as tying a shoelace can become a hefty task that may take quite some time.
This is why I recommend the best Velcro Shoes for Seniors;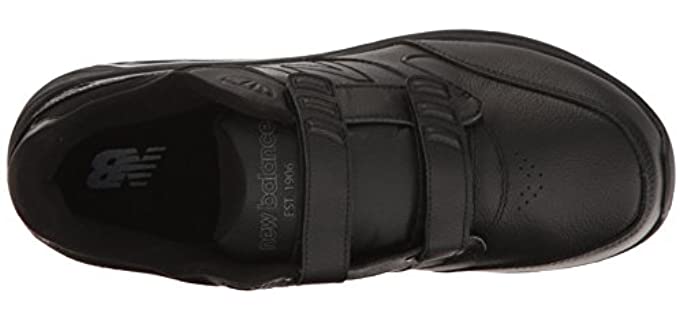 ---
Why Choose Velcro Shoes for Seniors
Choosing good shoes for an elderly adult is quite crucial. They need shoes with good support that is comfortable and easy to put on and take off.
Because our feet change as we age and even with hot and cold seasons, they may swell and expand or even become slightly deformed, which means an adjustable and flexible shoe design is much needed.
Shoes with a Velcro closure offer many benefits for seniors when it comes to adjustability and a more accommodating and flexible fit;
Easy to Pu On and Take Off – The Velcro closure is straightforward to open and close, much easier than laces. The shoe can be opened up rather than slipping your feet into tight shoes is also ideal as you enlarge the entry of the shoe and then close it again.
More Comfortable – Most Velcro shoe designs for seniors come with comfort features such as a flexible upper fit, cushioning, and other comfort features that are ideal.
Better Support – You can tighten your Velcro closure on your shoes for a better and more secure fit that provides support. Most Velcro shoe brands also come with some excellent support features in turn.
Flexibility – As an elderly person's feet may swell and change with time, the Velcro closure allows them to adapt the fit as needed for better flexibility.
---
How to Choose Velcro Shoes for Seniors
Besides just the Velcro closure, there are a few characteristics to take into consideration when choosing good Velcro shoes for a senior person;
Quality – I start with quality because a good quality shoe will always perform better and consist of more durable materials and construction methods, ensuring that the shoe will last.
Price – You will need to consider your budget because good Velcro shoes for a senior person will not come cheap. This goes hand in hand with good quality. As these shoes will ensure the comfort and safety of an elderly loved one, they need to be seen as an investment.
The Sole – Slips and falls are a dangerous and very prevalent risk faced by elderly persons that can be fatal or cause very serious injuries. At this age, slips and falls need to be avoided at all costs. This is why you must always look for a shoe that has a durable rubber outsole with a lug slip-resistant tread.
Width – Seniors may have issues with their feet such as bunions, swelling, hammertoes, and other foot deformities, which means that they may need a wider fit shoe. It would be best to consider that a senior person's fete may change as they age, so a roomy toe box fit is always advised.
---
Features of a Good Velcro Shoe for Seniors
No we get to some features that you can look for in a good Velcro Closure shoe for seniors;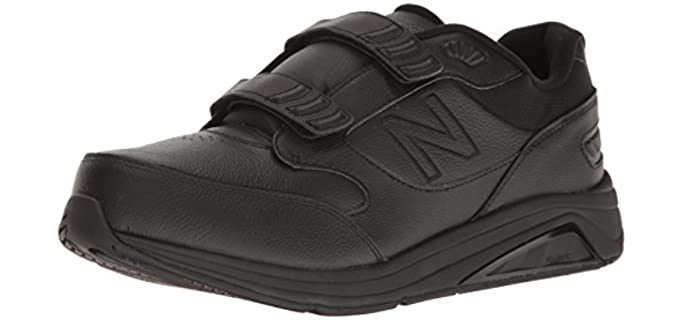 Size – Firstly you will need to get the right size, and that includes the width as well, many of the shoe options we have reviewed do have wider width options available as well as extended sizes if needed.
Comfort and Support Features – As seniors require extra support and cushioning because the muscles and cushioning in their feet become less effective with age, you need to look for these features. Consider a comfortable cushioned insole that may be removable if they like to use their own orthotics. The midsole should be a foam such as EVA that provides good shock absorbency.
Weight – You do not want a heavyweight shoe for an elderly person as this can be difficult for them to use, always opt for a more lightweight design.
Closure – The Velcro closure should be durable, properly stitched, and easy to use by the senior person. There may be one or more Velcro strap closures.
Comfortable Fit – A comfortable and flexible fit is ideal for feet that may swell and have other conditions. The Velcro closure allows you to adjust the fit to be more personalized. Also, consider the width and toe box room for a more comfortable fit.
Options Available – You will usually have a choice in size, width, and color depending on the actual shoe brand and model.
---
Reviews: The Best Velcro Shoes for Seniors
Here are our top choices in some superb Velcro shoes of all designs for elderly persons;
---
1
Comfy Velcro Shoes for Seniors
The Cush and Foot are one of the most comfortable single Velcro strap shoe designs for seniors.
It can be used as both a leisure shoe or a slipper.
The shoe has comfortable cushioning and support features.
There is a rubber outsole for good slip resistance.
It also Medicare A5500 approved.
---
2
Walking Shoe with Velcro Straps for Seniors
These are two diabetic walking shoes from Propet.
They both feature a Velcro-style closure for an adaptable fit.
The uppers are genuine leather and breathable.
There is a durable rubber outsole with a slip-resistant tread.
The shoe offers a roomy fit and is available in wider widths.
It is also cushioned and very comfortable.
---
3
The Propet X Strap shoes are excellent athletic walking shoe models for seniors.
The Velcro closure is easy and comfortable to use.
The shoe is breathable and lightweight with durable construction.
The uppers are synthetic, and leather and the closure is a single leather strap.
The shoe is fully cushioned with shock-absorbing technology in the midsole.
---
4
The New Balance shoe has full leather uppers with two Velcro straps as a closure system.
There is a removable cushioned insole, and the midsole offers exceptional shock absorbency.
The rubber outsole is very durable and ensures excellent traction and grip.
The shoe is an athletic design available in a few more color options.
---
5
Velcro Sandal for Seniors
The Propet Bayport is a Fisherman's style sandal with a Velcro strap closure for an adjustable and customizable fit.
The uppers are genuine leather, and the outsole is a durable and high traction rubber with a lug tread.
Inside is a comfortable Ortholite insole for cushioning and EVA midsole.
The sandal is also available in a few more color options.
---
6
The upper consists of synthetic leather and mesh that are quite breathable.
You can easily adjust the fit as needed with the Velcro straps.
The shoe features rollbar technology for stability and balance and excellent cushioning.
There is a PU footbed design with a cushioned insole and a cushioned midsole.
The outsole is a durable rubber that offers good slip resistance.
There are also a few available color options in more neutral colors.
---
Index Table: Top Rated Velcro Shoes for Seniors
---
---