Skechers is a top shoe brand that makes the most comfortable work and athletic shoes and the most comfortable and durable slippers.
Skechers slippers are crafted to be the finest quality, durable, and extremely comfortable for everyday wear.
---
Skechers and Slippers
So What makes Skechers Slippers so unique?
Quality and Durability – Skechers use fine quality and durable materials to construct their slippers so that they last you long. You can wear most Skechers slipper ranges both indoors and outdoor as their soles are made from very durable rubber with a lug tread that provides a good grip. Uppers are usually constructed from genuine suede feel leather or strong polyester and microfiber materials that are easy to clean and long-lasting.
Comfort – With the Popular Memory Foam and Air Cooled Memory Foam used in the footbed of their slippers, you get plush comfort and excellent shock absorbency for everyday wear. In addition, Skechers line their Slippers with faux futures to give you more warmth in the wintertime and have cooling technologies in their summer slippers ranges.
designs – the range of slippers that Skechers offers comes in various colors and slip-on, clog, or lightweight slip-on models for summer. So there is versatility and something for every preference. Some of their slipper models can double up as casual wearing shoes and slippers.
---
Why do You Need a Good Slippers
We all need to give our feet a good rest after a long day at work, especially when you have been on your feet all day.
Many people do not realize that most cheaper brand slippers offer little to no support and comfort features for your feet, so you are actually going from bad to worse.
This said, there is also the factor of the soles of most slipper brands being quite thin and slippery, so you can only wear them indoors.
The right slipper will offer you a durable and high traction sole for indoor and outdoor use, as well as comfort and support features to relax and soothe your feet after a long day.
---
Features of a Good Skechers Slipper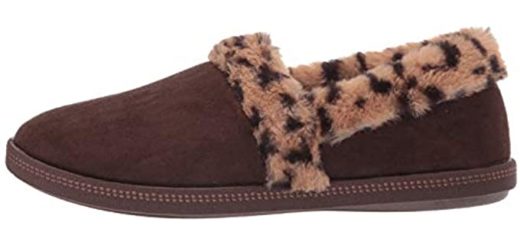 Uppers – The uppers on the Skechers slipper can either feel soft leather, microfiber, or plush synthetic materials. Most Slippers from Skechers are lined with Faux fur for warmth and comfort.
Footbed – The Footbed in the Skechers slipper range is either Memory foam or an Air Cooled Memory foam in their summer slippers.
Outsole – The Outsole consist of a durable rubber with a slip-resistant tread. Some models have a thicker sole and other have a more flat and flexible sole.
---
Reviews: The Best Skechers Slippers for Women
Here are some of our top favorite picks in Skechers from the Skechers brand;
---
1
---
2
The Fortress Slipper is another winter model with a thick and durable sole designed for indoor and outdoor use with a lug slip-resistant tread.
The platform sole adds some shock absorbency along with the plush comfort of a cushioned insole.
You can get the fortress in different shades of brown, black, white, or grey colors with a contrasting platform sole and a solid color or leopard print pattern fur lining.
The fur lining decorates the trim for a fashionable appeal and provides warm insulation.
The thick platform sole is very durable and offers an excellent grip.
The uppers are made from a soft 100% Suede Leather.
---
3
Another superb addition from the BOBS range is their Cuddle Quote range, from which I chose the Kitty detail for our ladies.
The slipper is a light pink color with kitties printed all over a greyish color fur trim.
The slipper is more lightweight in a flexible slipper design ideal for summer use.
There is a thin, flexible rubber sole that offers excellent traction and synthetic materials fabric uppers.
Inside is a comfortable and cushioned Memory foam footbed.
---
4
The Cozy Campfire Moc-Toe Design is a comfortable and lightweight winter slipper available in three color options.
You can choose between a Black, grey, or tan brown color option in the Cozy Campfire Moc-Toe slipper.
The upper consists of soft and comfortable fabric, and there is a light Faux Fur interior lining for warmth.
Inside is a comfortable cushioned memory foam insole and supportive midsole.
The synthetic sole is light and flexible while offering a good grip.
---
5
The Easy Going Lattes from Skechers is a durable slip-on Summer slipper with a sturdy outsole.
The upper consists of soft and breathable textile material, and there is a relaxed, comfortable fit.
Inside is an Air-Cooled Memory foam footbed to keep your feet cushioned and cool.
The rubber outsole is thick and supportive, with a lug tread for better grip.
The sole is designed with a contour and slight heel for optimal stability and arch support.
The style is also effortless to slip on and off as needed.
---
6
The Cozy Campfire Frisky Gal boasts a black or dark brown upper with daring Leopard Print Faux fur trim and lining.
Soft textile uppers and a warm closed design make the Frisky gal the ideal winter slipper.
The slipper is lined with a leopard print faux fur and trim.
There is a durable and slip-resistant rubber sole that is thin and flexible.
The Memory Foam cushioned comfort footbed provides ample support and cushioning.
Choose between a black or dark chocolatey brown option in this stunning slipper.
---
7
The Uppers are textile with a shearling interior lining.
There is a memory foam cushioned comfort footbed.
There are three neutral colors available.
The outsole is a durable and slip-resistant rubber.
---
8
The uppers are a lightweight and breathable textile.
There is a plush interior lining for comfort.
The memory foam-cushioned footbed provides comfort and support.
The solid sole is durable and slip-resistant.
---
9
The slippers have soft suede uppers.
There are three color options available.
Inside is a memory foam cushioned footbed and a warm lining.
The sole is a durable rubber.
---
10
A loafer and slipper in one design.
The inside is lined with a warm fur lining.
There is a black or tan color available.
Inside is an Air-Cooled Goga Mat insole for comfort.
There is a dual-density outsole with comfort pillar technology.
---
Index Table: Top Rated Slippers by Skechers
---
---