Slippers may become a much-needed staple in footwear for an older person.
Elderly individuals need slippers that are safe and comfortable to wear. That is why we want to help you find the best slippers for the elderly person in your life.

---
Why Seniors Need Safe Comfortable Slippers
Many seniors like klunky and flippy house shoes and slippers that may become a fall risk and also be quite uncomfortable in turn.
Few things are as important as preventing an elderly person from falling, resulting in serious injuries and even immobility in their daily lives.
As we age, our feet, ankles, knees, and body, in general, need much more support. The muscles and cushioning in our feet lessen and wear out with time, leading to weakness and instability.
Generally, most slippers that seniors receive are not as safe or supportive as they should be.
Seniors need to be comfortable, and they need a simplistic slipper that they can easily put on and take off. Slippers can also be much more comfortable and easier to put on and take off than an athletic or dress shoe style for seniors.
As long as the slippers are safe and do not cause a fall risk or discomfort, seniors can wear slippers as their daily shoes.
---
Benefits and Types of Good Slippers for the Elderly
Slippers are the ideal leisure and home wear shoe for and elderly persons. They can even be used for going out.
In the video, we have some tips on choosing good slippers for seniors;
Here are a few ideas for types of slippers for an elderly person;
Closed Heel Slippers – For an elderly person, I always recommend closed heel design slippers rather than open heels as they are much safer and will not slip off easily.
Moccasin Design Slippers – Moccasin Slippers have a distinctive wide toe design and usually consist of soft leather uppers and a durable rubber outsole.
Non-Skid Slippers – All slippers for seniors must have a non-skid slip-resistant outsole to prevent them from slipping and falling.
Boot Slippers – These are more ideal for cold winter weather. They usually have a thick rubber sole and a comfortable lined interior for insulation.
Orthopedic Slippers – They are designed with Orthopedic support features and cushioning to provide comfort and support to your feet.
Adjustable Ft Slippers – Ideal for seniors with swollen feet, the uppers have an adjustable Velcro strap so that the fit can be customized.
---
Features of a Good Slipper for the Elderly
Here are a few features that you should look for in a good slipper model for an elderly person;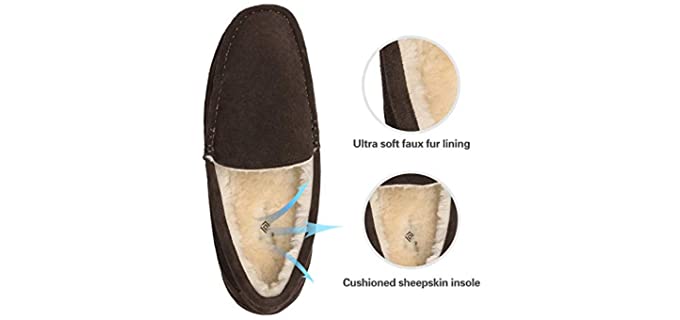 Uppers – Look for upper materials that are fabric or a very soft leather. They can be woven or knit but should be soft and friction-free against fragile skin. A comfortable fleece or fur lining is ideal for warmth and to wick away moisture.
Outsole – The outsole design is very important as you need superior slip resistance. Look for a rubber sole with a lug pattern on the tread or grooves for better traction and slip resistance.
Midsole and Cushioning – For comfort and support, look for a slipper with a cushioning insole, preferably removable. Also, look for a good EVA or foam midsole for shock absorbency. Stability features and arch support are likewise ideal.
Fit and Closure – Many slipper brands offer an adjustable fit with a Velcro closure that is ideal for a customizable fit and makes the slippers easier to put on and take off.
Options – Options available are generally size and width, depending on the brand, and there may also be some colors from which you can choose.
---
Reviews: The Best Slippers for the Elderly
These are some of the top favorite slipper brands and models that are comfortable and offer good slip resistance for elderly persons;
---
1
The Propet Cush n Foot is one of my favorite slipper models ideal for an elderly person.
They have a Velcro closure, and the fit is fully adjustable.
They are also classified as a Medicare/HCPCS code A5500 diabetic shoe.
The shoe offers excellent cushioning and shock absorbency along with wider width options.
---
2
This is a slide-on slipper from Othofeet with a slight heel design for safety for seniors.
The slipper is available in more colors, widths, and sizes.
It features layers of cushioning and a roomy toe box.
The design is also orthotic friendly.
---
3
From LongBay, we have a comfortable, warm slipper that is perfect for a senior individual.
It has a memory foam cushioned footbed and comfortable fit for an elderly person.
The slippers are available in more colors and sizes from which you can choose as needed.
The rubber sole offers excellent slip resistance with a lug tread and high traction design for indoor and outdoor surfaces.
---
4
From Miles Kimbal, we have plush and comfortable Memory foam slippers.
They have a suede design sole for indoor use that is slip-resistant.
The insole is cushioned with memory foam which is soft and plush underneath your feet.
You can also adjust the fit of the slippers on the back and the sides, which becomes ideal if your feet tend to swell quite a bit.
---
5
The UGG boot makes for an excellent indoor and outdoor slipper for seniors.
This is the ankle-length design available in many colors.
It has leather uppers and is lined with wool for warmth and comfort that is also durable and exceptional.
The design will adapt to the shape of your feet and allows you to use your own orthotics.
It has a foam insole and a durable and slip-resistant rubber outsole.
---
6
From dream Pairs, we have comfy moccasin-style slippers that are ideal for elderly adults.
They have suede leather uppers with a roomy moccasin-style toe.
The footbed is fully cushioned for comfort, and the outsole is a flexible TPR rubber.
The design of the outsole offers excellent slip resistance.
There are also a few more neutral color options available.
---
Index Table: Top Rated Slippers for the Elderly
---
---