In any work occupation, you may be on your feet for some time, or even a considerable amount of time.
In any event, you want to dress appropriately, comfortably, and suitably for your specific occupation, and that counts for your shoes as well.
Hoka shoes for work cater to more on-your-feet occupations that are less formal and professional in nature.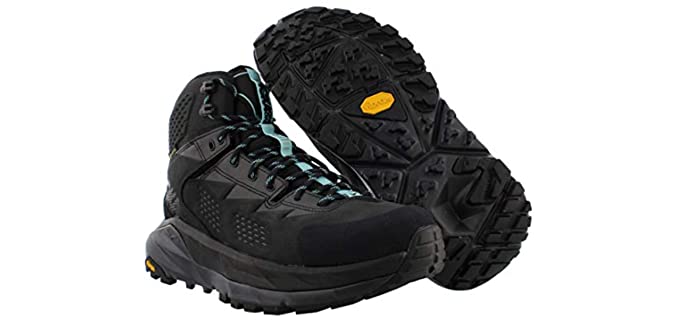 ---
What Affects Your Choices when Choosing Work Shoes
There are a few factors to consider when choosing shoes from Hoka for your work;

Work Environment – Your work environment includes the weather conditions, whether hot or cold, as you will need a more breathable shoe for warmer conditions and more insulated for colder weather. Also, the floor surfaces you will be walking on can be slippery, hard, or carpet. As you may need more traction and grip for slippery surfaces and more cushioning for harder surfaces.
Occupation Type – Then there is the type of occupation. For industrial work conditions, a more rugged and protective shoe is required, while for other occupations, you may need less protection from your shoes. While if your occupation requires that you are on your feet all day. You will need added support and cushioning from a shoe.
Uniform Colors – Many employers require that you wear a uniform, in which case you may need to wear certain color footwear. The colors are usually black, whereas, in nursing or hospital environments, they may be white.
Risks Involved – the types of Hoka shoes that you decide on also need to protect you against the risk involved in your workplace. Risks such as slips and falls, waterproofing requirements, and falling objects can make a difference to your chosen footwear.
---
What to Look for in Work Shoes
Here are a few tips in choosing the best Hoka One work shoes;
Comfort is Key. Firstly, particularly if you will be standing all day, you will need to look for a shoe that offers good underfoot cushioning and comfort and shock absorbing midsole and a durable outsole. The fit is also important as you need ample toe room and soft materials that will not chafe or cause friction. A moisture-wicking lining is always preferred to keep your feet dry and comfortable.
Protection – Hoka shoes mostly provide good waterproofing protection with a Gore-Tex lining. Some models have a reinforced toe cap that is slightly harder. Most Hoka One shoe models do, however, have high grip soles for excellent slip resistance and durability.
Options Available in Size and Color – Your work may require a specific color option in work shoes, which, luckily, Hoka one does offer many neutral color selections. As far as fit goes, most Hoka, One shoe models are available in extended sizes and widths.
---
Features of a Good Hoka Shoe for Work
Uppers – Hoka One work shoes ranges may have either nubuck r suede leather uppers, or a more breathable mesh uppers with engineered or sandwich mesh. 3D print and synthetic overlays are used for structure and support. Some shoe models have a Gore-Tex lining for breathable waterproofing.
Midsole – Hoka One shoe models for work come with either CMEVA midsole or PROFLY midsoles or Compression Molded full-length midsole for shock absorbency. The top layer has a cushioned and moisture-wicking lining for your comfort.
Outsole – The soles on most Hoka One shoe models are a high grip rubber or Vibram Mega grip rubber. There may be a more lug tread on the industrial work shoes and boots, and some models feature a sticky grip rubber outsole. The sole may also be a late-stage or early-stage Meta-Rocker design for balance and pressure relief.
Options – As you will see, the Hoka One range has some color options, as well as wider width options and more sizes available.
---
Reviews: The Best Hoka Shoes for Work
Here are a few favorite Hoka One shoe models that you can use for work purposes;
---
1
The Gaviota range from Hoka One is ideal to use as work shoes.
The uppers are lightweight and breathable with engineered mesh.
A midfoot H-Frame for support and stability and a J-Frame rubberized support midsole with flat waisted geometry.
The shoes offer exceptional stability and a comfortable fit.
The meta-rocker sole is a late-stage design for smoother toe-off when walking or running.
---
2
The Kaha is a workboot that I advise for industrial work purposes and more harsh work environments.
The Kaha has waterproof Gore-Tex lined uppers.
The uppers are full-grain nubuck leather and are very durable.
The boot has an EVA top layer for cushioning a rubberized midsole layer.
The Outsole us high traction and slip-resistant Vibram Mega Grip rubber.
---
3
The Hoka One Bondi 7 is a running and walking shoe that could make an ideal general work shoe because of its comfort features.
The uppers are a breathable open engineered mesh with TPU overlays for structural stability.
The collar is soft memory foam, and there is a full compression EVA midsole.
The sole has an early-stage meta-rocker design and consists of durable rubber.
---
4
The Stinson from Hoka One are training shoes that are multi-purpose and ideal for casual work environments.
They offer comfortable, breathable mesh uppers with seamless overlays and a breathable textile lining.
The midsole is an EVA foam, and there is a padded cushioned insole.
The sticky rubber outsole provides an excellent grip on slippery floor surfaces.
There are also more colors available.
---
5
The Hoka One Clifton is another casual and comfortable work shoe for most casual work environments where you do not need additional protection.
They have a breathable open engineered mesh upper construction and a textile lining to wick away moisture.
There is a removable padded insole and an EVA midsole for shock absorbency.
The sole is durable rubber with added inserts for improved grip.
---
6
The Hoka One Arahi 5 is one of the most comfortable shoes for work.
You will find breathable mesh uppers with an abrasion-resistant moisture-wicking lining to keep your feet dry and comfortable.
For comfort, there is a removable foam padded and cushioning insole, ass well as a Full-length EVA midsole for shock absorbency.
The outsole is durable rubber with extra grip rubber inserts.
---
Index Table: Top Rated Hoka Shoes for Work
---
---