Having a more Narrow Heel can mean that you need to find the right shoes to prevent your shoes from slipping and causing painful blisters.
This article will look at some of the favorite flat shoe brands and models that all have a narrower heel fit.

---
Issues with Wearing Improper Shoes for Narrow Heels
Wearing improper fitting shoes when you have a Narrow Heel can cause many issues and complications;
Heels Slipping – When the heel does not hold your heel properly, it will cause your feet to slip in and out of the shoes with every step you take.
Blisters and Chafing – Heel slippage, in turn, may lead to chafing and blisters, which can be painful and become infected.
Improper Balance and Movement – The improper fit of the heel can also affect your motion and walking, which may result in a lack of proper balance and an injury to the ankles or feet.
Forefoot Straining – When you try to compensate for your heel slipping in and out, you will overly strain the muscles in your forefoot to try and keep a grip on your shoes.
---
Best Shoe Designs for a Narrow Heel
Despite a Narrower Heel fit, there are some designs and characteristics to look for in Flat shoes that will accommodate a Narrow Heel;
Ballet Flats – Most ballet Flats have a generally Narrower heel and more roomy toe, so they are the best option in this case.
Sneakers with a Padded Collar – Flat sneakers that have a padded Narrow collar will offer a much better heel grip.
Elasticated Entry Flats – Many flat shoe designs, including Ballet flats and pumps, come with an Elasticated Topline or heel, which gives you the perfect fit.
Width Options – Some flat shoes designs are available in Narrower fits which are ideal for Narrow heel, but also a Narrower foot type.
---
Features of a Good Flat Shoe for Narrow Heels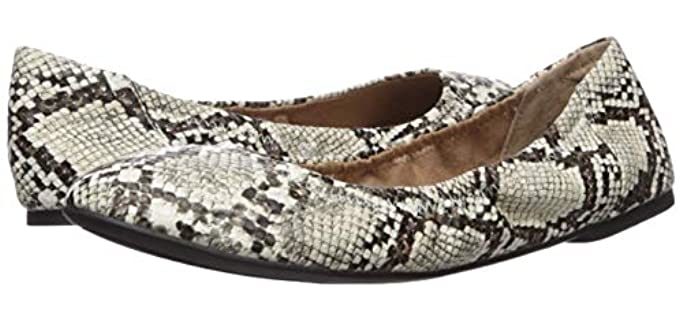 Uppers – Depending on the type of flat shoes, the upper can be leather, synthetic leather, mesh, or Canvas materials, among others. The uppers need to provide a comfortable and roomy fit. A moisture-wicking interior lining can also help to provide odor and sweat resistance.
Insole and Midsole – Though most flat design shoes lack much cushioning in the midsole or insole, a cushioned insole and EVA or foam midsole can provide more comfort and shock absorbency. Cushioning such as EVA or memory foam is your best option in an insole. A contoured footbed with some padding also offers good arch support and light cushioning.
Outsole – A flat design outsole of rubber or synthetic materials is what makes the flat shoe. The Outsole should provide good grip and traction, with a patterned tread.
Fit – As for the fit, a roomy or well-fitting toe box is advised, along with a more snug heel. Look for a narrower design heel or an elasticated instep, which will provide a more narrow fit in the heel. A padded collar will similarly give a snug fit in the heel area.
Colors and Designs – Flat shoes come in many different types and designs, such as loafers, ballet flats, pumps, and sneakers. There are also plenty of colors and even printed and patterned designs from which you can select.
---
Reviews: The Best Flats for Narrow Heels
These are some of the best flat shoes models and brands that are perfect for a Narrower Shaped Heel;
---
1
The Amazon essentials Knit Ballet flat has an elasticated heel for the perfect Narrow fit.
The Upper consists of synthetic leather, and there is a flat, durable rubber sole.
This model also comes in plenty of colors and prints from which you can choose.
The sole is flat and flexible with a moisture-wicking lined insole.
The elasticated topline and heel allow for a more narrow fit that adapts to the shape of your feet.
---
2
The Skechers Beach Bingo I a cool and casual flat beach sneaker with a narrow-fitting heel.
The uppers are breathable and light textile and fabric materials.
There is a comfortable
The sole is synthetic and flexible with a flat design.
The heel is designed to offer a more snug and narrow fit.
---
3
The Lifestride Diverse Flat has a Narrow design heel and a flexible comfort outsole.
The sole of the Diverse flat has a slightly elevated heel and durable design.
The uppers are synthetic leather that is smooth and comfortable.
For the heel, there is a more Narrow fit.
You can also choose from many color options in the Diverse Flat.
---
4
Dr. Scholl's bring you their very comfortable Giorgie flat with a Narrow Heel Fit.
The uppers are synthetic leather, and there are many colors and print options available.
The sole is durable and flexible with a flat design.
The Be Free Energy technology insole has three distinct zones of cushioning.
A HILLO heel cushioned to improve the fit and prevent heel slippage for a narrower heel.
Inside s a soft and comfortable Chambray lining that wicks away moisture.
---
5
The Jessica Simpson Mandayss Ballet Flat has a comfortable insole and narrow secure heel fit.
The uppers are either leather, textile, Velvet, or a silky finish and are available in plenty of prints and colors from which you can choose.
The ankle straps offer a more secure fit and are elasticated.
There is a narrower heel fit.
The sole is synthetic and offers excellent traction.
For comfort, there is a plush memory foam insole.
---
6
The Corky's Sidewalk is an easy slip-on flat with a Narrow fit heel.
The uppers are synthetic and elastic, with a breathable design that keeps your feet dry and cool.
You can select from many slid colors or rainbow color designs.
The overall fit is flexible and snug to adapt to your feet and heel shape, which is ideal for a more Narrow Heel shape.
Inside is a comfortable padded and moisture-wicking insole.
The rubber outsole offers good traction and durability on most surface types.
---
Index Table: Top Rated Flat Shoes for Narrow Heels
---
---