When you Overpronate, it means that the arch of your feet collapses more downward excessively or inward, which can significantly affect your body overall.
One of the best ways to overcome Overpronation is to wear the right footwear, especially for walking and running.
The best Brooks shoes for Overpronation offer features and cushioning systems to help provide stability and prevent excessive overpronation.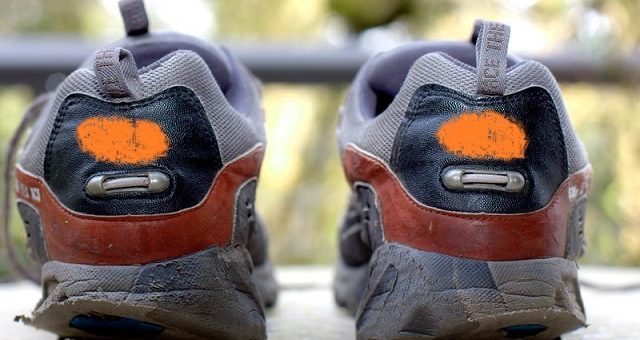 ---
Overpronation and How it Affects Your Feet
You may not have put much thought into how your feet hit the ground when you walk or run. However, how you step will actually affect your health and how you participate in sports and activities.
Overpronation means that your feet roll inward as you walk or run and that the outer edges of your heels hit the ground first and then rolls inward towards your arches. If you Overpronate excessively, your feet also flatten, and this can cause collapsed arches and flat feet.
Overpronation can affect the way you walk and run, which in turn may lead to sprained ankles, shin splints, Achilles tendinitis, heels spurs, and plantar fasciitis.
Overpronation occurs mostly in flat or very flexible feet, and sometimes people are just born with this tendency or flat feet.
However, Flat feet and overpronation can also occur during and after pregnancy, in overweight persons, and taking part in certain activities that involve repeatedly striking or feet on hard surfaces for a long period of time.
Al in all, Overpronation needs to be addressed, and the best way to do this is to get proper footwear.
---
How Brooks Shoes Improve Overpronation
Specialized Cushioning – Even for Overpronation,n, you will need cushioning in your shoes to provide comfort and absorb shock. Brooks shoes offer different varieties and levels of cushioning and midsole support in their shoe models. The DNA system is used overall and adapted for the firm to more energizing and adaptable cushioning and very soft and plush cushioning. These systems include the firmer DNA Flash that is very lightweight, the energizing DNA BioMoGo and AMP, and the Plush soft DNA Loft cushioning. I love Brooks Cushioning systems because they respond to your stride, weight, and speed to provide effective support and absorption for impact.
Proper Support and Stability for Your Entire Body – For support the GuideRail system is quite adequate for light to moderate overpronation as it helps to keep your feet, knees and hips properly aligned and adds some stability, which is essentially what you need for overpronation. Then if you Overpronate more severely, the Extended Progressive Diagonal Rollbar feature in some models provides effective motion control.
Slip Resistant Outsole – All in all most Brooks shoe models have a highly slip resistant outsole. The outsole is designed for its specific purpose such as for Trails, Roads or other surfaces. The Outsole is a durable and shock absorbing rubber.
Comfortable and Secure Fit Fit – Brooks shoes come in three options for fit and uppers, that is, leather, which has a wider, more roomy fit. Engineered mesh with 3D prints is a more snug fit. Their Knit options offer the StealthFit that is very stretchable, snug, and adaptable.
---
Features of a Good Brooks Shoes for Overpronation
Cushioning and Midsole – As discussed, you can choose Brooks shoe models with DNA Loft, BioMoGo, DNA AMP, or DNA Flash cushioning. The Flash cushioning is lightweight and ideal in a running shoe, while the BioMoGO is perfect for walking. The Loft cushioning is very soft. For Overpronation I would recommend slightly firmer cushioning for better support.
Support Features – Besides the GuideRail technology in most models for overpronation, and the Rollbar technology in some for extensive overpronation, Brooks shoes generally offer exceptional arch support. Their shoes are classified as Neutral and Overpronation shoes, which you can look at; however, I find some of the neutral models also ideal for light Overpronation. stay in your natural stride. All-day comfort
Fit and Uppers – The Uppers will consist of leather, engineered mesh, 3D print, or Knit fabric depending on the model you choose. The Knit options are usually more snug in fit, while the mesh is more breathable and the leather more accommodating and roomy. There will also be a seamless moisture-wicking lining, and the tongue and collar may be padded depending on the exact model of Brooks shoe.
Outsole – The Outsole consist entirely of rubber and has a tread designed for specific surfaces such as trails, roads and other surfaces. Durable lug rubber that is slip resistant
Options – Brooks offers many color options, sizes and widths options in almost all their shoe ranges. The leather ranges mostly come in black or white colors options however.
---
Reviews: The Best Brooks Overpronation Shoes
In our review section are some of the best Brooks shoe models that are ideal for Overpronation;
---
1
The Brooks Ghost 13 has the ideal features for Overpronation.
The fit is supportive and stable with engineered mesh and 3d print uppers,
There are segmented crash pads in DNA LOFT and a DNA BioMoGo cushioning system.
The shoe offers energizing cushioning and good arch support.
---
2
Brooks Adrenaline has a Guiderail holistic support system for stability and Overpronation control.
The streamlined engineered mesh fit also provides a better structure and a good fit.
There us soft DNA Loft and BioMoGo Cushioned for better support.
The outsole is a durable rubber, and there are also some more color options available.
---
3
The Brooks Launch has a good support system for Overpronation.
It has breathable and sleek fitting mesh uppers,
There is a Midfoot transition zone and added blown rubber in the sole for running and stability.
It is cushioned for neutral support and Overpronation and very lightweight.
You can also select a few more color options.
---
4
The Brooks Levitate is a favorite running and walking shoe for Overpronation.
It has energizing DNA AMP cushioning and a sock-like fit.
The uppers are flat knit and very flexible.
There is a supportive outsole that helps with overpronation.
---
5
Brooks Glycerine is ideal for neutral pronation. However, I find it is also great for light Overpronation.
The engineered mesh uppers offer a more stable and comfortable fit.
There is a soft DNA Loft cushioning system however the sole provides firmer support.
The cushioning is ideal for running and waking to protect you against hard impacts.
---
6
The Brooks Beast and Ariel have a GuideRail system for optimal pronation control.
There is a soft DNA LOFT cushioning system and comfortable interior lining.
The uppers are engineered mesh and offer a supportive fit with an embroidered saddle.
The outsole is a durable and high traction rubber.
---
Index Table: Top Rated Brooks Shoes for Overpronation
---
---