Walking is a healthy and easy exercise and recreational hobby that requires no equipment or fancy sports gear.
Walking has so many health benefits, and all that you need is a good pair of walking shoes.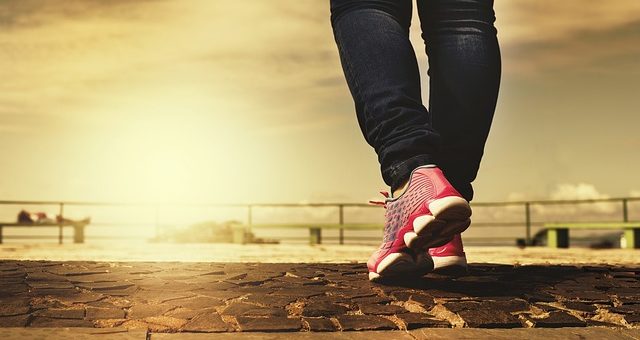 ---
Why Do You Need Walking Shoes
Walking is a fun and easy way of exercising and relaxing. However, like running, walking also impacts your feet and lower body and the hips and lower back. Walking on hard surfaces particularly can cause much tension and strain on your body, and therefore a good pair of walking shoes are ideal.
Besides this, there are a few reasons why good walking shoes come in handy;

Shock Absorbency – Good walking shoes have shock-absorbing technology that protects your feet, particularly the heel and the ball of the foot, against impact, reducing strain on your feet, lower joints, back, and hips, and in return preventing pain and fatigue.
Cushioning – Cushioning in the midsole and insole not only provides comfort and reduces foot fatigue but likewise also absorbs impact.
Support – Good arch support for your foot type and features such as motion control and stability will help prevent excessive pronation and provide you with adequate support for your specific foot type.
Under Foot Protection – A perfect walking shoe has a durable and usually abrasion-resistant, thick rubber outsole that protects your feet against hard surfaces, sharp objects, and impacts.
Cooling and Breathability – The uppers of most walking shoes are designed to give a comfortable and flexible fit that contours to your foot shape and is usually made from highly breathable materials to keep your feet cool and dry.
Slip Resistance – The outsoles of most walking shoes are usually made from rubber with a lug or pattern tread designed to offer better grip and traction on different terrain, which in turn prevents instability and slips and falls.
---
What To Look For in a Good Walking Shoe
When choosing the right walking shoe, keep these three main characteristics: FIT, FLAT, and FLEX. In addition, any good walking shoe needs to be reasonably flexible, offer a snug fit, and have a flat sole.
Fit – Your walking shoe needs to be big enough not to squeeze your feet, yet small enough to not slip and cause chafing and irritation. A roomy toe is likewise a good idea, where you can easily spread out your toes.
Support – The proper support for your arch type is critical; for a low arch and in individuals who overpronate or under pronate, stability features are necessary along with motion control features, where there are a bit less flexibility and a firmer heel counter and contoured design to prevent excessive pronation. A High arch needs good cushioning, where a neutral arch needs balanced support features and less cushioning.
Breathability – Any good walking shoe should be able;e to breathe to keep your feet cool and well ventilated. Mesh insets or mesh uppers can help with this.
Flex – A Good Walking shoe needs flexibility in the sole and the upper construction for easy movement and allows your foot more natural motion.
Flat – Unlike running, you should steer away from heel counters and heel raises or drops for walking. A flat uniform sole is essential on a walking shoe
Tread – The tread on your walking shoe must provide good traction and grip depending on the terrain you will be walking.
Cushioning – Last but not least, cushioning provides comfort and helps to attenuate shock on impact; make sure that you have the right amount of cushioning for your specific arch type.
---
Features of a Good Skechers Walking Shoe
Uppers – Breathable synthetic can mesh or knit mesh fabric uppers. Smooth moisture-wicking interior linings. Breathable mesh, synthetic, or knit uppers.
Support and Cushioning – A memory foam, Air Cooled Gel Memory Foam, or 5GEN high rebound cushioned insole or footbed for comfort and shock absorbency. Shock absorbing midsole. Goga Max technology with High rebound Insole. Air Cooled or regular Memory Foam footbed. Air Cooled Goga Mat technology. 5gen cushioning system.
Outsole – Durable rubber outsole with a high traction tread. Rubber outsole.
Fit – Snug and comfortable, adaptable fit. Slip-on or lace-up design.
---
Reviews: The Best Skechers Walking Shoes Models
---
1
The Skechers Go Walk Lightweight Slip-on Shoe is ideal for walking or everyday casual wear.
Very lightweight and flexible design.
Soft and breathable mesh uppers with an easy slip-on style.
Available in a few color options to choose from.
There are heel overlays for stability and protection in the heel area.
A dual-density shock absorbing midsole and high traction rubber outsole.
A Cooled Goga Mat foam insole for cushioning and comfort.
There is additional cushioning for better shock absorbency in the heel area.
---
2
Flexible Stability Walking Shoes
The Go Train training and Walking Shoe are versatile athletic shoes for running, walking, and even cross-training.
Perfect for Overpronation and flat feet with extra cushioning and stability features.
Synthetic leather and mesh uppers and smooth linings.
A shock-absorbing and maximum stability midsole.
Comfortable, lightweight 5GEN cushioning system.
Durable and high traction outsole.
---
3
The Skechers Go Walk 5 is the latest in their Go Walk range with a durable and high traction walking shoe with cooling technology.
Flexible and durable synthetic and mesh uppers with a breathable design.
Dual-density stability and shock-absorbing midsole and responsive Ultra Go Cushioning.
Inside is an Air-Cooled Goga Mat insole for cooling comfort and cushioning.
The rubber outsole offers excellent traction on multiple surfaces.
---
4
This is an outdoor walking and hiking boot model from Skechers for outdoor walks on rough terrain and cold weather conditions.
A relaxed fit with water-resistant uppers and a black or brown color option to choose from.
Inside is GoTHerm 360 thermal insulation to keep your feet warm and a moisture-wicking interior lining.
Goga Plus comfort and stability technology for better balance on uneven terrain.
A trail-specific durable rubber outsole and a memory foam comfort insole.
---
5
Energy Return Walking Shoe
The Go Walk evolution takes your walking experience to the next level, with High rebound and energy return technology.
Very lightweight and flexible uppers.
Ultra Go cushioning for comfort and High rebound Ultra Pillars for energy return.
An Air Cooled Goga Mat insole for comfort and cushioning.
High traction thick rubber outsole and dual-density shock absorbing midsole.
Quarter overlays on the uppers provide stability and more structural integrity.
---
6
Te Go Walk Joy and Equalizer are the two most popular slip-on walking shoe brands from Skechers because they are comfortable and have superb cooling technologies.
It is available in a few neutral color options and orange, turquoise, and grey melange color variation.
Soft knit textile uppers that are very lightweight and highly breathable.
The Go Walk Joy has a Goga Max high rebound insole, and the equalizer has a plush memory foam footbed.
You will also find the responsive 5Gen Cushioning system for comfort for the ladies in the Go Walk Joy.
Inside is a soft lining and a padded collar.
The durable rubber outsole offers superb traction and good shock absorbency.
---
7
The Skechers Go Walk Max and Go Walk Pursuit are two slip-on walking shoes with some superb walking and everyday casual wearing.
Soft knit textile and synthetic uppers with reinforced heel and toe for durability.
A durable and high traction rubber outsole.
The Max features 5gen cushioning technology and an Air Cooled Goga Mat Insole.
The Pursuit has improved arch support, 5GEN Midsole cushioning, and a Goga Max High rebound footbed for superb energy return.
The Pursuit also features a Bamboo lining in the footbed to keep feet dry and bacteria-free.
---
8
Skechers Classic Walking Shoe
Features synthetic uppers with leather overlays for structural stability and durability.
A secure lace-up system with a padded tongue and collar for a comfortable fit.
A supportive and cushioned midsole for better shock absorbency.
Comfortably cushioned memory foam outsole.
Some neutral color varieties are available.
---
9
Skechers Walking and Sports Shoe
These models from Skecher's Sports range are ideal for walking, casual wear, and even running.
Patterned rubber outsole for better traction with the rubber at the medial sides for better lateral support.
Soft mesh knit uppers that are lightweight and very breathable.
The Flex has a lace-up system, and the Breathe Easy Fortune a Bungee lace-up system.
Both feature a comfortable memory foam insole for support and cushioning.
A comfortable, relaxed fit and a durable rubber outsole.
---
10
The Skechers Go Walk 3 Performance is another favorite among their walking shoes, with a slip-on design.
100% Mesh uppers design that is soft, breathable, and very flexible.
A slip-on and extremely lightweight shoe with a full-length Goga Mat insole for support and comfort.
There is a high traction multidirectional rubber outsole.
Goga Mat technology, high rebound cushioning, and a Memory Form Fit design.
There is memory foam padding around the heel for a customized feeling fit.
An Extremely lightweight athletic shoe, available in many color options.
---
11
Skechers Lace Up Walking Shoe
A superb choice in lace-up walking shoes for men and women is the Go Walk Evolution Ultra from Skechers, with its snug fit design and lightweight feel.
Textile upper design with a Socknit-360 seamless fit design and lace-up system.
Very lightweight and responsive Ultra go Cushioning and support.
An Air Cooled Goga Mat insole for cooling comfort.
Durable and high traction rubber outsole.
---
Index Table: Top Rated Skechers Walking Shoes
---
---