Working in the food industry, in a hospital, in a school or in an industrial environment are all examples of work that require you to be on your feet on hard surfaces for extended periods of time.
If you are someone that stands or walks on hard concrete floors for quite a long time, then it is important to invest in a good pair of shoes that will give you support and cushioning. You should never underestimate the severity of foot conditions and health issues that can be caused by standing on hard floor surfaces.
Concrete and hard floors can result in aching feet and leg muscles after a long day of standing or walking; resulting in damage to your feet and lower limbs in the long run.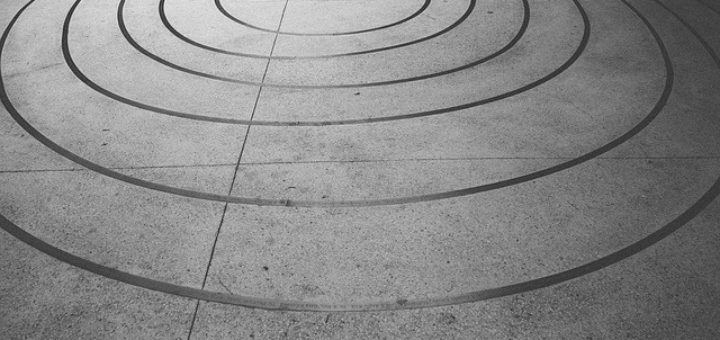 ---
Wearing the right shoes on hard and concrete surfaces is of vital importance to make sure that your feet are comfortable and supported.
The wrong shoes can lead to heel, knee and back pain which can cause more serious health conditions such as plantar down the line.
Today luckily there are many good brands of shoes available in the footwear industry that will provide you with all the comfort and support technology that you need to enable you to work on your feet on any floor surface for extended periods of time.
The Effects of Walking and Standing on Concrete
Standing or walking on hard surfaces such as concrete floors for a long time can cause sore feet and swollen legs, along with varicose veins and back pain.
These symptoms can become more serious with time and result in health issues and foot conditions such as plantar fasciitis later on in life.
---
Tips on Walking and Standing on Concrete Floors
Make sure to change your standing position frequently or take a small stool to work to sit on for a few minutes to relieve your feet from the stress and strain from standing.
You can purchase an anti-fatigue mat if you know you are going to be standing in the same area every day, an anti-fatigue mat is made from rubber, vinyl or wood to cushion your feet a bit reducing strain.
Wear appropriate footwear that fits perfectly and gives you the support and cushioning that you require.
Keep floor surfaces clean and dry to prevent slipping and falling.
Most of the best shoes for standing all day comes with some arch support technology.
---
Shoes to Avoid on hard Surfaces
Try to avoid pointed heels as well as flat shoes with thin soles because they provide no support or cushioning. Shoes that are too loose can cause friction and blisters on your feet whereas tight-fitting shoes can squeeze and cause pressure on your feet, so make sure your shoes fit comfortably.

---
Charactaristics of a Good Shoe for Hard and Concrete Surfaces
Extra cushioning and Firm support.
Have your feet evaluated for foot and walking gait type.
Orthotic inserts for more comfort.
Slip resistant outsole.
---
Reviews: Shoes for Standing on Concrete Surfaces
Here are a few of the top choices in shoes for standing or walking on concrete;
---
1
For those who deal with severe overpronation and have to stand or walk on hard and concrete floor surfaces, the Brooks Addiction Walker will give you the support and cushion that need. This shoe will also assist you when walking helping to adjust your bone alignment to reduce back, knee and joint pain.
The rear and forefoot provides exceptional cushioning and shock absorption.

The uppers are manufactured from high-quality full grain leather for a softer more comfortable feel.

A MOGO midsole to reduce shock and cushion the feet.

The signature PDRB triple density post on the medial side of the shoe gives good support.

A synthetic sole.

Aids in relieving hip, knee and back pain.

Recommended by nurses and hospital staff.

Available in the colors black, white and bone.

Provides relief for flat feet and feet that tend to overpronate.

---
2
The Merrel Encore is a sophisticated and professional shoe designed to be worn outdoors. It is comfortable and durable enough for everyday use by those who stand or walk quite a bit such as dishwashers, cooks, nurses, doctors, etc.
outsole for excellent grip and traction on concrete floor surfaces.

Slip resistant to protect you on slippery surfaces.

A comfortable midsole that is well cushioned.

The is comfortable and supported as well as treated with FRESH control to reduce odor.

Available in brown, black and white.

---
3
Rockport Sidewalk is a durable and breathable lace-up shoe that will help to absorb shock while remaining flexible enough for easy movement. A casual and comfortable shoe for everyday wear.
Breathable fabric uppers for light comfort.

The wedge is 45 mm to help reduce shock and strain on your feet.

Thermoplastic polyurethane midsole that provides stability and support in the midfoot area.

The mesh lining provides excellent breathability and quick drying.

The ethylene vinyl acetate midsole gives lightweight shock absorption to reduce foot and leg fatigue.

A rubber outsole for durable grip on a variety of floor surfaces.

---
4
Crocs are used mostly in the food industry and hospitals because of the extreme comfort and support that they provide.
The Crocs Mercy is a bit more stylish and feminine for specifically for women while remaining comfortable and supportive.
A roomy fit like the original clogs for more comfort.

Designed specifically for work environments with hard floor surfaces.

A lock tread for slip resistance exceeding industry standards.

The tiny nubs along the footbed give your feet a massaged feel.

The has enhanced arch support.

The heel strap offer increased support and a better fit.

Odor resistant and very easy to clean.

This shoe offers a wider fit and is suitable for those suffering from Plantar fasciitis.

---
5
Most likely one of the most comfortable pairs of shoes is the Dansko Celeste. They are attractive and will provide you with all-day comfort and support especially on hard concrete surfaces.
Constructed with the legendary Dansko DNA materials to promote good foot, leg, and back health.

A Rubber outsole for excellent performance and durability.

Made from stain-resistant, waterproof leather that is seam sealed as well as a waterproof membrane for breathability and protection from wetness.

A 1.25-inch heel and 0.75-inch platform to reduce shock.

Removable, comfortable insole.

Available in brown, black and wine colored milled nubuck.

---
6
The Asics Gel Cumulus is an innovative new addition to this series of running shoes that make an excellent shoe for walking or standing on hard and concrete floor surfaces every day.
The solid rubber outsole absorbs shock and gives exceptional grip and traction on hard and slippery floor surfaces.

technology keeps your feet dry and comfortable all day long.

Front and rearfoot gel in the midsole reduces strain on the feet and gives better support.

The uppers feature reflective material for better visibility at night.

A comfortable and lightweight shoe that is well cushioned and flexible for easy movement.

Available in four different colors.

One of the Best Shock Absorbing Walking Shoes for Women.

---
7
A stylish and comfortable Mary Jane style shoe that is ideal for walking on hard and concrete surfaces.

Soft and supple leather uppers in a Mary Jane Style with an Adjustable strap.

A cushioned and shock absorbing midsole.

Thick rubber outsole that is durable and offers good grip.

Available in a few neutral color oppositions to choose from.

---
8
A very lightweight, breathable and highly cushioned and shock absorbing sneaker for walking on hard and concrete floor surfaces.
Soft and comfortable breathable uppers with a smooth inner lining.

The thick cushioned insole and thick rubber outsole, ensures ample shock absorbency and support.

A very lightweight design that will prevent foot fatigue.

Available in two color options to choose from.

---
9
A classic Mary Jane style walking shoe with all the features you need to protect your feet against the impact from hard concrete floors.
A soft and flexible, high shock absorbing outsole that offers excellent grip.

Cushioned comfortable foot bed that is removable.

Mesh and synthetic uppers with a hook and loop style closure.

Available in a few color options for your perusal.

---
10
The Skechers Full Surface has a thick rubber outsole and cushioned foot bed to provide support and impact absorption on hard concrete surfaces.

Suede leather uppers with a snug Bungee lace up system.

A lightweight sneaker design.

Cushioned foot bed for comfort and support.

A Thick rubber outsole, with grooves for better grip.

Smooth and comfortable inner lining that will keep your feet dry and ventilated.

---
Index Table: Top Shoes for Standing on Concrete
---
---