HIIT training routines generally include plenty of jumping, running, and high-intensity exercises, which means that you need proper support for your feet, knees, hips, and joints.
If you are training in shoes with no stability features or no form of cushioning, you can be doing yourself a great disservice.
The best Models for Adidas Athletic Training shoes offer excellent stability, cushioning, and other ideal features for HIIT training shoes, which we will further discuss in this article.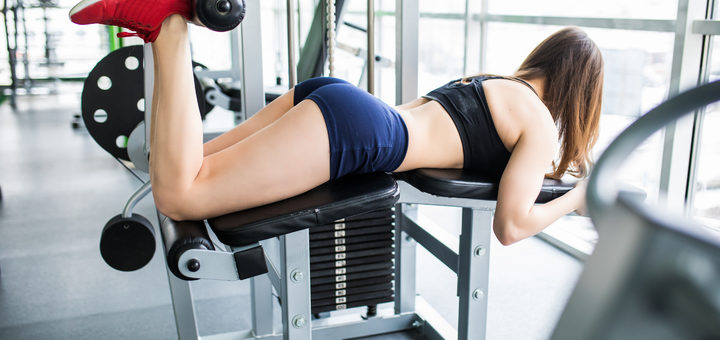 ---
What You Need to Know About HIIT Shoes
But firstly, let us see exactly what is important to know about shoes for High-Intensity Interval training;
Many beginners show up for their HIIT training class in athletic sneakers or running shoes, which is really not the way to go.
If there is one universal role related to sports activities and exercise routines, it matches your footwear to the specific activity type.
To get the best out of your taring session, you need to look for proper TRAININg SHOES with features that are ideal for the routines involved with HIIT training.
Good Cross Training shoes should do the trick, and we will look at some of the great Cross Training and HIIT Training shoe models that Adidas as a brand has to offer.
---
The Right Shoes for HIIT Training
So let us look further into the What and What not to wear when it comes to proper HIIT training shoes;
What to Wear – Training shoes for HIIT support you in a more stable way that makes you feel connected to the floor. They have a low or no heel-to-toe drop and a first sol. They are also flexible enough to allow you to run and jump with ease and perform quick movements. Along with this, some cushioning for shock absorbency is added and friction-resistant breathable uppers.
What Not to Wear – Running shoes are NOT ACCEPTABLE for HIIT training. They lack stability and do not offer proper support. Running shoes likewise have a high heel-to-toe drop, which is not ideal for HIIT training. So stick to proper training or Cross Training shoes.
With that said, HIIT training shoes are generally a Jack of All trades shoe, which means they are ideal for cardio and weight training, offering firm support and some flexibility, with a low heel-to-toe drop.
---
Features of a Good Adidas Shoe for HIIT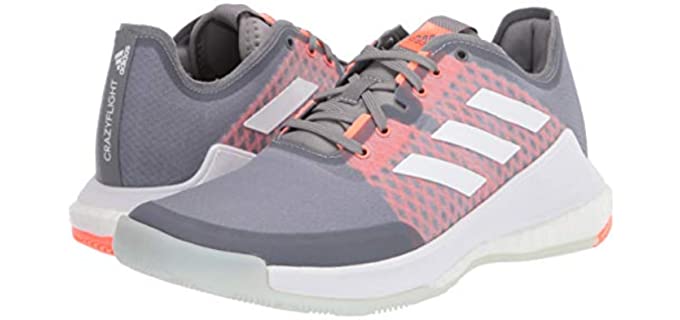 Uppers – The Upper will offer a snug to a regular fit, with primeknit, Knit, mesh or PU coated leather materials. The upper portion is usually lined and some free on the inside to prevent excessive friction.
Technologies -A TPU bar for stability is in some models that aids with lateral movements or a Torsion System for stability and support.
Midsole – For shock absorbency, an EVA or Boost midsole provides excellent support and energy-returning cushioning.
Cushioning – Cloudfoam cushioning is soft and supportive, while an Ortholite sock liner provides light cushioning and moisture-wicking surface.
Outsole – The Outsole is firm yet flexible, with a Herringbone or lug pattern for traction, and consists of durable rubber or continental rubber.
---
Reviews: The Best Adidas Shoes for HIIT
---
1
The Crazyflight is a top favorite Training shoe from Adidas that is ideal for HIIT training. These shoes also appear on the article for
the best Adidas shoes for Crossfit
.
The design offers a regular and roomy fit with a light and breathable feel.
The Stretch mesh uppers have a TPU midfoot reinforcement for better lateral stability and support.
Ther is an EVA stability frame and a responsive shock-absorbing Boost midsole.
The Top Grip Rubber Outsole provides you with essential traction and grip.
You can also select from a few available color options in the Crazyflight model.
---
2
Running Shoe for HIIT Training
Although the Ultraboost 21 is more of a running shoe, it has features that make it ideal for Training and HIIT routines.
The uppers are a soft, breathable, and flexible Primeknit material with a snug fit design.
There is a Responsive Boost midsole for shock absorbency and a Torsion system for firmer control and stability,
The Stretchweb durable Continental rubber outsole is likewise ideal for HIIT training routines and surfaces.
You can also get the Ultraboost 20 in a few more colors.
---
3
HIIT Training Shoe for Wide Feet
The Strutter is a wide-width Cross-Training shoe from Adidas that is perfect for HIIT training routines.
The Upper is durable synthetic leather coated with PU.
The design has a wider fit and a roomy toe box for wider feet.
Inside are a moisture-wicking lining and a stable footbed.
A rubber outsole provides good traction and durability, while a supportive midsole offers stability.
Inside is a smooth textile lining to reduce friction and provide good moisture control.
---
4
Cushioned HIIT Training Shoes
The Kaptir is another favorite training and casual shoe for lower intensity HIIT training and beginners.
The Upper is Knit with TPU for structure and stability.
The shoe is very lightweight and breathable with a regular fit.
Inside are a Cloudfoam cushioned midsole and moisture-wicking and cushioning Ortholite sock liner.
You can get the Kptir is more color options as you prefer.
---
5
The Court team Bounce is a supportive Cross-Training shoe that is ideal for HIIT training as well.
The Upper consists of two layers of mesh with a TPU forefoot overlay for lateral support and stability.
There is a Boost Midsole for shock absorbency and a moisture-wicking interior lining,
The fit gives s a sock-like feel and is very lightweight on your feet.
The sole is designed for traction and better stability, consisting of durable rubber.
---
6
The Crazytrain Elite is a great option for a HIIT training shoe that is lightweight and supportive.
The uppers consist of leather and synthetic materials with mesh for breathability and a more comfortable regular fit.
A TPU bar offers excellent stability for lateral movements in the midfoot area.
This shoe's training-specific design supports a wider range of motion in the forefoot while it fully supports the midfoot and heel.
The Boost cushioning system is very responsive and supportive, encouraging movements and cushioning with certain steps in the HIIT routine.
---
Index Table: Top Rated Adidas Shoes for HIIT
---
---