If you want to give your best performance during your HIIT workout, you most definitely need the right footwear for your training routine.
The best HIIT workout shoes have the ability to protect your feet and ankles so you can have an effective and pain-free workout session.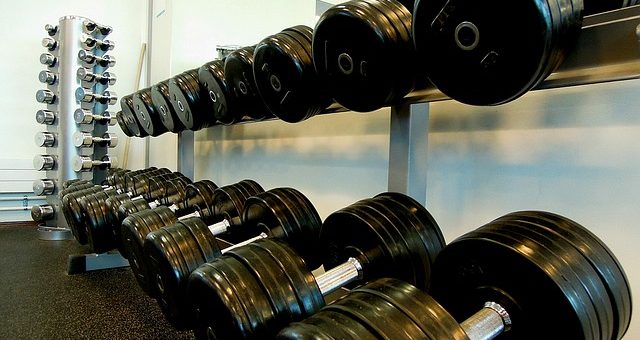 ---
The HIIT Shoe
The right HIIT shoes will fully support you and give you a more minimalistic close-to-the-floor feel; this connection helps you better and more stable base for weight lifting exercises while still being flexible enough for cardio workouts.
HIIT training consists of everything from weight training up to dynamic cardio and sprints, so all in all, the shape you need must be a Jack of All Trades. You will need the stability and platform for weight training, along with the flexibility for moving quickly and the protection for rope climbing.
What To Wear – All in all, a good cross-training shoe with a low or no heel and flexible sole, along with some cushioning and high durability, is your best option. Most running shoes may not exactly cut if there is weight training involved. Just make sure that the shoe fits properly and comfortably, then you are already halfway there.
What Not To Wear – Sneakers and casual shoes offer no support at all, and other sports shoes are designed for their specific sports type. Next up, the running shoe may be okay for cardio exercises only, yet not at all recommended for any form of weight training, HIIT workouts, or Cross Training. This is mainly because of the heel drop and cushioning in most running shoes. With a good HIIT shoe, your needless cushioning, and a very low or no heel drop.
---
What to Look for in an HIIT Shoe
So here is what you should look for in the best HIIT Training shoe;

Durability – Look for a trainer that will withstand wear and tear and heavy-duty use; look at good quality brands. Make sure to replace any old and worn-out shoes.
Style – Not an important aspect but worth mentioning none the less. Look for a style and shoe that suits your personality and that you like because the better you feel in them, the better you will perform.
Traction – between lifting weight, running, and climbing ropes you require an optimal amount of traction. Look for a firmer outsole made from rubber with additional rubber in the forefoot area.
Breathability – With HIIT Training, things can get hot and sweaty fast, so look for a breathable shoe with mesh panel inserts and a moisture-wicking lining to keep you cool.
Fit – Most important is that your shoes fit, and fit well, so look for a fit true to your size.
Stability – With High demand workouts you need good protection. Your ankles need a locked-in fit when lifting weights, and your forefoot and midfoot also need good support. Look for stability and support features in your HIIT Shoes.
---
Features of a Good HIIT Shoe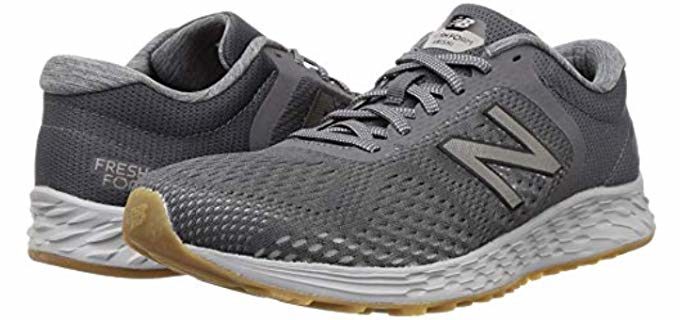 Outsole – A durable rubber outsole with flex grooves and reinforced toe and heel allows for multi-directional movements and is quite flexible. Low profile and low heel design.
Support and Cushioning – A cushioned EVA midsole that is lightweight and durable. Slight insole cushioning and a stability heel cup or cushioning.
Uppers – A comfortable and breathable upper offers a snug yet flexible fit for easy movements.
---
Reviews: The Best HIIT Shoes
Here are your best choices in shoes for HIIT exercise and training routines.
---
1
Nike Metcon 5 is the latest in its range and one of the best options you can go for HIIT training.
A lightweight and durable shoe that is available in many color options to choose from.
There is mesh on the heels and ankles for breathability and haptic print uppers for durability and stability.
The Drop-In Midsole provides a more stable fit and feel.
A Tri-Star outsole with patterns for better traction and multi-directional movement.
There is also stick rubber in the forefoot area to improve movement.
---
2
The Arishi from New Balance offers excellent support and stability, which is ideal for HIIT training.
Comfortable and flexible synthetic leather and engineered mesh upper for breathability.
A Fresh Foam midsole for all-day lightweight cushioned comfort and shock absorbency.
Added cushioning in the heel and a comfortable and supportive collar for a better fit.
This shoe is also available in plenty of colors to choose from.
---
3
The Puma Tazon 6 is the latest in the Tazon range featuring more advanced technologies and features ideal for HIIT training.
Durable synthetic leather uppers with T-Toe construction and a lace-up closure for a snug fit.
The midfoot saddle design offers an optimal comfort and a better fit.
There is a breathable EcoOrthoite sock liner that provides cushioning and wicks away moisture.
The EVA Heel pod provides excellent shock absorbency and cushioning, and the TPU shank increases stability.
A durable rubber outsole ensures good grip and traction.
---
4
A Crossfit shoe such as the Nano 8.0 from reebok is another superb addition to the perfect HIIT Shoes.
Durable, lightweight, and breathable Flexweave technology uppers, more flexible and stable.
The bootie-style construction offers a more supportive and stable fit.
They are cushioned for comfort and shock absorbency.
There is a high-performance, durable rubber outsole.
The Shoe is likewise available in many color options for your perusal.
---
5
Of course, a top favorite for HIIT training is the Asics Gel-Quantum 180, the number 5 being the latest in this range.
Soft, flexible, and breathable fabric uppers and a durable AHAR high abrasion-resistant rubber outsole.
There is a Solyte Midsole light in weight and SpEVA in the midsole for durable cushioning and shock absorbency.
The Asics Gel-Quantum is available in many different color options.
There are also rearfoot and forefoot Gel cushioning for impact resistance and a comfortable Ortholite lasting underfoot.
---
6
The Puma Axelion Sneaker is at the top of its range for HIIT training.
Durable and breathable Textile and synthetic uppers.
It offers a snug and foot-hugging stable fit.
The durable rubber outsole ensures excellent traction and grip.
This is a running and training performance sneaker with Cell technology and cushioning.
Available in a few color selections to choose from.
---
7
The Reebok HIIT is specifically designed to suit the needs and requirements for HIIT training routines.
There are snug-fitting and breathable mesh uppers.
The sole offers a comfortable and supportive feel with Lightweight EVA Foam cushioning.
The durable rubber outsole is flexible and ensures good traction.
You can choose between a few color variations in this model.
---
8
The Fitness range from Nike caters to HIIT and Cross Training routines.
Comfortable mesh and synthetic uppers offer a snug fit in this shoe.
There is a midfoot cage that keeps your feet in place without restricting movement.
The Foam midsole ensures good cushioning and shock absorbency, and the rubber outsole provides traction.
Deep grooves along the side of the outsole also allow better flexibility and expansion.
---
9
The Defiance X from Asics is a great addition to HIIT training shoes.
The uppers comprise synthetic and mesh materials with seamless construction for less friction.
There is a Solyte and Flytefoam technology layered midsole for cushioning and shock absorbency.
The GEL cushioning in the Rearfoot ensures less impact on your heels and joints.
You can choose between a few color models in this range.
---
10
HIIT and Cross Training Shoes
The Reebok HIIT Cross Traning shoe is designed specifically for this purpose.
The comfortable fit allows for more controlled movement and prevents excessive supination.
There are breathable mesh uppers and a flexible rubber sole.
The midsole is cushioned with EVA for shock absorbency, and there is a cushioned insole.
A Tongue pull allows for easier pull on and off.
---
11
From Altra, we have their HIIT Xt shoe for HIIT training.
The uppers are textile and synthetic, and there is a durable rubber outsole.
A dual-layered EVA midsole provides excellent shock absorbency along with a lightly cushioned insole.
The toe box is roomy for a better toe splay, and the shoe has a Zero Drop design for better stability.
Choose your favorite color options from a few available.
---
12
The Mizuno TC-02 has a specialized design for HIIT training and Cross Training exercises.
There is a solid rubber outsole that provides 360 degrees of grip.
The support straps in the midfoot keep the fit closer during certain movements.
There is only a 4mm heel-to-toe drop for better stability during static exercise routines.
The uppers are; lightweight and breathable with mesh construction and a Hotmelt design for stability.
There is a durable high grip outsole and stability midsole.
---
Index Table: Top Rated HIIT Shoes
---
---