Nurses are on their feet for many long hours on harsh floor surfaces that can likewise become quite wet and slippery.
Therefore, Asics has some excellent choices in comfortable, slip-resistant shoes and come in fashionable designs and colors, making them ideal for Nurses.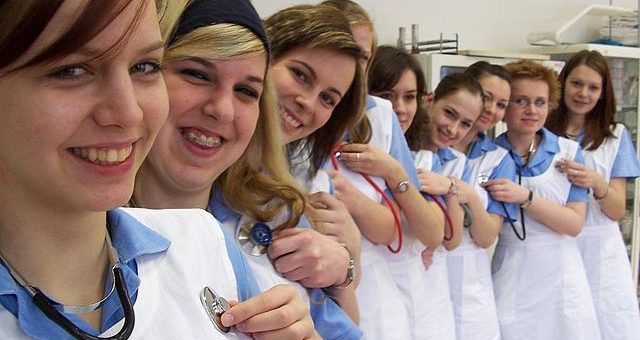 ---
Choosing the Best Asics Nursing Shoes
Here are some tips on what to look for in the best Nursing Shoe Model From Asics.
Comfort – two things that provide comfort is the uppers, and cushioning. Lightweight, flexible, and smooth-lined uppers that keep your feet dry and cool are ideal. Then there is cushioning in the footbed, insole, or the Gel forefoot and rearfoot cushioning. Some Asics models come with a cushioned and moisture managing sock liner that is also removable. The midsole offers cushion in either EVA, SPEVA, Solyte, or Flytefoam from heavy to the most lightweight for shock absorbency.
Support and Stability – Look for support and stability features such as the Trusstic Guidance system, Flex grooves, heel Clutching System, and firmer soles to give you better grip and a more stable fit.
Slip resistance – This is important on hospital floors and could save you from many slips and falls. Asics shoes all have a rubber outsole, though some have an AHAR high abrasion-resistant rubber outsole and more lug patterns which offer even better grip and slip resistance in general.
Shape and Design – Here, I will look at the shape and design of the shoe in comparison with the shape and width of your foot, as well as your arch type. Asics shoes may specify which arch type they are more likely to accommodate for specific models. There are also different Width options from Narrow to Extra wide available in most of their ranges.
Work Functions – The functions that you perform at work, as well as the elements in your environment, will likewise affect the shoe choice. If you are seated all day, you are at less risk for overuse injuries and slipping than being on your feet all day on wet and hazardous surfaces. So keep this in mind when making your choice.
Price VS Durability – Asics is a high-quality brand known for its long-lasting and durable materials used, not to mention unique and beneficial technologies. Therefore they may be a bit more pricey, but in fact, so much more worth it than having to replace your shoes regularly. Then, some more affordable Asics models with the basic features and functions will give you the same quality for less.
Waterproofing – Some Asics outdoor running shoe models come with a breathable Gore-Tex waterproof lining, and most of their shoe models are water-resistant. This is also ideal for nurses who can contact chemical, liquid, and body fluid spills and accidents.
---
How Do Asics Shoes for Nurses Compare
Asics shoes though they are not specific working shoes for Nurses or doctors, have some exceptional features and characteristics that make them suitable for this occupation in many ways.
Asics shoes offer comfort and support unparalleled to this type of occupation and the environment and protective features such as slip resistance and water resistance.
---
Features of a Good Asics Shoes for Nurses
Outsole – High Abrasion-resistant slip-resistant rubber outsole.
Support and Cushioning – It has cushioned and shock, absorbing SPEVA, EVA, SOLYTE, or FLYTEFOAM midsole. It has cushioned with gel in the forefoot and, or rearfoot area. Heel clutching system and Trusstic Guidance system for stability. It is cushioned and moisture managing interior linings or Sockliner.
Uppers – Breathable and lightweight synthetic and mesh uppers.
---
Reviews: The Best Asics Shoes for Nurses
Here are some comfortable and safe working shoes from Asics that are ideal for Nurses;
---
1
One of the top favorite shoe models from Asics for Nurses is the Gel-Quantum 180 5, which offers you some variety in their white range.
The uppers comprise lightweight and breathable mesh and no-sew application synthetic overlays for a soft and comfortable fit.
The Tongue and Collar are padded to give you the snuggest and comfortable fit that will not slip off your feet.
The insole offers exceptional underfoot cushioning, and the seamless construction of the interior ensures that there is no friction.
There is the accessible Gel technology cushioning in the midsole that offers exceptional shock absorbency and cushioning.
The sole is designed to offer optimal grip and traction and consists of a durable quality rubber.
You can choose between different variants in the white and off-white colors in this shoe model.
---
2
Nurse's Shoe for Metatarsalgia
The Gel Game is a tennis shoe; what I love about this for a nurse is that it caters to individuals who have conditions where the Foorefoot or ball of the foot is compromised and need extra cushioning n this area.
The uppers comprise breathable and lightweight fabric and synthetic materials.
A supportive midsole and a reasonable heel-to-toe drop for an optimal balance of stability and flexibility in the sole.
The Midfoot Gel cushioning is perfect for persons who need added cushioning in the ball of the feet.
Ther is also a Trusstic system to improve stability and a durable and high traction rubber outsole.
---
3
The Asics Gel Nimbus 23 is one of the most comfortable cushioned shoes that you will find for nurses.
The uppers have a Fluid Fit design that adapts and molds to the shape of your feet with mesh and synthetic upper for breathability.
Inside there s a moisture-wicking lining and a comfortable insole.
The rearfoot and Forefoot GEL cushioning, along with the supportive midsole, offers excellent bounce back and shock absorbency.
There is also a heel clutching system ideal for protecting your ankles and offering better stability.
The outsole is made from durable rubber that offers excellent grip and traction.
---
4
The Asics Gel Excite and Gel Dedicate are two comfortable and supportive shoes for nurses with shock-absorbing GEL cushioning and a breathable uppers fit.
The Gel Excite is walking and running shoe designed for stability with some cushioning.
The Gel Excite 7 is walking and running shoe with an AMNPLIFOAM midsole and a comfortable cushioned and moisture managing Ortholite Sockliner.
The uppers are constructed from the engineered mesh on the Gel Excite 7 for breathability and an improved fit, and there is a slip-resistant rubber outsole.
The new range is also available in many more colors.
---
5
The Gel Kayano range from Asics offers the ideal snug fit with their Fluidfit Technology. I would Highly Recommend this range for people that need a medium to Narrow Width Fit.
The Uppers consist of mesh and synthetic materials with a FluidFit system that adapts and molds to the shape of your feet.
There is Gel technology cushioning to attenuate shock in the heel and forefoot.
A Trsuttic system, along with a supportive midsole, enhances stability and provides lightweight shock absorbency.
The durable rubber outsole offers high traction and excellent slip resistance.
The shoe likewise offers a comfortable moisture-wicking interior lining and a cushioned insole that can be removed.
---
6
Gel Cushioned Nurse's Shoe
The HyperGEL from Asics is a futuristic sneaker with Gel technology integrated into the midsole.
An innovative design in sneakers offers superior comfort and breathability features for Nurses.
The HyperGEL technology uses Gel beads integrated into the midsole to enhance rebound and shock absorbency.
The upper of the shoe consists of a highly breathable Knit fabric, with a Mono-Sock fit system using a more elastic inners leave for an adaptable fit.
There is also a fabric insole and moisture-wicking interior lining.
The lug rubber outsole offers exceptional grip on slippery surfaces.
---
7
The Gel Contend comes in light color options with comfort features ideal for nurses.
The fabric uppers are flexible and breathable.
There are lightweight and responsive cushioning and GEL cushioning for added shock absorbency.
The tongue and collar are padded for a more secure fit.
The rubber outsole is slip-resistant and very durable.
The perfect design for neutral and under pronation.
---
8
The Gel Cumulus 23 has all the comfort and support features for nurses on their feet all day.
Textile and synthetic upper offer a breathable and flexible fit.
There are also wider width options available as most Asics models have a more Narrow fit design.
There is Flytefoam propel cushioning technology for a bounce back.
A removable sock-liner provides cushioning and the option for the use of your own orthotics.
Ther is also a full-length SPEVA Midsole for shock absorbency and a durable rubber outsole.
---
9
The Gel Excite is another excellent addition to comfortable shoes for nurses.
The textile and synthetic uppers are durable, flexible, and highly breathable.
There is an Amplifoam supportive midsole and an Ortholite cushioned and moisture managing Sockliner inside.
The rubber outsole offers excellent slip resistance and support.
There are also white and light color options available, which are ideal for nurses.
---
Index Table: Top Rated Asics Shoes for Nurses
---
---