Knee pain can be quite debilitating and may become worse if not treated properly and kept in check.
Skechers' shoes for knee pain offer some of the best comfort and impact-resistant technologies in their shoes, which is an excellent choice when you suffer from knee pain.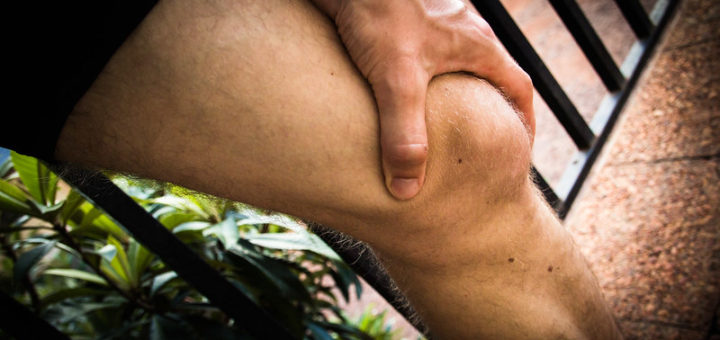 ---
Knee Pain and Its Causes
Knee pain is quite a common complaint among many people of all ages, both men and women. Knee pain can result from an injury or a medical condition. Most minor knee pain complaints respond well to general pain medications and treatments at home, though in some more severe conditions, Physical therapy or even surgery may be necessary.
Injuries – Impact Injuries or even overuse injuries in time can result in knee pain. Then there are also injuries, including Knee Bursitis, CL injuries, Torn Meniscus, Fractures, and Patellar tendinitis, which are reasons for knee pain.
Medical Conditions – Of all the conditions, Arthritis is the most likely culprit for knee pain. There are over 100 different types of arthritis, which can all lead to pain in the knee. Besides this, Gout or PseudoGout are also likely candidates for knee pain.
Mechanical Problems – Loose body, which is degenerated loose pieces of joints and bones that float around in the knee space, can cause pain in the knee. Other issues such as Iliotibial tibial band syndrome and a dislocated knee cap can also add to knee pain. Certain foot and hip conditions may affect how you walk, which places strain on your knees, also causing pain.
Excess Weight – Excess weight can place great strain on your knees and other joints, which may cause pain and injuries to be more likely.
Lack of Muscle Flexibility – When your muscles are less flexible and stable, they are more likely to suffer injuries.
Sports and Occupations – Certain sports types and occupation that causes a high impact on your knees and repetitive stress, may increase the risk for knee pain and injuries.
Prevoiuos Injuries – Older injuries that have not healed properly or weakened areas in the knee can become painful with strain or certain activities.
---
How Footwear can Help
For the most part, the right pair of shoes will have a supportive arch, cushioning, and impact protection such as a foam or EVA midsole and gel or memory foam cushioning in the insole, along with a thicker and more robust rubber outsole. These features help to prevent impact, which causes strain on your knees and also absorbs shock.
Other features such as stability and motion control correct movement and foot mechanic issues, which can place strain on your knees or cause injuries that may affect your knees.
---
Features of a Good Skechers Knee Pain Shoe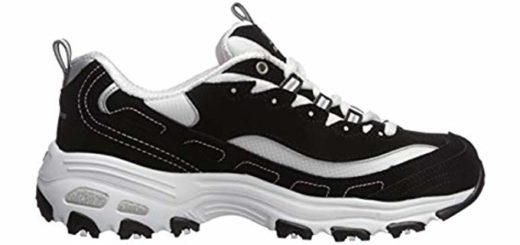 Sole – Shock absorbing thick and durable rubber outsole and EVA or foam midsole.
Uppers – Lightweight and breathable synthetic mesh or leather uppers.
features – Easy slip-on and off design.
Cushioning – Cushioned footbed or insole from foam or memory foam. Secure contoured footbed.
Support – Stability and motion control features.
---
Reviews: The Best Skechers Knee Pain Shoes
Below are some of the best choices in Skechers Shoes that can help to alleviate and prevent knee pain effectively;
We hope you love the products we recommend!
Just so you know, We may collect a share of sales or other compensation from the links on this page.
---
1
First and Foremost, a good work shoe is always desirable when you have knee pain, particularly if you are on your feet all day, and that is why I recommend the Dighton from Skechers. The uppers consist of soft and supple durable leather for the work environment with a lace-up closure and stitching accents. The tongue is made from breathable fabric for better ventilation inside the shoe. It offers a more relaxed fit and excellent Memory Foam cushioning and arch support. There is a foam midsole that ensures good shock absorbency and a durable slip-resistant rubber outsole.
---
2
Breathable Knee pain Shoes
Something light and airy offers a comfortable and relaxed fit and technologies to prevent and soothe knee pain from Skechers.
Very Lightweight, Soft woven, and breathable mesh fabric uppers.
A Flexible rubber outsole that offers excellent grip and traction.
Relaxed fit with a padded collar for comfort, that ensures an easy and comfortable fit.
There is an Air Cooled Memory foam topped and cushioned insole that keeps your feet cool and comfortable.
The midsole is cushioned for shock absorbency, and the side grooves offer better stability.
---
3
Knee Pain Shoe with Memory Foam
The D'Lites and Afterburn from Skechers are big and fashionable old school design Skechers shoes with memory foam insoles to relieve knee pain fast and effectively.
Durable and comfortable 100% pure leather and synthetic uppers available in a large range of color options.
A thick and shock-absorbing durable rubber outsole with a patterned tread for slip resistance.
The mesh tongue s cuihned and allows fopr better airflow.
Features a plush and comfortable memory foam insole.
---
4
Slip On Walking Shoes for Knee Pain
The Evolution form The Skechers Go Walk range is a comfortable and shock absorbing walking shoe that easily slips on and off and is great for knee pain.
An easy slip on and off design with breathable mesh and synthetic uppers that are very lightweight.
High rebound Ultra Pillars energize every step that you take.
Ther is an air Cooled Goga Mat technology insole for superior cushioning and shock absorbency.
A lightweight synthetic outsole that offers excellent grip and traction for walking.
---
5
Walking Shoes for Knee Pain
Another two exceptional walking shoe models from Skechers are ideal for comforting and preventing knee pain when walking.
There are 100% synthetic uppers that are breathable and very lightweight for a super comfortable fit.
The lightweight and responsive 5Gen cushioning in the footbed and soft interior fabric linings ensure a fresh and cushioned walking experience.
An energizing Air Cooled Goga Mat insole returns energy to your feet with every step and offers comfortable cushioning.
The Durable and high traction lightweight rubber outsole offers excellent grip when walking.
---
6
Plantar Fasciitis and Knee Pain Shoes
The Skechers for Work Soft Stride Range is a Mid-top sneaker ideal for more industrial and hazardous areas and can also be used as a casual wearing or outdoor shoe.
Durable leather uppers are available in a black or white solid color option to choose from.
This shoe offers superb shock resistance, which is ideal for knee pain.
The composite toe adds some protection to the upper foot area in hazardous terrain or work environments.
The outsole is slip-resistant and has PU cushioning for shock absorbency and stability with a rubber tread.
---
Index Table: Top Rated Skechers Shoes for Knee Pain
---
---