Laceless shoes are the new quick and easy fix in casual or athletic shoe styles. Skechers have some superb options when it comes to all styles of laceless and slip-on design shoes.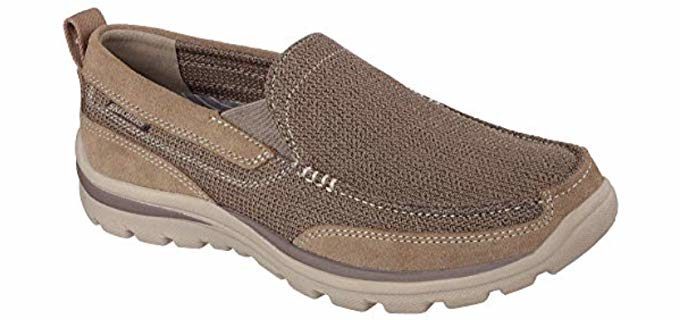 ---
Benefits of the Skechers Laceless Shoe
As most of us know, the laceless or slip-on shoe has a few convenient benefits or may be a personal style preference for some individuals. However, here are some reasons why to invest in the popular Slip-on or laceless shoes from Skechers.
Same Technologies and Comfort Features – Skechers laceless shoes all have the same benefits and features as their lace-up counterparts; the Go-Walk range comes in a laceless slip-on design or a laced design. The walking shoe range from Skechers in a laceless option still offers superb cushioning, shock absorbency, and a secure and comfortable breathable fit, which will not let you down.
Easy On and Off – With no laces to tie, you can easily slip in and out of your laceless shoes, hence the name slip-on.
More Comfortable Fit – The slip-on or Laceless shoe from Skechers offers a more comfortable and less confining fit that will not squeeze or limit your feet and movement. This is likewise an ideal choice for individuals with swollen feet or foot deformities.
Less Hassle in a Hurry – If you are in a hurry, there is nothing more convenient than slipping on your laceless shoe and going; you can also take them anywhere when you need something comfortable to put on and take of easily and quickly in between other shoes.
Easier to Clean – With no laces, the slip-on design shoe is so much easier to clean and maintain, and you will never need to replace laces.
Many Styles – the laceless shoe can come in a huge range of styles and designs, and Skechers offers plenty of casual and even dress laceless shoes.
Less Tripping Hazards – With no laces, tripping over loose laces is just one less thing to worry about.
---
So Why Choose Skechers Laceless Shoes
Well, in a nutshell, they have such a lovely variety, and they offer supportive and comfortable walking shoes in different styles in a laceless option.
Skechers designs loafer-style casual shoes and many athletic style shoes that are all an easy slip-on laceless design with many exceptional comforts and support features and color and pattern variations to choose from.
---
Features of a Good Skechers Lace-Less Shoes
Support and Cushioning – High rebound Goga Max insole that offers better support, cushioning, and energy return. The popular 5gen responsive cushioning responds to how you move and aids in providing more comfortable walking and running experiences. Cushioned and shock absorbing midsole. Some models feature a comfortable and more moldable Memory Foam insole or footbed. Excellent arch support for your specific arch type.
Uppers – Mesh uppers or Knit uppers are very lightweight and offer a gentle fit that is extremely breathable. Some options come with flexible leather or a mix of synthetic leather and mesh for better structural support and stability.
Outsole – A general rubber outsole with a high traction tread or a high traction Multidirectional lug outsole offers a bit better grip and traction on different surface areas.
Options – Many color and print options available for every occasion.
Outsole – Durable outsole that is thick and lasting.
---
Reviews: The Best Skechers Lace-Less Shoes
Here are a few of the best choices in Laceless shoes from Skechers;
---
1
Two very comfortable and flexible and highly breathable knit fabric upper slip-on shoes from the Go Walk range from Skechers.
Available in a few color options to choose from.
Knit mesh textile uppers that are lightweight and flexible.
A 5GEN responsive cushioning system.
Inside is a soft fabric lining and a padded collar for heel comfort and support.
Inside is a high rebound Goga Max insole.
---
2
Skechers Slip On Walking Shoe
The Skechers Go Walk Evolution and Performance is one of the most sought-after Lace-Less Walking shoes from Skechers.
100% Mesh uppers that are soft, breathable, and very flexible.
A slip-on, an extremely lightweight shoe with no lace-up hassles and a secure fit.
It also has a full-length Goga Mat insole for support and comfort.
There is a high traction multidirectional rubber outsole for better grip.
The Goga Mat technology, high rebound cushioning, and a Memory Form Fit design, offers superb comfort and support
Memory foam padding around the heel area.
Available in many color options.
---
3
The Skechers Go Walk Max and Go Walk Pursuit are two slip-on walking shoes with some superb walking and everyday casual wearing.
Soft knit textile and synthetic uppers with reinforced heel and toe for durability.
A durable and high traction rubber outsole.
The Pursuit boasts a Bamboo lining in the footbed, to keep feet dry and bacteria-free.
The Max has a 5gen cushioning technology design and an Air Cooled Goga Mat Insole for cooling comfort.
The Pursuit is designed with improved arch support, 5GEN Midsole cushioning, and a Goga Max High rebound footbed.
---
4
Two unique styled slip-on shoes from Skechers, the Moccasin Biker shoe has a moccasin style toe and stitching and cut-out details, with soft suede uppers, while the Milford boasts and mesh and textile uppers design in a loafer style.
Soft and comfortable uppers design with smooth interior linings.
A durable and high traction rubber outsole.
The thick midsole for shock absorbency.
Comfortable memory foam insole.
---
5
Skechers Lace-Less Walking Shoes
We have the slip-on Lace-Less style from the Go Walk Range, the 5 models for men and Impress for ladies, with a comfortable memory foam insole and durable outsole made for walking.
Synthetic uppers are lightweight and flexible.
There is a foam cushioned midsole and a comfortable Air Cooled Memory Foam footbed.
Durable and high traction rubber outsole.
Both are machine washable and quick drying.
Available in a few color options to choose from.
---
6
The Skechers Lace-Less Ultra Flex and Elite Flex are flexible and stretchable shoes that adapt to your movements and foot type.
Soft and flexible textile uppers and a flexible, designed rubber outsole.
The outsole is also designed to be non-marking.
Easy slip-on and off style that offers a snug and adaptable fit.
A Skechers memory foam comfort insole.
---
Index Table: Top Rated Skechers Lace-Less Shoes
---
---