A new and popular range of shoe models from Skechers is their Arch Fit range, which is becoming more sought after for its excellent arch support and cushioning features ideal for all arch types.
In the Skechers Arch Fit Shoe Reviews, we look at some of the variety of models that Skechers offer with the Arch Fit technology;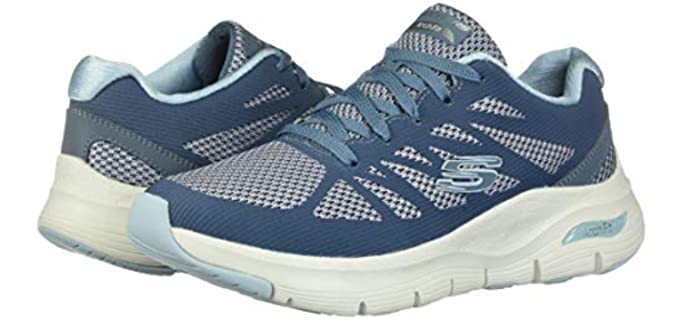 ---
What Makes the Arch Fit Design in Skechers so Special
The Skechers Arch Fit Range offer new and innovative technology to improve the comfort and support that their shoes offer;
Arch Fit Insole – The new Arch Fit insole is fully removable, allowing you to use your own orthotics. The insole is more resilient, provides better foot guidance, and has unlimited and patented shape retention capabilities.
Midsole – Along with the insole,e the midsole is now designed to be more lightweight and still well-cushioned, with additional flex articulation in the design.
Stability – The Arch Fit insole is podiatrist certified and anatomical to support the heel and arch area for better stability fully and more even distribution of weight,
Cushioning and Shock Absorbency – The very resilient foam used in the new Arch Fit technology midsole and insole compresses to dull the impact of foot landings and is also very lightweight.
---
How Does the Arch Support Design in Skechers Work for You
Many happy customers have returned with excellent reviews on the new Arch Ft range from Skechers.
The Arch Fit range is ideal for persons with a flat or neutral arch and those who suffer from Plantar Fasciitis and Overpronation conditions.
Despite all the new features and technologies used in the Skechers Arch Fit range, they are still extremely lightweight, even more so than regular Skechers shoe ranges.
Overall the Skechers Arch Support range is recommended for persons with problems with their feet and require maximum support, arch support, and cushioning. The arch is quite high and creates a supportive ball underneath the feet. If you do not mind that, however, the insoles are also removable.
---
Features of a Good Arch Fit Shoe from Skechers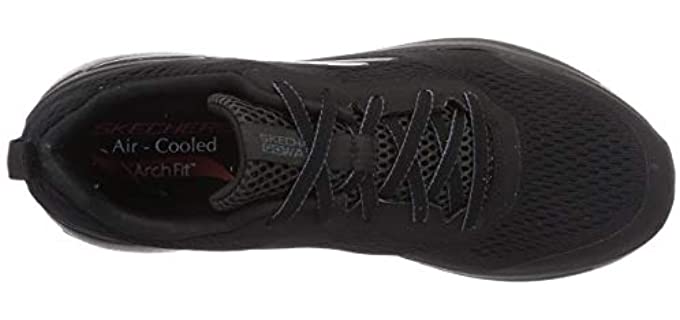 Insole – An anatomically designed Arch Support insole with a heel cup and contoured foot support for stability and arch support.
Cushioning – Comfortable layer cushioning in the midsole and insole with air-cooled memory foam and other technologies such as the Goal Max and Ultra Go cushioning systems.
Midsole – The Arch Fit Midsole is well cushionied with a lightweight feel and flex articulation.
Uppers – depending on the specific model, the uppers can be leather, mesh, knit, or synthetic materails and available in a range of colors and prints.
Outsole – A durable rubber is mainly used in the outsole with a patterend design for better traction.
---
Reviews: The Best Skechers Arch Fit Shoes
Below we have a range of some of the top Skechers shoe models that all come with the Arch Fit Insole system;
---
1
The Skechers Arch Fit Sunny Sneaker offers a comfortable fit and versatile uses for walking, casual wear, and jogging with cushioning and arch fit support.
The uppers are a mesh and textile material that breathes well and is quite lightweight.
Inside are the Arch Fit technology Midsole and removable insole.
There is also Air Cooled Memory foam in the insole.
The outsole is a very durable rubber that offers excellent traction.
You can select from a few available color options in this model.
---
2
The Skechers Performance GO Walk slip-on shoe is a top favorite from Skechers that is now also available in an arch fit range for better arch support.
The uppers are fabric and synthetic leather for support and breathability,
There is a removable Ortholite foam technology insole that provides an additional layer of cushioning,
The high rebound comfort pillar technology ensures excellent support with every step you take.
The arch Fit design offers anatomical support and arch support in the midsole and insole.
Furthermore, there is a durable rubber outsole.
You can also choose from many available colors in this stunning slip-on design shoe from Skechers.
---
3
The Go Walk Arch Fit model shoe makes the ideal walking and everyday wear casual shoes with a lace-up system for a secure fit.
This is the Go Walk design with arch fit technology.
The uppers are an engineered mesh fabric that has a soft knit and breathable moisture-wicking lining.
There is an Ortholite foam technology sock liner and Air Cooled Goga Max technology in the insole.
The High rebound comfort Pillar technology in the sole ensures excellent stability and support.
An Arch Fit design ensures a more ergonomic and arches supportive fit and feel.
You can likewise choose from a few available color options.
---
4
Walking Shoe with Arch Supportr
The Arch Fit design is ideal for running, jogging shoes, and everyday wear comfortable shoes in a gorgeous athletic style.
The uppers are a soft woven textile that is very lightweight and breathable.
There is an Arch Fit structure with an ergonomic support shape and excellent arch support.
The collar and tongue are padded for a snug and comfortable fit.
There is a lightweight midsole with a flex articulation design and cushioning,
The insole offers resilient cushioning and support.
---
5
Comfort Arch Support Shoe
The Arch Fit Refine and Paradyme are comfortable daily wear shoes with the popular arch Fit cushioning insole system for optimal support and arch support.
The uppers are lightweight and breathable with a soft woven fabric material.
The shoe has a slip-on and off design with a soft fabric lining to keep moisture at bay.
There are a removable comfort insole and flexible high traction rubber outsole.
The midsole and insole feature Arch Fit ergonomic and cushioning technology.
---
6
Slip On Shoe for Casual Wear
These two arch fit models from Skechers offer you a comfortable and easy slip-on and off design shoe that is ideal for everyday wear.
The Archfit for men has a soft woven jersey knit fabric uppers, and the Rainbow design for ladies has canvas fabric uppers that are a soft weave.
There are also some color options available in both models.
Both models likewise feature arch fit technology support and cushioning.
Ther is a removable insole in both models that allow you the use of your won orthotic devices.
---
7
Both are work shoe models in the arch fit design and technology.
The insole is Ortholite cushioned and lined.
There is a shock-absorbing EVA midsole.
\the rubber outsole provides excellent oil and slips resistance.
---
8
The Uppers are a soft knit fabric.
There is a breathable and moisture-wicking interior lining.
The Insole is removable, and Ortholite foam technology,
Durable and shock absorbing with a rubber outsole and arch fit design.
---
9
The Uppers are breathable textile material.
Inside is a cushioned footbed and breathable lining.
There is an arch fit arch support design.
The outsole is a durable and high traction rubber.
---
10
Both shoe models feature an easy slip-on design.
There is a cushioned, and comfortable insole and arch fit technology.
The uppers are a soft and breathable textile.
There is a durable rubber outsole.
---
Index Table: Top Rated Skechers Arch Fit Shoes
---
---