The Vibram Rubber Outsole is widely used in the shoe industry today because of its high reputation for durability, quality comfort, and excellent traction capabilities.
This article features the best shoes with Vibram soles and the technology behind them.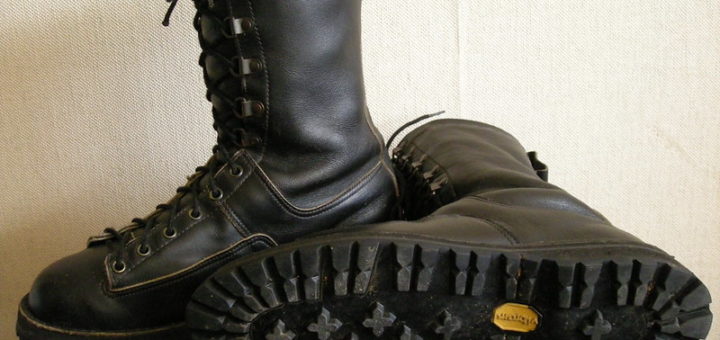 ---
The Vibram Rubber Sole and Where it Comes From
Vitale Bramani invented the Vibram Rubber outsole in 1935 after six of his friends passed away very tragically while hiking in the Alps.
The Boots that his friends wore at the time had felt soles that did a poor job of insulating their feet and provided minimal traction on the slippery and cold surfaces.
Bramani set out to develop boots with two key advantages;
1. They will have soles from Vulcanized rubber, which insulates better than felt.
2. The traction will be improved due to a lugged tread pattern called the Carrarmato, which means "tank tread."
This combination led to much better and safer hiking experiences and fewer cases of frostbite and hypothermia.
Vitale Bramani Founded the Vibram Sole Company, and the sole name is a combination of his first and last name Vi-Bram.
---
Benefits of the Vibram Rubber Sole
Today, Vibram offers so many more varieties of soles in a larger selection of shoe types and brands, all with the assurance of the original design's consistent quality, durability, and comfort.
There are many outstanding benefits to the Vibram Rubber Sole;
Resoling – Vibram rubber outsoles will eventually wear out, even if they are extremely durable. When they do wear out, your shoes can be re-soled with a new Vibram outsole, which is readily available to many resellers.
Durability – Traction and Durability often work against each other. A softer sole offers better traction yet is less durable and vice versa. Vibram's unique compounds blended rubber and other materials used in the sole, such as the EVA midsole, strikes a much better balance between longer-lasting durability and high Traction results.
Comfort – The Vibram outsole is light and springy with an EVA-based Rubber that offers cushioning and shock absorbency as well as durability and high traction.
Traction – The Tread of the Vibram Rubber Outsole has a lugged Carrarmato design aimed at Hiking use. Along with the unique Blend of softer rubber and EVA, this ensures the best Traction even on slippery and wet surfaces.
---
Features of a Good Shoe with Vibram Soles
You will get a variety of different shoe types with Vibram Soles. Most Hiking and Trail running shoe types have a Vibram Sole; therefore, the materials will be likely according to these shoe types.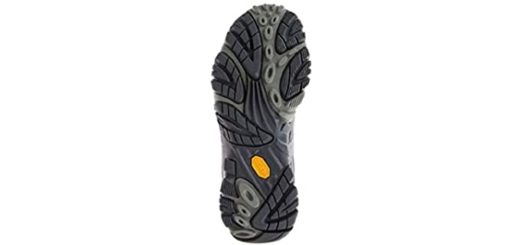 Uppers – The uppers can consist of anything from; PU-coated leather, synthetic nubuck Suede Textile, Mesh, Polyester, and Lycra for stretch. Then you also have some models with a Gore-Tex waterproof Lining DryVent membrane to waterproof the shoe.
Insole – For the insole or footbed, you can look at an Ortholite Eco-friendly or OrthoLite X35 Hybrid footbed, which is more refreshing and drier for your feet. Then there is also the Anti-Microbial Drilex Sockliner, which is cushioned and moisture-wicking to prevent odors.
Midsole – The Vibram Sole offers a Blend of Rubber and EVA in the midsole for its cushioning and durability qualities. However, the Midsole of some shoe models can be reinforced with a layer of additional EVA.
Outsole – The Outsole part will consist in the form of the Vibram Rubber of which you get some different types; the Vibram TC5+ or the Vibram XS Trek outsole, which is built for balance, traction, and responsiveness on unpredictable terrain, and the Vibram460 outsole with Megagrip technology that offers superior grip on wet and dry surfaces.
Other Features – Other features that you will find in the shoe brands and models that I have chosen include; a protective Rubber toe cap and a Bellows closed tongue to keep moisture and debris out. Then there is stability technology, including; a Cradle heel design technology that cushions and stabilizes to support the heel for climbers, a Nylon and ESS midfoot shank, and a Trailguard platform with exposed TPU shank or an external heel counter.
---
Reviews: The Best Shoes with Vibram Soles
---
1
One of the best shoes you will find with a Vibram outsole is the Moab Vent 2 from Merrell. A superb hiking and casual wearing outdoor shoes.
Suede, leather, and mesh are used to construct the upper making this a lightweight, breathable outdoor shoe.
The bellows closed-cell foam tongue keeps out debris and moisture.
There is a protective rubber toe cap for toe protection.
Inside is a breathable mesh lining and cushioned insole for comfort.
Vibram TC5+ is used for the outsole with a lug tread for trail walking and hiking.
---
2
Vibram Sole Water Running Shoe
The V-Run from Vibram is a flexible and lightweight trail and outdoor running shoe designed for wet and dry terrain, with a durable Vibram rubber outsole.
An extremely lightweight running shoe with polyester-lycra uppers and mesh that dries quickly and is ideal for use in wet conditions and water.
There is a 2mm EVA sole with an anti-bacterial Dri-lex sock liner for comfort and EVA rubber in the midsole.
The shoe can be machine washed and is available in two color selections.
Then to finish off, there is a 4mm thick Vibram rubber outsole.
---
3
hiking Shoe with Vibram Soles
The Hedgehog Fast Pack from The North Face is another superb Hiking shoe with a Vibram rubber outsole.
The hedgehog fast Pack offers on-trail protection with waterproof, durable uppers and a Dryvent breathable membrane with PU coated leather upperAn an Ortholite X35 Hubrid cushioning system in the footbat is cooler and drier on your feet for comfort.
Cradle technology stabilizes and supports your heels when you climb.
The Vibram XS Trek outsole is built for better balance and traction on uneven terrains.
---
5
The Merrell All Out Sieve Sport is a sporty outdoors closed design sandal with a Vibram Rubber Outsole.
The Merrell sandal All out Blaze is tough and comfortable and ideal for boating or outdoor water sports and hiking in wet conditions.
Fabric uppers with a lace-up design with breathable mesh insets and an Omni Lace design, make up the upper portion of the shoe.
There is an M-Select Fresh mesh lining to combat odors and bacteria and keep your feet dry inside the shoe.
For shock absorbency, a UniFly midsole offers essential cushioning.
Then the sole is a TC5+ Vibram rubber outsole that is durable and slip-resistant.
In this sandal model, there are a few neutral color varieties from which you can choose.
---
5
Trail Walking Shoes with Vibram Soles
The Danner 2650 is a casual and comfortable trail walking shoe that boasts the popular Vibram Rubber outsole.
The upper is lightweight and durable with suede leather and breathable textile construction.
There is also a GORE-TEX, breathable, and protective waterproof lining.
The reinforced external heel counter ensures better stability support.
Inside is a cushioned open-cell Ortholite comfort footbed.
A TrailGuard platform and TPU shank ensure lightweight protection and performance.
There is also a lightweight shock-absorbing EVA midsole.
Lastly, the 460 Vibram rubber outsole has MegaGrip technology for superior grip on ost wet and dry surfaces.
---
6
Vibram Sole Trail Running Shoe
The Altra Olympus is a versatile Trail running and walking shoe with a Vibram Rubber outsole in the latest 2.5 model.
Breathable fabric and light and supple leather are used for the uppers.
The Toe Box features a Foot Shape design for more room in the toe area.
There are a contoured and cushioned footbed and a padded collar for comfort.
A dual-layered EVA midsole ensures excellent shock absorbency and support.
Then we have the Vibram rubber outsole for traction and grip that will last very long.
---
7
The Scarpa Moraine GTX is the latest in Hiking shoes with a Vibram Rubber Outsole.
The uppers are a durable leather with Gore-tex for breathable waterproofing.
There is a Dual-Density compression-molded EVA midsole for support and comfort and a tongue lining.
The Structured toe box is abrasion-resistant and protective.
There is a lug rubber outsole consisting of Vibram rubber for traction in outdoor terrains to finish off.
---
8
Running Shoes with Vibram Soles
The Hoka One Speedgoat 4 is an outdoor road running shoe with a Vibram sole.
The Upper is a lightweight mesh and synthetic materials.
The Toe Box and midsole are much wider for more toe room, and there is enhanced heel support.
The Vibram MegaGrip outsole offers exceptional traction and grip.
The midsole and insole are cushioned for excellent shock absorbency.
---
9
From Merrell, we have their Choprock Vibram soled sandal for hiking and outdoor use.
There are adjustable uppers from water-friendly synthetic materials.
The Vibram rubber Outsole has lug treads for better traction and grip on all outdoor surfaces.
The Compression molded and contoured EVA midsole and insole ensure excellent shock absorbency and support.
The hook and loop straps make the fit easy to adjust and close.
---
10
Water Shoe with Vibram Sole
The Merrell All Out Blaze Aero Sport is a lightweight water Shoe with a Vibram Rubber Outsole.
The Upper is Polyurethane coated leather and mesh for breathability.
The Merrell Omni-Fit lace-up system ensures a more precise Glove-like fit.
There is a Molded TPU heel counter for stability and cushioned footbed for comfort,
The Vibram TC5 outsole provides exceptional durable traction.
---
11
The Vasque Mantra 2.0 is a durable and comfortable Hiking Shoe with a Vibram Outsole.
The uppers are synthetic leather and mesh for breathability.
The fit offers a more wide and roomy toe box.
There are a cushioned insole and a supportive midsole.
The outsole is a rugged Vibram Nuasi rubber outsole.
---
12
Hiking Boot with Vibram Sole
The Merrell Zion is a Mid Hiking boot with the popular Vibram Outsole.
The uppers are durable leather with a boot top design for better protection.
There is an M-Select Permeable waterproof lining for waterproofing and moisture-wicking interior lining.
The Bellow tongue aids to keep debris out.
A durable Vibram rubber outsole provides good outdoor trail slip resistance and durability.
---
Index Table: Top Rated Shoes with Vibram Soles
---
---