Peroneal Tendinitis is an afoot and ankle condition that can truly, make your life difficult.
The right shoes can provide pain and symptom relief, aiding in the healing process of this condition, and prevent it in the first place.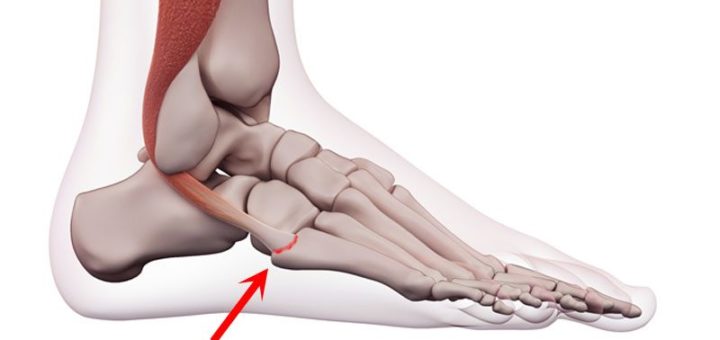 ---
Peroneal Tendinitis Injury Explained
Peroneal Tendinitis in a Nutshell – Your Peroneal tendons run along the outside of your leg and loop under the bony parts of your ankles. These tendons attach to the muscles of the outside of your foot and near the arches. When these tendons rub against the bony parts, the lateral malleolus bones become irritated, swell, and even tear. Then this, in the end, results in Peroneal Tendinitis affecting your feet and ankles.
Peroneal Tendinitis Symptoms – Pain behind the ankle, swelling at the back of your ankle, and pain, when you turn your feet may all be symptoms of Peroneal Tendinitis. At certain times your ankles may also be wobbly or lack support.
What Can Cause Peroneal Tendinitis – Repetitive ankle motion and stress on the ankles are the main cause of Peroneal tendonitis. Runners, Soccer Players, and Dancers are the groups most likely to suffer from this condition. Sometimes you can get Peroneal Tendinitis straight after an injury, and at other times, it can gradually develop.
Treating Peroneal Tendinitis – Ice and Heat can help to soothe painful ankles and feet along with pain and inflammation medication and ointments. Wearing supportive and comfortable footwear is your greatest protection against further damage and getting the condition in the first place.
---
Why do You Need Good Shoes for Peroneal Tendonitis
Peroneal tendonitis can be debilitating and painful, especially for runners and those who participate in sports and exercise regimes.
If the condition is not treated, it will become worse and cause much more damage.
Good shoes will provide support and comfort to relieve symptoms and pain and protect the feet against further damage.
---
Features of a Good Shoe for Peroneal Tendonitis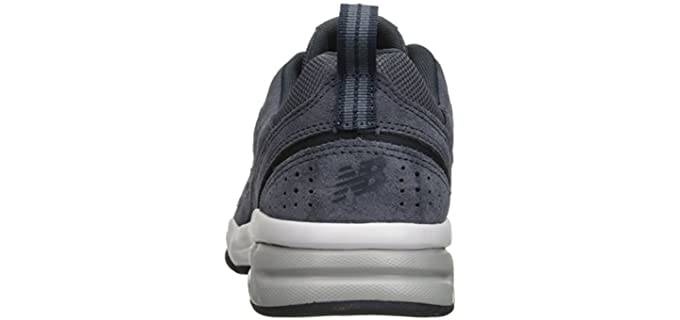 High Heel to Toe Drop – With Peroneal Tendinitis Heel Striking is recommended, and it is better to avoid toe and ball of the foot strike. A high heel to toe drop in your shoes should be considered.
Ample Cushioning – Plenty of Cushioning, particularly in the midsole is advised. You can also look for Forefoot cushioning and Gel Cushioning.
Neutral Arch and High Arch Support – Peroneal tendonitis is usually more prominent in persons with Neutral and High Arches. A shoe with Neutral or high arch support is recommended.
Flexibility – With this condition, a more flexible sole is required rather than a rigid sole because you need less stability and a better range of motion.
Ankle Support – A secure heel counter and snug-fitting collar will provide good ankle support to keep your ankle from moving and twisting too much.
---
Reviews: The Best Shoes for Peroneal Tendinitis
Below is a selection of different shoe types that are all perfect for Peroneal Tendinitis and it's symptoms;
---
1
Running Shoes for Peroneal Tendinitis
One of my top favorites is shoes for Peroneal Tendinitis and many other foot conditions and issues, which is the Gel Nimbus 23 from Asics.
The shoe has fabric, and synthetic uppers offer a more snug fit yet are available in wider width options.
There is Flytefoam technology in the midsole for cushioning and bounce back.
Forefoot and rearfoot GEL cushioning absorbs shock and protects your feet against impacts.
The Heel clutching system keeps your ankle stable and protected.
There is also a durable AHAR high abrasion-resistant outsole.
---
2
Peroneal Tendinitis Dress Shoe
As a Dress shoe for Peroneal Tendinitis, I have chosen the Gramercy and Celina from Orthofeet and Orthopedic shoe brand.
The Gramercy is an oxford style dress shoe available in a dark brown or black color, and the Celina is a low Heeled dress shoe with a stability comfort low heel.
What I love about Orthofeet's shoes are the different layers of foam they use in the footbed, an arch supportive and contoured design that offers you a perfect balance of cushioning and stability with proper support.
The shoe's build is also roomier with a deeper heel cup for ankle stability and extra depth and a roomy toe box.
What is more, these shoes accommodate orthotic devices, and you can change the levels of cushioning to your personal preference.
---
3
Running Shoe for Peroneal Tendinitis
The Saucony Cohesion 11 is the perfect running shoe for individuals who have Personal Tendinitis.
The shoe has an upper mesh design with synthetic leather overlays that offers a structured but breathable fit.
The tongue and collar are padded, giving you s snug fit and better stability and the heel and ankles. A heel grid system and cushioning in the hee are ideal for shock absorbency and a secure fit with Peronmeal Tendinitis.
The Carbon rubber outsole will ensure the best traction and high durability.
---
4
Walking Shoe for Peroneal Tendinitis
The 928V3 is the latest in this range from New Balance and a great walking shoe if you have Peroneal Tendinitis.
Leather and textile upper give you a durable and secure fit.
There are a shock-absorbing Midsole and a ROLLBAR in the sole, which helps with stability and motion.
The removable PU footbed offers comfortable cushioning.
A durable rubber outsole also ensures better traction n grip.
---
5
The Brooks Glycerine is another top favorite walking and running shoes for persons with Peroneal tendonitis.
The Brooks Glycerine 18 is known for its abundant cushioning with the DNA Loft and super-soft cushioning, along with a cushioned and moisture-wicking Ortholite Sockliner.
These shoes can be used for cross-training, running, and walking and are so versatile and comfortable.
The Plush fit and breathable uppers with internal stretch bootie design are all you need for the most comfortable fitting shoe.
---
6
Flip Flop for Peroneal Tendinitis
What is a shoe collection without a causal sandal for summer?
The Olukai Ihana flip flop sandal has the perfect shaped footbed and cushioning in just the right areas for Peroneal tendonitis.
Synthetic and mesh upper straps are lightweight and quick drying.
There are an EVA midsole and Non-Slip EVA Drop-In footbed for full support and shock absorbency.
The outsole is durable a offers an excellent grip.
---
7
Boots for Peroneal Tendinitis
The Clarks Desert boot has a supportive ankle design and a soft crepe wedge design sole.
The boot consists of 100% genuine leather that is soft and supple.
There are more color variations available in the men's model.
The boot has a crepe sole for the ladies' model and a plantation crepe design sole for the men.
The ankle height offers good support for Peroneal tendonitis.
---
8
Running Shoes for Peroneal Tendinitis
The Brooks Ghost 13 is a soft cushioned running shoe that offers a secure heel fit and balanced support.
The upper is a breathable engineered mesh, with a 3D print fit and snug heel supportive fit.
There is BioMoGoand DNA Loft cushioning that offers energizing cushioning and softness underneath your feet.
Segmented crash pads help to absorb impact for a smooth and stable ride.
There is also a moisture-wicking interior lining inside.
The shoe is available in many more color options for men and women.
---
9
Sandals for Peroneal Tendinitis
The Rest Farra and Moore Nate from Vionic are two excellent sandal choices foPeroneal Tendinitis personsis.
The Charlie features smooth leather with adjustable buckle closure.
The Rest Farra has leather and patent leather upper straps with a secure heel strap, decorative embellishments, and a wrapped EVA footbed.
The footbed for both the Rest Farra and Moore Nate consists of a soft and cushioning EVA.
The footbed has a podiatrist design and anatomical contours for optimal support and comfort.
The Rest Farra is available in many more solid colors, but the Moore Nate is only available in two blue shades.
---
Index Table: Top Rated Shoes for Peroneal Tendinitis
---
---