Bunions can cause pain and discomfort, especially when your shoes fit improperly and press against them.
New balance luckily offers wider width options in most of their shoe ranges and roomy toe boxes, and other comfort features in some models, which are perfect for Bunions.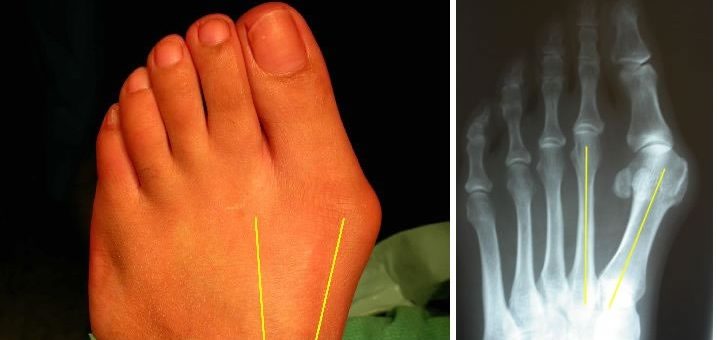 ---
Bunions and How They Affect Your Feet
A Bunion is a Painful and uncomfortable Bony Bump that forms at the joint in the base of your big Toe, and you can also get smaller Bunions called Bunionettes at the same place on your little toe.
When you have Bunions, the main aim is to wear shoes that place the least pressure on these painful bunions and offer soft underfoot cushioning to prevent the impact of hurting Bunions.
Hereditary – You can inherit Bunions from someone in your family, so it may be a genetic factor that can appear at birth as a congenital disability or can develop when you get older.
Rheumatoid Arthritis – This Inflammatory condition is one of the leading medical conditions likely to result in Bunions.
Ill Fitting Shoes – One of the MAIN causes of Bunions is ill-fitting shoes. Shoes with a Narrow toe and high heel are your most likely culprits. A high heel forces the forefoot to squash into the front of the shoe, and the narrow toe squeezes the toes and forefoot. This causes many complications, deformities besides just Bunions.
---
New Balance® Shoe Charactaristics for Bunions
As you most likely have deducted from the causes of Bunions, you will need to avoid tight-fitting, narrow, and heeled shoes at all costs.
New Balance offers a wider option in almost all their shoes, which is ideal if you have Bunions.
Besides this, there are many New Balance shoe ranges and models with soft and flexible uppers, a roomy toe box, and comfortable cushioning, which is perfect when you have Bunions.
---
Features of a Good New Balance Shoe for Bunions
Cushioning and Shock Absorbency – The Bunion models of New balance Shoes feature extra cushioning such as the Injection Molded EVA, ABZORB Cushioning, and Ortholite cushioned and moisture-wicking Footbed. The Cushioning and shock absorbing midsoles lessen impact and pressure on painful Bunions and provide plush comfort.
Outsole – Rubber or Blown rubber is used on the outsole of most New Balance shoe models. Rubber is durable and offers excellent traction and slip resistance. The thicker rubber sole likewise provides some impact protection and underfoot protection against sharp and protruding objects.
Uppers and Interior Linings – besides a comfortable padded and lined tongue and collar, the uppers offer a wider and more roomy toe box fit for less pressure on the painful Bunions. Most New balance shoe models have a mesh and synthetic leather uppers construction for stability and breathability, while the Bunion models consist more of flexible mesh with fewer insets.
Closure – The Closure System is usually lace-up, and with the Bunion Shoe models, this is ideal for an adjustable fit.
Fit – All the models I have chosen for Bunions from New Balance have a roomy or flexible fit and are available in wide to extra wide fit options from which you can select.
Colors and Patterns – there are athletic style colors and options in some New Balance Shoe models for Bunions, as well as more neutral light and pale colors from which you can choose. There are Likewise solid color options such as white, black, and off-white, which can be used as work shoes.
Technologies Stability features and Rollbar motion controlling features are ideal for persons with Bunions as they may struggle to keep their balance.
---
Reviews: The Best New Balance® Shoes for Bunions
These are the best shoes from New Balance to accommodate feet with Bunions and other deformities or conditions;
---
1
Trail Running and Walking Shoes Bunions
This is a comfortable and roomy fit model from Newbalance in a Trail walking and running shoe for Bunions.
There are Synthetic leather and Mesh Uppers for breathability and durability.
The ACTEVA cushioning midsole offers excellent shock absorbency and cushioning.
A AT Tread trail running rubber outsole ensures excellent grip and traction on outdoor terrain.
There is also an NB Response Insert for cushioned comfort that returns energy to the feet.
The shoe is available in different width options and a few color selections from which you can choose.
---
2
The 608V5 is a superb slip-resistant and wider-width shoe model from New Balance, which offers individuals with Bunions a better grip and balance.
The Uppers consist of lightweight and breathable mesh and leather materials with a low-top design.
There is an Injection molded EVA midsole and an internal shank for stability and shock absorbency.
The Dual-density foam collar ensures a much more snug fit, and the wider toe box is ideal for Bunions.
There is also a comfortable PU insert for cushioning.
The shoe is available in wider widths as well as a few neutral colors to choose from accordingly.
---
3
This is also a great model in the New Balance Walking shoe fr Bunions.
The uppers are manufactured from lightweight and flexible leather and textile materials with a roomy toe box design and relaxed fit system.
There is an injection-molded EVA insole and NB response energizing cushioned insert inside the shoe for comfort.
The Data Inspired upper design will mold to the shape and adapt to the movement of your feet.
The durable rubber outsole offers exceptional traction and durability.
---
4
Lightweight Walking Shoe for Bunions
The New Balance 847V3 is a comfortable and adaptable Walking shoe for persons who have Bunions.
It is made from breathable and lightweight textile and leather materials.
There is a Lightning Dry moisture-wicking lining to reduce foot fatigue and keep your feet dry and fresh.
For comfort, you can enjoy the ABZORB cushioning and Ortholite foam insert.
A Rollbar stability system ensures better stability and motion control.
The durable rubber outsole with Ndurance rubber compounds on all the high-wear areas of the outsole improves grip and offers long-term durability.
Wide and Extra wide width options are available as well as many color selections.
The shoe-like offers a roomy toe box and a relaxed fit design.
---
5
The 520V6 is another superb New Balance shoe model for Bunions, which offers ample cushioning and roomy toe box fit.
Soft and flexible synthetic leather uppers with a moisture-wicking interior lining.
The shoe offers a Data Inspired upper fit, which accommodates the shape and needs of your feet.
There is an Injection Molded EVA midsole and NB response insert for cushioning n shock absorbency.
The outsole is made from durable rubber that ensures excellent traction.
It is also available in wider-width models as well as other colors.
---
6
The New Balance 680V6 is a favorite in casual or running shoes for bunions because of the flexible upper and wider width options.
The mesh and synthetic uppers are soft and flexible.
There are wider width options for a more accommodating fit.
The Insole is cushioned, and there is a supportive EVA ABZORB technology midsole.
The durable rubber outsole also ensures excellent traction.
---
7
The New Balance 880V10 is similar to the 680V7 in support but has the softer Fresh Foam midsole.
There are seamless Hypoknit uppers for stretch and support.
You can likewise get this model in wider width options.
The Fresh Foam Midsole offers soft, and shock-absorbing underfoot cushioning and support.
The Blown Rubber Outsole at the forefoot also ensures a better rebound.
There is a molded external heel counter to control heel movements.
---
8
Hook and Loop Bunion Shoe
Another excellent design from New Balance for Bunions is their 813V1.
The 813V1 model is designed for foot conditions and medical conditions affecting your feet.
Here we have a leather upper and a hook and loop closure system with two Velcro straps.
There is a fabric interior lining for moisture management as well as a cushioned footbed.
The Rollbar technology in the sole helps to reduce rearfoot movement.
The rubber outsole has Walking Strike Path technology to help guide your feet.
---
Index Table: Top Rated New Balance Shoes for Bunions
---
---