High Arches can make it quite difficult to fit into regular shoes, and even when you do, they may be quite uncomfortable.
Hoka One shoes for high arches provide a comfortable and easy fit, with all the features you need for a higher arch type.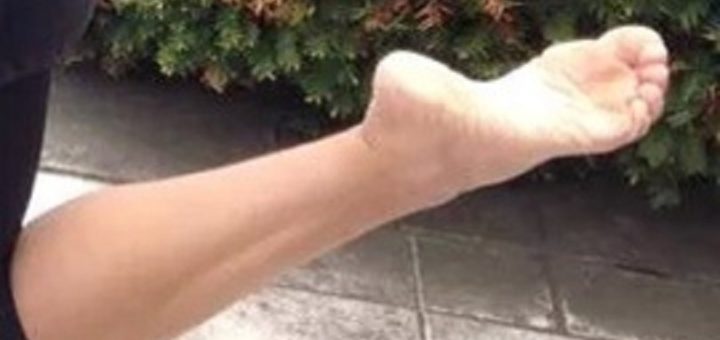 ---
High Arches and How They Affect your Choice in Shoes
When you have a higher arch, fewer of your feet touch the ground when you run and walk, and there is an uneven weight distribution on smaller areas of the feet.
Your feet may become painful and fatigued when walking, standing, or running for a while. The arches may be inflexible and stiff, leading to ankle and Achilles pain, issues, and even corns and calluses.
Shoes with a spacious toe box, rigid firm sole, and plenty of cushioning are among the best choices for high arches, and you can also look for a shoe that provides high arch support.
---
Choosing a Shoe for High Arches
For persons with a higher arch, it is important to get a shoe that fits comfortably and supports the arch properly, with added cushioning in the heel and ball of the foot area.
Heel Cup – Shoes with a heel cup or support reduce pressure on the heels and help provide some stability to prevent excessive pronation. A Snug heel fit is also ideal.
Arch Support – Good arch support, particularly in the rear third area of the arch, is ideal for people with high arches. The arch support should be full and uniform, running smoothly and evenly across the entire shoe.
Cushioning – Cushioning ins those for high arches is vital to protect the areas of the feet affected by hard impacts and distribute weight evenly. The heel and ball of the feet are usually most affected, and cushioning in these areas is more sought after.
Firmer Support – People with high arches generally need firmer support from their shoes and light stability.
---
Features of a Good Hoka One Shoe for High Arches
Uppers – The Uppesr of the HOka One shoe cosnist of engineered mesh materails that are bertahable and comfortable, they also come with a roomy toe box, and are available in wider width options.
Midsole – The midsole is a compression-molded EVA, or CMEVA in the trail models for shock absorbency. Some Hoka One Models have a J-frame design for better stability and support.
Cushioning – Hoka One shoe shave a foam-padded insole that provides soft and comfortable cushioning.
Options – Hoka One shoe comes in many different colors, sizes, and width options, all dependent on the specific model.
---
Reviews: The Best Hoka One Shoes for High Arches
Below we have some of the best available Hoka One shoes, with a feature that is ideal for persons who have a high arch type;
---
1
Running Shoes for High Arches
The Hoka One Mach 2 is a responsive cushioned running shoe that provides optimal support and comfort for high arches.
The uppers are lightweight and breathable with engineered mesh and a more comfortable regular fit.
The tongue is structured to be more breathable and lightweight.
For the Midsole it is perforated for better breathability with EVA foam.
There is a Profly design rubberized soft foam outsole that allows for softer and more responsive ground contact.
You can also choose your favorite from a few available colors.
---
2
Training Shoes for High Arches
The Hoka One Bondi training shoe is highly slip-resistant and offers comfortable cushioning and support for a higher arch type.
The Uppers are premium and highly durable leather, depending on the model.
There are black, white, and grey color options available in this model.
There is a removable foam padded insole for cushioning and a full-length EVA midsole for shock absorbency.
The outsole is a durable rubber firm grip and improved stability.
---
3
Walking Shoe for High Arches
The cushioned and lightweight design of the Hoka One Rincon is ideal for persons who have a higher arch type and who suffer from foot conditions such as Bunions and Plantar Fasciitis.
The uppers are engineered sandwich mesh with a lightweight and breathable design.
A slimmer tongue ensures a more comfortable, lightweight fit.
Inside is a full compression-molded EVA midsole for shock absorbency and a comfortable padded insole.
The design offers full ground contact and has a Meta-Rocker sole for stability.
The outsole us a high abrasion rubber design for optimal traction.
---
5
Running Shoe for High Arches
The Gaviota 2 is supportive stability, and the neutral shoe offers excellent cushioning and a Rocker sole design, which is perfect for a higher arch type.
This design features arch lock wings for better midfoot stability and opens engineered lightweight mesh uppers.
The Molded Ortholite sock liner wicks away moisture and cushions your feet,
A Late-Stage Meta-Rocker sole is improved for stability and smoother toe-off.
For better stability, there is a J-Frame midsole from EVA materials.
The outsole is durable rubber with zonal placement and a flat-waisted geometry.
---
5
The Hoka One Clifton 7 is a High Arch Support running and walking shoe with some stability features and a Meta-Rocker sole design.
The uppers are open engineered lightweight mesh with a gusseted tongue that is lightweight and comfortable in fit.
There is a full compression-molded EVA midsole for shock absorbency and foam padded comfort insole.
The early-stage design Meta-Rocker provides stability and balance and reduces pressure on your feet.
The sole has flat waisted geometry and full ground contact with a durable rubber outsole.
---
6
Comfortable Shoes for High Arches
The Hoka One Bondi 7 offers plush memory foam cushioning and excellent shock absorbency, which is ideal for supporting high arches.
This design has TPU toe overlays for durability with open engineered mesh for the uppers and a memory foam ankle to cradle your ankles and heels.
There is an internal heel counter for stability and pronation control and a full-length compression-molded EVA midsole.
It also has an early-stage Meta-Rocker outsole and beveled heel design; this, in turn, provides additional stability and takes excess pressure off the feet and heels.
The outsole is a rubber that offers minimal weight and maximum durability.
---
Index Table: Top Rated Hoka One Shoes for High Arches
---
---