Finding the best available shoes for Achilles tendinitis can be quite a challenging task. With so many options today, it may be very overwhelming to get shoes that offer proper support and comfort features, as well that helps with a condition such as Achilles tendinitis.
However, we have found one brand, Brooks for Achilles Tendinitis, that has been deemed to be really exceptional when it comes to support and pain relief for this condition.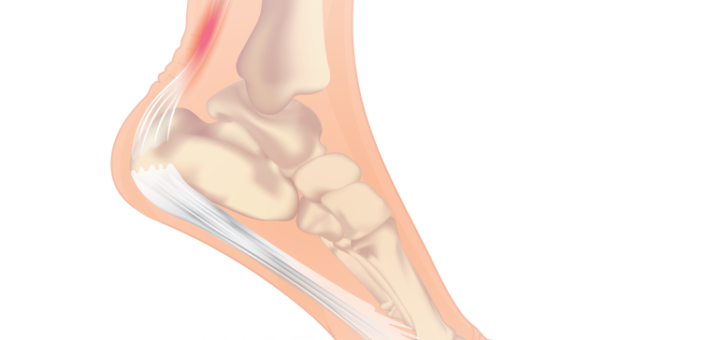 ---
Choosing Shoes for Achilles Tendinitis
Certain activities such as running, walking, and other high-impact sports will increase strain on your Achilles' tendons, leading to Achilles tendinitis or aggravation, therefore.
Therefore when choosing shoes, particularly for these activities, you want optimal support and protection for the Achilles tendon.
When you wear shoes with too much cushioning while running, you will generally take longer strides, and your ankle bends more as your feet hit the ground, thus placing strain on the Achilles tendons.
However, too little cushioning, in turn, may also cause a hard impact on the feet and Achilles tendons, so you want something a bit more balanced and secure.
Rocker Bottom Sole shoes are usually advised for severe Achilles tendonitis, while most neutral or light stability running and walking shoes are ideal.
Most athletic shoes and boots will provide good support, a secure fit, and balanced cushioning for Achilles tendinitis.
---
Technologies That Makes Brooks Shoes Ideal for Achilles Tendinitis
Brooks shoes have many technologies that make them ideal for Achilles tendinitis;

Neutral Shoes – Most Brooks shoes offer neutral support that properly aligns your body and feet, including your ankles, which in turn means less risk of injury.
High and Low Arch Support Shoes – Brooks shoes offer support for both low and high arch types as well as neutral arches. They have a range of stability features, such as the Guiderail system and segmented Crashpads, along with thicker and more plush cushioning for a higher arch type.
Cushioning Types – Brooks offers different types of cushioning in their shoe models, all based on DNA cushioning technology. They have energizing balanced cushioning of the BioMoGo DNA, more springy cushioning the DNA AMP, and their super soft DNA Loft cushioning system. You also get combinations in some models from Brooks.
Trail Shoes – The Trail shoe range from Brooks is enhanced for stability and grip on outdoor trails. They too offer cushion and support, with a more secure fit, waterproof Gore-Tex Uppers, a lug rubber outsole, and Ballistic Rock Shield for underfoot protection.
Heel Fit – As you will see, the Brooks shoe models that we have chosen for Achilles Tendinitis all have a snug and secure fitting heel with a padded collar to prevent unnatural movement and tension on the Achilles tendons.
---
Features of a Good Brooks Shoe for Achilles Tendinitis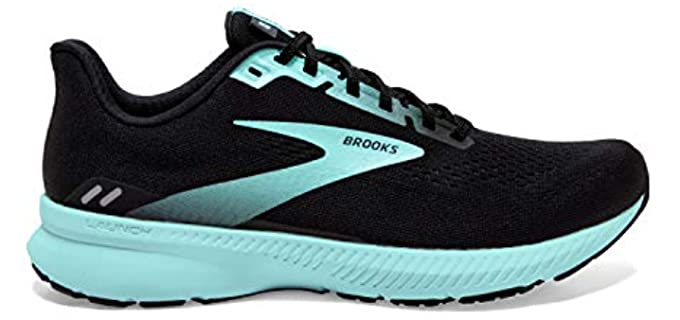 Uppers – Brooks shoes offers a variety of materials on their uppers. There is the snug-fitting 3 D print mesh with a plush interior that is more flexible and lighter in weight, and they also have leather shoe options that are more durable.
Midsole – As for cushioning, Brooks employs a DNA midsole design that adapts to your run or walks style and to your feet. You get the BioMoGo DNA that is adaptive and energizing, and then you also get the DNA Loft technology and DNA AMP. Super DNA is used in some shoe models that are more plush and adaptable.
Technologies – For support, technology such as the Guiderail system is used in Brook's shoes. This system offers stability and on-demand support for proper alignment of your hips, knees, and joints. Some models have segmented crash pads that customize the laydown of your feet for cushioning and better heel-to-toe transitioning.
Outsole – Brooks shoes have a durable rubber outsole with different pattern options for grip and traction. On their trail shoe options, they have 3D hex lugs for better grip and also Ballistic Rock shield technology for puncture resistance.
Options – Brooks offers you options in color, size and width in most of their shoe models.
---
Reviews: The Best Brooks Shoes for Achilles Tendinitis
Below are our top favorite choices in Brooks brand shoes for Achilles Tendinitis;
---
1
Shoes for Achilles Tendinitis
The Brooks Ghost 14 is a balanced running and walking shoe with a comfortable fit and enough stability for Achilles Tendinitis.
They offer neutral support with balanced and soft BioMoGo and DNA Loft cushioning.
There are segmented crash pads or better stability, and the shoes are also rated as diabetic shoes.
The uppers are soft and flexible with a snug heel fit.
For the outsole, durable rubber is used.
There are also plenty more color options in this range.
---
2
The Brooks Launch 8 is a neutral running shoe with a comfortable fit ideal for Achilles Tendinitis.
They are streamlined with breathable mesh uppers.
There is light BioMoGo DNA cushioning in the midsole for neutral support.
The Midfoot transition zone is shaped to follow from the heel to the toe quickly.
Furthermore, the outsole is a durable and high traction rubber.
The shoe offers plenty of sizes and some more color options.
---
3
Shoe for Achilles Tendinitis
The Brooks Glycerine 19 is a neutral running shoe for Achilles Tendinitis.
It offers exceptional cushioning with super soft DNA Loft technology and a very plush boot-like fit.
The uppers are stretchable engineered mesh with an enhanced fit.
There is a rubber outsole and also a more plush transition zone in the midfoot.
More colors and size options are available to you.
---
4
Shoe for Achilles Tendinitis
The Brooks Cascadia, we have chosen the latest model for Achilles Tendinitis.
This trail-specific shoe is designed for optimal balance, durability, and protection in outdoor trails and environments.
The shoe has a ballistic Rock Shield and rugged rubber outsole.
The uppers are protected by Gore-Tex, a breathable waterproof membrane,
The fit is flexible and adaptable with a snug heel for stability.
BioMoGo DNA is cushioning for stability and support.
---
5
Achilles Tendinitis Trail Shoe
The Brooks Caldera for Achilles Tendinitis is another outdoor trail shoe.
It has a rugged traction TrailTrack outsole with high lugs and sticky rubber for grip.
The Monoloop engineered mesh uppers offer a more secure and breathable fit.
There are midfoot ghillies for a flexible locked-in feel.
The BioMoGo cushioning system offers excellent energizing shock absorbency.
You can also choose from a few available colors in this specific model.
---
6
Shoe for Achilles Tendinitis
The Brooks Addiction Walker is a leather shoe model from brooks for walking.
It has full leather uppers, and this is the Velcro closure model, as you also get a lace-up option.
There are white and black colors available and extended widths.
The shoe has a slip-resistant outsole and BioMoGo DNA cushioning in the midsole.
It is also a certified PDAC A5500 Diabetic shoe.
---
Index Table: Top Rated Brooks Shoes for Achilles Tendinitis
---
---