When you suffer from Hip Pain, any physical activity can be painful and close to impossible.
All in all, your shoes may be the cause of your hip pain, and they may also be the solution.
Read Further to learn more about how your feet impact hip pain, as well as the must-have features for the best shoes for heel pain.
---
How do Your Feet Impact Hip Pain
It would be best to keep in mind that the joints in your knees and hip are the largest in your body. Most individuals with hip pain may also suffer knee pain and vice versa.
Your hips and knees support all your weight when you stand or walk or run, so if your experience pain in your knees or hips, there may just as well be a connection between that and your feet.
Busristis – Repetitive stress from walking or running, particularly with unsupportive shoes, can cause Hip Bursitis similar to Bursitis of the feet. Bursitis is inflammation and pain in the Bursa, which is the cushioning in the hip joints.
Overpronation – When your feet roll inward excessively when you walk or run, and you do not wear shoes to correct the issue, it can cause an alignment in your hips, placing stress on the entire hip and leg muscle.
Plantar Fasciitis – A condition that leads to chronic heel and arch pain can also affect your hips if not appropriately treated, causing pain and impacting the hip joints.
Foot Deformities – Foot deformities and conditions such as Bunions, hammertoes, Corn, and Calluses, which can cause you to walk or run improperly, may affect your hip because of misalignment and incorrect placing of weight during the gait cycles.
---
How Footwear Can Help With Hip Pain
Cushioning – The cushioning either or both in the mmidsole and insole of a shoe helps to attenuate impact and absorb shock to prevent the impact on your joints.
Arch Support – Good arch support improves your natural alignment and helps to evenly spread the weight over the feet, which in turn lessens the strain on your lower limbs and hips.
Controlling Overpronation – Stability features and motion control features in a shoe, along with good arch support, helps to control and prevent overpronation, which in turn can affect your hips.
---
Features of a Good Hip Pain Shoe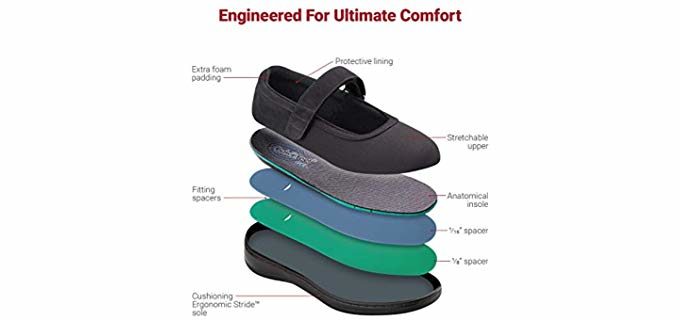 Cushioning – Cushioning in the footbed and midsole for shock absorbency and impact resistance. Gel cushioning.
Support – Excellent Arch support and stability features. Contoured Footbed. Deep heel cup.Stability Shank. Trusstic and Guidance System.
Fit – Comfortable Fit. Roomy Toe Box.
Outsole – Durable Rubber Outsole.
---
Reviews: The Best Shoes for Hip Pain
Below you will find some of our best choices in a variety of shoes which will help to alleviate and prevent Hip Pain;
---
1
---
2
---
3
---
4
---
5
---
6
---
7
---
8
---
9
---
10
---
11
---
12
---
Index Table: Top Rated Shoes for Hip Pain
---
---