Laboratory works hold many hazards and risks; therefore, the best protective shoes are required and usually a standard by law or company policy.
Besides this, Laboratory Work may take its toll on your feet, in which case comfort and support are necessary for good footwear to get you through your day.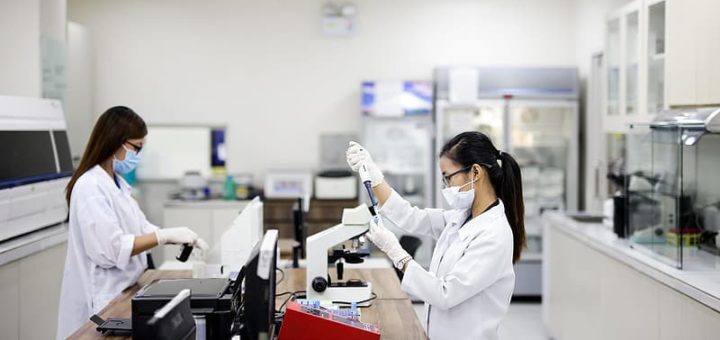 ---
Characteristics of a Good Laboratory Work Shoe
In general, company policy or legal standards will specify the type of footwear you need for the specific example of the laboratory you work in for comfort.
Depending on the hazards present in your laboratory, you will need to choose shoes with the appropriate protection features.
Other than that, here are a few key characteristics to look for in the right laboratory work shoe;
Uppers – A closed-style shoe is a must for all laboratory workers, and leather or synthetic upper is necessary, particularly in laboratories where chemicals and hazardous liquids pose a risk. No canvas or mesh upper as these are too easily permeable. Though for comfort and breathability, you still want a shoe with some form of ventilation and a lining that keeps you dry and cool.
Comfort and Support – laboratory work surely takes its toll on your feet, mainly if you are active on your feet or standing all day. I would recommend excellent arch support for your specific arch type and a comfortable or contoured footbed that cradles and supports the foot. Cushioning is also essential for comfort and a foam-based or EVA midsole for shock absorbency.
Slip Resistance – Always consider a thick and durable rubber outsole that has a tread to improve grip and traction and that meets ASTM standards for slip and oil resistance.
Proptective Features – There are many protective features, such as steel, composite, or alloy protective toe, electrical hazard safe materials, waterproofing, and chemical proofing, among other features. The protective features will define mainly by the type of laboratory your work in and the materials and risks you are exposed to daily.
Durability – If anything, you want it to last when you have found the perfect shoe. So look for a durable shoe with quality construction and materials and is made by a reputable brand.
---
Shoes According to the Dress Code for Laboratories
Depending on the type of laboratory you work in and your time spent there, your footwear dress code may vary.
For laboratories with high-risk materials, risks, and chemicals used, more protective footwear is necessary; however, you may need to dress up a bit more formally to keep up the right appearance for your work environment in a more professional environment.
All in all, it is generally a necessary guideline that no open shoes, sandals, ladies pumps, clogs such as crocs and canvas, or upper fabric shoes be worn in any Laboratory.
Athletic shoe types may be acceptable as long as they have leather or synthetic uppers and not mesh or canvas uppers.
Skidproof and slip-resistant soles on all shoe types are, however, always a requirement.
---
Features of a Good Shoe for Laboratory Work
Protection – Electrical Hazard Safe Materials; Alloy, Steel or Composite Toe for tpe protection, Chemical resistant, Water Resistant.
Uppers – Durable and leak proof leather or synthetic uppesr.
Comfort and Shock Absorbency – EVA Midsole and cushioning in the footbed or insole.
Outsole – An ASTM rated slip and oil resistant Rubber Outsole.
---
Reviews: The Best Shoes for Laboratory Work
These are some excellent options in safe and comfortable shoe for Laboratory Work;
---
1
Shoes for Laboratory Work
The Dansko Professional Clog is one of the most
comfortable work shoes for women
with a classic clog style, which is ideal for working in laboratories in which the floors may pose a slipping risk.
The top consists of smooth and durable genuine leather available in a matte black color selection.
The durable polyurethane outsole has a lug pattern for excellent slip resistance.
There is a padded insert collar for comfort and a roomy and reinforced protective toe box.
The PU outsole also has a rocker bottom design for better stability, and there is a comfortably cushioned insole.
---
2
These two models from the Avenger shoe brand are the ideal candidates for laboratory work, offering cushioned comfort and exceeding ASTM safety standards.
Durable and comfortable leather uppers from full grain genuine leather, with a rubber outsole.
The Composite safety toe cap protects your toes while the electrical hazard safe materials protect against electrical shocks,
The rubber outsole is both oil and slip-resistant on most floor surfaces.
These shoe models exceed the ASTM standards for safety.
---
3
The Felton and Eldred from the Skechers for work range are comfortable and OSHA compliant for slip resistance.
Synthetic leather uppers and a supportive lace-up vamp with reinforced stitching for durability.
A comfortable fitting, padded tongue and collar option.
Iside is a plush memory foam padded insole for comfort and soft fabric linings to wick away moisture.
This shoe also has an OSHA-compliant Nitrile slip-resistant outsole.
---
4
The Reebok work shoe range still keeps its athletic style, and this model boasts some excellent comfort and protective features for laboratory work purposes.
The upper consists of breathable mesh and synthetic overlays, and there are flex grooves for improved mobility and ankle mobility.
Iside is a memory tech massage footbed that adapts to your feet' contours while providing ample cushioning.
There is also a very lightweight
An alloy safety toe offers toe protection, and the durable rubber outsole ensures excellent slip resistance.
There are also reinforced and shock-absorbing rubber forefoot and heel crash pads.
This shoe is ideal for laboratory work where you are active on your feet all day and not advised for working with harsh chemicals.
---
5
These are two more professional-styled work shoes from Dansko, which are ideal for in and out of laboratory work.
Smooth and durable leather uppers are easy to clean and look elegant.
Inside is a breathable and moisture-wicking, antimicrobial-treated lining for odor-free wear.
The removable Pu foam footbed offers ample cushioned comfort, and the EVA midsole absorbs shock.
A durable rubber outsole provides slip resistance on wet and dry floor surfaces and is tested for effectiveness.
The footbed is likewise contoured to provide optimal arch support and stability to the wearer, and the shoe offers an easy slip-on and off the design.
---
6
Slip On Laboratory Work Shoe
The Skechers for Work Flex Advantage and Gozzard are two superb work shoe models that can also be used for laboratory work.
Breathable mesh and synthetic uppers offer a lightweight fit.
The high traction rubber outsole offers exceptional slip resistance on wet and dry floor surfaces.
The collar is padded, and there are reinforced stitch seams for durability.
Inside is a plush and comfortable memory foam footbed>,
The shoe is also lined with a smooth and moisture-wicking fabric lining to keep you dry all day, and there are a roomy toe box and medium-width heel for a more relaxed fit.
---
7
Casual Comfortable Laboratory Work Shoes
The Skechers D'Lites and Afterburn are very comfortable and durable shoes that you can use for Laboratory work in less hazardous laboratories.
Leather and synthetic upper give a comfortable fit and structure with breathability.
There is an Air-Cooled memory foam insole for comfort and a foam midsole for shock absorbency.
The thick rubber outsole has lug patterns on the tread for better slip resistance.
The sole is also flexible for easy movement.
There are hence many color options in both the Afterburn and D'lites.
---
8
Athletic Shoe for Laboratory Work
The Asics Gel Pulse is an athletic shoe that is great for laboratory work where you are on your feet most of the time.
There is ample cushioning and shock absorbency with the Rearfoot GEL and the Amplifoam Midsole.
An Ortholite sock liner also manages moisture and ensures even more cushioned comfort.
Furthermore, you have a flexible sole with a Guidance Line midsole and a durable rubber outsole.
For the upper, synthetic and mesh materials are used for structure and breathability.
---
9
The Crocs on the Clock are excellent waterproof and easy to clean shoes for Laboratory work.
You can get the Crocs on the Clock in black or white color options for men and women.
Crosslite foam is used in the entire shoe, is durable, offers excellent cushioning, and is easy to clean.
The materials are likewise waterproof and easy to clean.
The sole is designed to be very slip-resistant on wet and oily floor surfaces.
---
Index Table: Top Rated Laboratory Work Shoes
---
---