Hammertoes, which are toes that bend and curl more downward than pointing forward as they should, can be quite uncomfortable and painful, especially when you are not wearing the right kind of shoes.
The right shoes will offer a roomy and accomodating fit, which helps to reduce pressure and strain on painful Hammertoes. In this article, we will look at some of the best available shoes that are perfect for hammertoes.

---
Can Your Shoes Cause and Aggravate Hammertoes
There are many causes and risk factors to Hammertoes, and yes, your shoes are a culprit.
Here are a few of the leading causes;
High Arches – Individuals with High arches are prone to get Hammertoes, and therefore need footwear with the proper cushioning and arch support in order to prevent Hammertoes form developing.

Bunions – Bunions cause pressure on your feet, which in turn may also result in Hammertoes developing.

Tension and Old Injuries – Old injuries or tension in the tendons can cause your toes to curl up, resulting in Hammertoes. Treating injuries and tension by wearing proper footwear may also help to prevent this n this case.

Improper Footwear – Shoes that are too tight, or even loos, and that do not offer any support can lead to the aggravation and even development of Hammertoes.

---
Shoes To Avoid: that can Cause and Aggravate Hammertoes
High Heels – High heel cause the forefoot to be bunched up in the toe area of the shoe and places extreme pressure on the heels and forefoot, which all in all has so many health and injury risk, of which Hammertoes is one.

Flat Shoes – Shoes that are very flat offer no support or shock absorbency and may lead to foot conditions including Hammertoes.

Pointed and Narrow Toes – Pointed and Narrow toe shoes are one of the main causes of Bunions, hammertoes, and bunionettes as they place unreasonable pressure on the forefoot and toe area.

---
Features of a Good Shoe for Hammertoes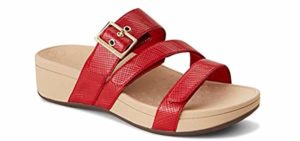 Wider Width Availability – Available in wider width options that accommodate Hammertoes and Bunions and are ideal for a wider foot type.

Roomy Toe Box – A roomy toe box give ample toe room and prevents pressure on painful hammertoes.

Soft and Flexible Uppers – The soft and flexible uppers will mold to the shape of your feet and not cause pressure on Hammertoes.

Cushioning and Support – Cushioning offers shock absorbency, and good arch support helps to alleviate and prevent foot issues that can lead to Hammertoes and other deformities.

Stability Heel – Offer better stability and motion control along with some sophistication in dress shoe.

Outsole – A durable rubber outsole that will last longer and offer good grip and traction.

---
Reviews: The Best Shoes for Hammertoe
Below are your Best Options in a variety of shoe types for Hammertoes;
---
---
---
---
---
---
---
---
---
---
---
---
---
---
---
---
Index Table: Top Rated Shoes for Hammertoe
---
---