Hallux Rigidus, which typically means Rigid Big toe, is a condition that is quite common and easily treatable, and manageable with the right footwear.
A More rigid and firmer soled shoe is ideally the best shoe type that you can look for if you have Hallux Rigidus, among a few other features for comfort and support.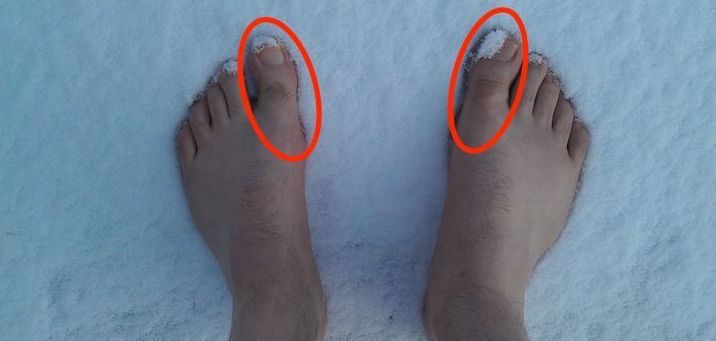 ---
Why do You Need a Specific Shoe for Hallux Rigidus
Hallux Rigidus is a condition that lessens or eliminates the Flexion in your big toe; this, in turn, can cause pronation issues and pain in the big toe area.
Wearing the right type of shoe for Hallux Rigidus can help to alleviate the symptoms and prevent injuries and strain on the bog toe.
Your Shoes May Also be the Cause or Aggravation of your Hallux Rigidus;

Constricting Shoes – Shoes that are too tight in the toe area, especially pointy toe shoes and high heels, are an absolute no-go and one of the greatest causes of this condition.
Improper Fit – Shoes that do not fit properly or provide the right support can aggravate the condition or may cause Hallux Rigidus in the first place.
Strenuous Exercise – Excessive exercise such as squatting and similar exercises paired with the wrong footwear can cause injuries as well as Hallux Rigidus in the Big Toe.
---
Choosing the Best Shoes for Hallux Rigidus
Fortunately, by choosing the right footwear, you can manage and treat the pain and symptoms of Hallux Rigidus, prevent aggravation or prevent the condition in the first place;
Toe Room – Make sure that you have ample toe room and that you can easily wiggle and spread out your toes. Also, look for a wider fit if necessary.
Stiff Soles – Rather opt for a stiff-soled or rigid shoe that is a flexible shoe to limit movement and pronation.
Soft Uppers – Always opt for a closed shoe style with soft and comfortable uppers that will not pressure the big toe.
Roll Bar – In very severe cases I would recommend Rollbar Technology or a Rocker Bottom Soled Shoe.
---
Features of a Good Shoe for Hallux Rigidus
Uppers – Soft and Comfortable Uppers.Wide and Roomy Toe Box.
Sole – Firm and Solid Sole. Low Heel or a Rocker Bottom Sole.
Support – Stability heel and features.
Fit – Comfortable regular fit.
---
Reviews: The Best Shoes for Hallux Rigidus
These are the most comfortable and supportive shoes that are ideal for individuals who have Hallux Rigidus;
---
1
Dress Shoes for Hallux Rigidus
These are two dress-style shoes with a rocker bottom sole, which is ideal for Hallux Rigidus.
The Boston is an oxford-styled leather shoe available in a few neutral color selections.
The Rani is an open design sandal for ladies available in three color selections.
Both are cushioned for comfort and have a smooth-lined insole.
The rubber outsole is durable and non-marking
---
2
Hallux Rigidus Running Shoe
The Hoka One is stability Running shoe with a firm sole ideal for Hallux Rigidus.
It has a soft and breathable upper and is generally very lightweight.
There is cushioning in the sole and midsole that offers excellent shock absorbency.
The durable rubber outsole ensures excellent traction and has a rocker design.
---
3
Oxford Shoe for Hallux Rigidus
These are two sued and smooth leather loafer style lace-up shoes for casual everyday wear.
The sole is thick and shock absorbing.
There is Cushioning soft technology in the insole for comfort.
The toe box is large and roomy.
Smooth and supple leather upper and available in a few neutral color selections.
---
4
The Nike ZoomPegasus is a comfortable and supportive running shoe that is the perfect choice for runners with Hallux Rigidus.
The uppers are soft and flexible, as well as very lightweight and breathable.
Inside is a cushioned insole and shock absorbing midsole with Nike react technology.
The uppers have a Flyknit design that offers a more adaptable fit.
The Bootie construction also gives a secure and snug fit.
This shoe is available in a few color options to choose from as you prefer.
---
5
Crocs are an excellent choice for Hallux Rigidus and are available in so many colors and pattern options.
They are made from very lightweight and foamy Crosslite materials.
Crocs are highly breathable and ventilated, and dry almost instantly.
What I love about Crocs for Hallux Rigidus is their soft fit and wide and roomy toe box.
---
6
Work Shoe for Hallux Rigidus
The Dansko Professional is the perfect Work shoe for all environments for persons with Hallux Rigidus.
The toe box is large and roomy and offers a wider fit.
There is a padded insert collar and cushioning,
The upper consists of durable and soft leather available in a few color selections to choose from as preferred.
There is a PU outsole with a rocker bottom design that also provides excellent shock absorbency.
---
7
Walking Sandal for Hallux Rigidus
A comfortable Slip-on Walking sandal with a Rocker Sole, which is perfect for Hallux Rigidus.
The leather uppers have two straps, each with a buckle closure.
There is a comfortable EVA contoured and arch-supportive footbed.
The Midsole features the MBT Rocker design with EVA for shock absorbency.
There is also a durable, non-marking rubber outsole.
You can likewise choose between a few color selections in this model from MBT.
---
8
Athletic Shoe Hallux Rigidus
The New Balance 420V4 is available in wider width options and accommodates orthotic inserts, which are all excellent features for Hallux Rigidus.
The New Balance 420V4 offers a comfortable fit and ample cushioning to prevent pain and discomfort in persons who have Hallux Rigidus.
There is a comfortable and soft Data Inspired textile and synthetic upper, which adapts to the shape and movements of your feet.
Ther Injection Molded EVA midsole ensures exceptional shock absorbency and cushioning.
Furthermore, you have a comfortable and removable NB insert and the option of using your orthotics.
The rubber outsole provides long-lasting traction and grip.
---
9
Hallux Rigidus Running Shoe
The Asics Glide Ride offers optimal cushioning and support technologies, along with a Rocker Style foam sole, which is ideal for Hallux Rigidus.
The Uppers consist of breathable synthetic and mesh materials, and you can choose between different width options as Asics is quite a Narrow fit.
There is a FLYTEFOAM Midsole for more responsive cushioning and shock absorbency.
The Gel in the Rearfoot attenuates shock in the heels and protects the ankles.
The Guidesole technology with the Curved Rocker design of the sole absorbs shock and less strain and fatigue on the feet and legs.
A durable rubber outsole offers high traction and grip.
You can likewise choose between a few color options in this model as well.
---
Index Table: Top Rated Shoes for Hallux Rigidus
---
---