Many people think their feet are the most unattractive part of their body, with issues such as blisters, bunions, unpleasant odors, and much more, who can blame them.
But for a few others, there is a much "bigger" problem; some people have tremendously enormous sized feet.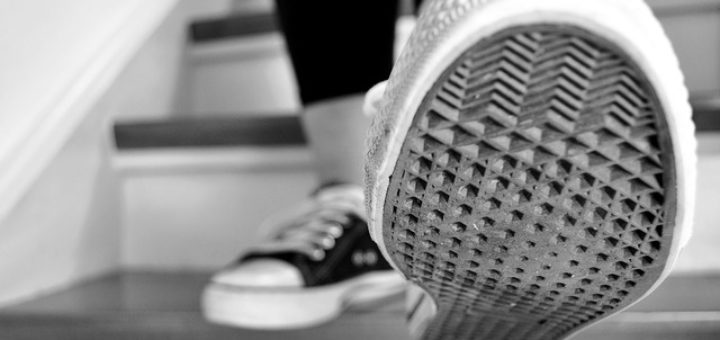 ---
To make matters worse women's feet are growing at a rate of two sizes per generation leaving quite a few women with feet either as big or larger than that of a man.
Most women who have very large feet feel clumsy, ungainly, and not the least bit feminine, and as fashion introduces shoes, they cannot wear, completely left out.
---
Some Disadvantages of Bigger Feet
Having bigger feet means that you have much less choice in shoes as there is not much of a variety of extended sized women's shoes. Even when shopping online, it is still a challenge, and bigger sizes are often considered as "special sizes" that are rarely available.
Women you have very large feet have literally tripped over their own feet; larger feet can make you feel more clumsy. Brightly colored shoes, particularly red shoes are a big No-No for women with large feet as these types of shoes can make your feet look even bigger and comical.
Packing is always a challenge as you need an entire suitcase just for your shoes because of their size. Borrowing shoes from anyone are also taboo as it is very unlikely that you will find someone with even closely the same sized shoes as what you are wearing.
---
Some Advantages of Bigger Feet
Having bigger feet is not always a disadvantage; there are a few good advantages as well.
Although you may not always find the shoe you want in size, you need, buying shoes you will literally get more for your money.
Bigger feet means bigger shoes that will get noticed, so people will definitely see your amazingly stylish and gorgeous shoes a mile away.
Having such a large shoe size means you never have to share your shoes, and you have an excellent excuse not to.
Shoes in bigger sizes are not very high in demand, which means you will mostly find your size without the risk of it being sold out.
Bigger feet and bigger shoes can make excellent weapons when you are in trouble; you are sure to render a nasty kick that will most definitely leave a mark.
---
Types of Shoes that Make Your Feet Look Smaller
Heels: Chunky and wedge heels usually make your feet look much smaller, try to avoid stiletto heels as they are also bad for your body and feet.
Round Toes: Pointy toes have the tendency to make your feet look very narrow and long, which is an advantage if you have wide feet. But for feet that are largely a round toe would be advised.
Dark Colors: Darker colors and blacks always have the effect of making any object look smaller, and the same principle goes for shoes.
Closed Shoes and Peep Toes: The less of your foot that is exposed, the better, so opt for a peep-toe rather than a skimpy sandal.
Accents and Decorations: Buckles, Bows, Gems, Lace, overlays any form of decoration on your shoe has the ability to make your feet look smaller.
Avoid "Big" Shoes: The general rule is that when a shoe looks big and chunky, it will make your feet look bigger.
---
Reviews: The Top Rated Shoes for Big Feet
Finding shoes that fit your unique size should be a breeze with our top selection of the most comfortable and best-looking shoes for bigger feet;
We hope you love the products we recommend!
Just so you know, We may collect a share of sales or other compensation from the links on this page.
---
The Aetrex Xspress is a great athletic shoe that can be used for running, walking, or everyday casual wear. This shoe offers some exceptional support and comfort features and is available in plus sizes.
The Q last technology ensures rearfoot stability and more freedom of movement for the forefoot.

The Maniac pressure relief insole will give you customized comfort and support.

A Fat Pad for shock absorbency and midsole stability late to disperse pressure and give torsional rigidity.

The TPU footbridge helps to control motion and stabilizes the midsole.

A Gateway external heel counter and a multi-density heel cradle outsole for stability and support as well as reducing stress from the impact.

The uppers are made from high-quality materials, and the outsole is durable and offers excellent grip.

---
2
If you have wide and big feet, then this is the perfect choice for you, the pointed toe on the D'Orsay Ballet flat and lace trimmings have a slimming effect and will make your feet look smaller.
Manufactured from soft and comfortable synthetic leather and side with a 0.5-inch heel for a touch of class.

A comfortable fit with ankle wraps and lace-up trimmings for a trendy look that will keep your feet in place all day.

Will complement any outfit from a jean to a formal dress.

Available in many colors and plus sizes.

Score:
90
By David Alegeta
---
3
The Daily Shoes Military Ankle Boot is a comfortable and functional boot for everyday wear. The durable slip-resistant sole and comfortable padding make this an ideal outdoor boot.
The uppers are made from fine quality synthetic materials, and the shaft measures 9.75 inches from the arch.

Stylish and decorative stitching at the toe area and diamond-quilted stitching on the sides.

A 1.25-inch chunky heel for better stability and a more feminine appearance.

The rubber sole offers excellent grip and is slip-resistant and very durable.

An added wallet pocket where you can stow all your essentials such as cash and credit cards.

The padded collar gives you a comfortable and snug fit.

Available in different colors and designs.

Score:
95
By David Alegeta
---
4
If you are looking for the perfect shoe for special events such as dress-up parties, Halloween, Christmas, or just something sexy and enticing, we have added this naughty little number just for you.
A fun and funky knee-high boot available in every color imaginable.

Stretch faux patent or faux leather uppers with a side zipper for a fashionable and sassy appearance.

A three-inch block heel to aid in lessening the size of your feet and giving you some height.

A form-fitting shape for a more personalized fit.

The square toe also aids in making your feet appear smaller.

Score:
95
By David Alegeta
---
5
Here is a shoe for the winter and fall when you need a bit of warmth, the Haflinger Fletscher is a comfy and lightweight clog perfect for colder weather conditions.
Manufactured from German wool felt with catchy cross-stitching and contrast banding.

Lightweight, replaceable Crepe soles will allow you to stay firmly on your feet even on dubious surfaces.

A lightweight contoured cork footbed for exceptional comfort and support.

A supportive heel cup for a snug and comfortable fit.

The toe box is spacious for free movement.

Available in larger sizes.

Score:
96
By David Alegeta
---
6
If you have both a larger and wider foot, the Propet W2034 is a great walking shoe that can also be worn casually every day.
Perforated full-grain leather uppers that are flexible and breathable.

A padded tongue and collar for a more comfortable fit.

An EVA midsole and removable PU insole for support and cushioning.

A slip-resistant and durable rubber outsole.

A stable walking shoe available in sizes up to a size 13 in different neutral colors.

Score:
93
By David Alegeta
---
7
The Taos Star is a flat Canvas Sneaker that is available in plenty of color options, as well as larger sizes and wider widths.
Soft and comfortable Canvas uppers available in any color imaginable.

A cushioned footbed with a fabric lining to keep your feet dry.

Thick rubber outsole that offers good traction.

Available in wider widths and larger sizes up to a size 12.

Score:
97
By David Alegeta
---
8
A comfortable and breathable running and athletic shoe from Asics that will fit almost any foot shape and size snugly and without any hassle.
Gel cushioning in the forefoot and heel for ample support and shock absorbency.

Removable comfort sockliner for medical orthotic use.

Trail specific, slip resistant rubber outsole.

mesh and synthetic uppers that are lightweight and breathable.

Available in extended sizes and widths to choose from.

Score:
98
By David Alegeta
---
9
A comfortable and stylish shoe available in many color options to choose from as well as extended sizes and widths.
Genuine leather upper construction.

A comfortable Orthalite foot bed that ensures ample cushioning.

Durable high traction outsole.

Available in wider widths and large r sizes for women.

Score:
97
By David Alegeta
---
10
A stunning and sophisticated Dress pump with a high heel ideal for those formal occasions, with the added extra of availability in larger sizes and wider widths.
Synthetic uppers with a three inch heel for style and comfort.

N5 comfort system and cushioning.

Available in sizes up to 12 and wider width options.

Many colors to choose from.
Score:
98
By David Alegeta
---
Index Table: Best Shoes for Big feet
---
You no longer have to limit your options when it comes to shoes for larger feet; there is a shoe available in every style for every event and every preference. Hopefully, the list we have provided will narrow down your search. You can choose any one of these fantastic shoes which are sure to have your size available.
---
---