A Monk Strap Shoe or Monk shoe is a stylish dress style shoe that has either one or two cross straps with buckle closure.
Today Monk Shoes come in many styles and designs that have been adapted over the years.
As the Monk Strap shoe is mostly a men's shoe, in this article, we will look at some of the Best Monk shoes that are available for ladies.

---
The Monk Strap Shoe
Firstly, let's have a peek at the History behind the Monk Shoe;
The Monk Strap shoe originated in Europe a few centuries ago when the Monks who were conducting manual labor in the area needed a more closed-toe version of their original sandals for added protection.
This style became quite popular in the fashion industry from there ob and remained so throughout the 1700s and 1800s, where it later faded into obscurity as the Lace-up design shoe trended the markets.
The Monk Strap shoe style further developed through the 20th century, although it was not until the nineties that the Monkstrap shoe became popular among men as an elegant dress shoe style.
However, today, the Monk strap shoe has developed and become more popular and rich in design and styles.
Today the Monk Strap design shoe is also available as a women's fashion shoe in casual and dress styles.
---
Single or Double Strap
A debate that provided many heated discussions and opinions is the age-old, single or double strap debate;
All in all, it once again just boils down to personal preference. The single strap Monk shoe is more classic and elegant for formal occasions, whereas the double strap is slightly less formal and more on the casual side.
Then there is also the different styles of Monk Straps shoes available today, particularly in women's styles;
Classic – The Classic Monk shoe has a single monk strap with a buckle closure and a plain oxford style toe, with minimal details and smooth lines.
Casual – Lighter shades and rubber soles that are slightly elevated and thicker are used in the most casual Monk shoe styles.
Monk Strap Boots – In this style, you get the traditional Monk Strap style, only in a boot form, which is perfect for winter or rainy days.
Toe Cap – The Toe Cap Monk Shoe has an additional piece of leather covering the toe of the shoe for added protection and style.
---
Features of a Good Monk Shoe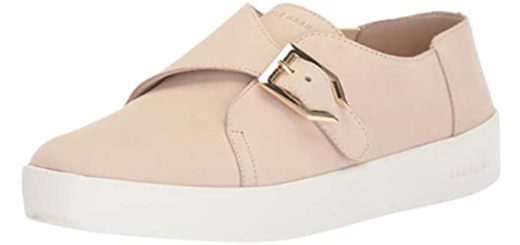 Uppers – Traditional Monk shoes have either genuine or synthetic leather upper in a solid color that is smooth and sleek. There is a single or double monk strap with a brass or silver colored Buckle as a closure on each strap.
Sole – The Original Monk shoe has a flat sole that is quite thin and of good construction, such as Goodyear Welt or Blake -Stitched stitching. Some of the newer models feature a platform or rubber sole design with or without a heel.
Comfort Features – Because the Monk Shoe is such a minimalist style, there are little to no comfort features. However, in the newer models, you may find a padded insole and EVA midsole, along with smooth interior linings.
---
Reviews: The Best Monk Shoes
Listed I have some of the top favorite styles and brands in Monk shoes for women;
---
---
2
The TUK Brothel is a Creeper style Monk shoe with a single buckle strap design.
The uppers are 100% genuine suede leather, and there is a durable synthetic sole.
The Brothel is only available in a black color option.
Furthermore, the sole is elevated and 1.25 inches high.
The toe is slightly pointed along with the deeper style
There is a single Monk strap that has a buckle closure.
---
3
The Cole Haan casual monk shoe has a comfortable slip-on design and athletic style.
The upper consists of 100% genuine leather, and there are two color options along with the contrasting white sole.
The sole is a durable rubber that offers good traction.
Furthermore, the shoe offers an easy slip-on style and casual elegance.
There is a single monk style strap with buckle closure.
For comfort, Grand OS technology is used in the footbed for cushioning and shock absorbency.
---
4
The Apex Linda is a Monk Style shoe with a difference.
The Linda is available in wider width options for a wider foot.
There is also a certified slip-resistant outsole.
For comfort and support, you can create extra depth with the removable layers of plush cushioning, and the toe is quite roomy.
A padded heel counter provides a comfortable fit along with the adjustable monk strap of the genuine leather uppers.
There are also some colors to choose from in the Apex Linda.
---
5
A lovely flat Round Toe Leather Monk shoe for ladies that is available in two color selections.
The rubber sole is highly durable, and there is a very low heel for stability.
The uppers are leather available in black or being color selection.
The single Monk strap has a large Buckle closure design.
Inside is a comfortable padded footbed.
---
6
The Demonia Creeper has a Monk Style with a single buckle strap.
The upper consist of Vegan Suede leather.
There is a thick uniform platform sole that is elevated.
The upper consists of a single monk strap with a buckle.
The Buckle has a D-shape and is silver in color.
The Demonia 118 Creeper is only available in a black color option.
---
7
The Eastland Syracuse is a slip-on Monk style loafer.
There are genuine leather uppers with a single Monk strap and buckle.
A few neutral color options are available for your perusal.
There is a Pillow sock insole for cushioning and comfort and a polyurethane outsole.
The design is more formal and elegant.
---
8
Here we have a roomy and wide width Monk shoe for ladies.
There are two neutral colors available from which to select.
The shoe has a low block heel for sophistication.
The uppers are a faux suede leather with perforation holes and a Monk strap.
Inside is a comfortable high-density memory foam insole for cushioning,
The entire she consists of completely Vegan materials.
---
9
Another superb Monk shoe from Eastland is the Anna.
Here we have only a black and brown color options available.
The uppers are leather with a more casual Monk design.
There are a comfortable Memory foam insole and supportive midsole.
The Polyurethane outsole is lightly treaded for grip.
Inside is a moisture-wicking fabric lining.
---
Index Table: Top Rated Monk Shoes
---
---